Isuzu D-Max - Full Review
The
Land Rover Defender
used to rule the world literally. No war, farm, or expedition was complete without the venerable Landie. Thats all changed now, with non-governmental organisations and charities almost exclusively using
Land Cruisers
- and the Hilux is now the platform of choice for irregular warfare. And farmers? They are defaulting in increasing numbers to the Isuzu D-Max, attracted by its 3,500kgs towing capacity (recently upgraded from 3,000kgs), durability, reliability, and comfort.
So, we donned our wellies, threw a bale of straw in the back, and started moaning about townies walking across our land to bring you an authentic review of Isuzus market leader.
Exterior
The first thing you notice about the Isuzu D-Max is that it is huge. Absolutely huge. Enormous, even. But then this is a commercial vehicle, a tool rather than a toy and all that space means that its carrying capacity is vast, 1,000kgs in fact.
The overall shape is bulky and swooping and purposeful and clearly designed to appeal to weekend warriors as well as farmers and builders, a trick first pulled off by the
Mitsubishi L200
. Yet it still has presence and authority, marking you out as a chap whose first priority is Getting The Job Done. Which isnt a bad reputation to have, is it?
Our Premium Yukon replaces the utility models steel wheels with alloys and paints the bumpers the same colour as the body. You might like the budget look (and I have to say, steel wheels have enormous appeal compared to the easy-to-scuff alloys that afflict so many cars these days) but there is no denying that the upper-class add-ons turn something brutal into something that has genuine school-run appeal too.
Just pay the extra to get a proper colour, wont you? UN-spec suits some cars, but not this one; anything this long (5.3 metres, since you ask) is going to look like a third-rate limo when you paint it Hen Party White.
Interior
Yet, despite the D-Maxs industrial nature, its a civilised old thing inside. The materials and design might have been chosen with practicality rather than aesthetics in mind but its a pleasant place to be, nonetheless. If you jump (or, more likely, clamber) into the Isuzu from a hatchback itll be the size that intimidates, not the ambience.
The seating position is good, with oodles of head- and legroom, even in the back. The seats might be a bit flat and shapeless but they are comfortable, though more lateral support would be nice.
You might not miss the seats hug on the road given the pedestrian nature of the D-Maxs performance but you will miss it off-road where you tend to get thrown around a bit.
Overall equipment levels are decent and you have access to everything you really need up to, and including, heated leather seats on the top-of-the-range Utah. The only thing I missed is a reversing camera given the restricted rearwards vision, but perhaps Im getting old and soft.
Driving
Have I mentioned how long the D-Max is? That length and width might be a boon when you are carting dead sheep and fencing posts about but it does make it hard to park when you pop down to your local Tesco. Still, horses for courses, eh?
On the open road the D-Max is pretty refined for a pick-up. Itll do everything your family car will and do it rather well. Sure, you wont be scything through a series of S-bends in an orgy of pinpoint handling but youd take it on a 400-mile journey without a single qualm - and if your route was blocked by a flood, or landslide, or civil insurrection youd still make it. Comfortably.
The gearbox is a bit crude, and first and reverse are too easy to interchange, but other than that it is surprisingly competent on the black stuff even if it is still fitted with cart springs that bounce and tramp under power. It does get a lot better when youre carrying some weight in there.
Its even better off-road with an effortless arrogance that proves the Great British Farmer knows his stuff. The only thing that is better at hauling vast loads across fields is a tractor but you cant take one of those on a motorway
Engine
All British D-Maxs are fitted with a 2.5-litre turbo-diesel engine. It is a bit noisy but it throbs out 160bhp and almost 300 lb/ft of torque, which is more than enough to endow it with sprightly performance (the top speed is 112mph for those brave enough) and stump-pulling low-rev torque.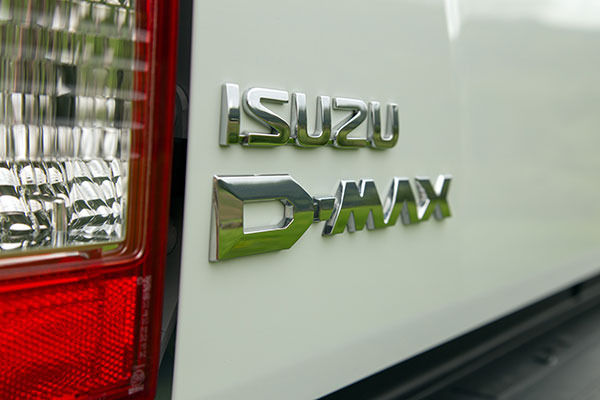 Its an efficient unit too. Isuzu claims that 38.2mpg is possible and they might just be right. I averaged over 35mpg without trying and with a lot of town and off-road miles thrown in so those with a light right foot (and no heavily loaded cattle trailer) should be able get almost 40mpg with ease.
CO2 emissions are 195g/km, placing it into VED category J, for a yearly bill of 260. A fair way off most soft-roaders, but you can't chuck bales of hay in a Qashqai.
Value for Money
My Yukon would cost you 19,499 (plus VAT), which is very good value for money and closely mirrors that of the
Toyota Hilux
. If you dont mind a more basic specification you can pick up a 4x4 single cab for 16,249 (plus VAT). Two-wheel-drive versions are also available, starting from 14,499 plus VAT.
An automatic gearbox is also available for a 1,000 in the Premium range ((Eiger, Yukon, and Utah) and is an option Id probably choose. Auto boxes might not be as efficient as manuals, losing about 10% in fuel economy in this case, but they do give more control when towing as well as being better suited to off-road driving too.
Verdict
Farmers might whinge about townies, and the Governments agricultural policies, and badgers, and the price of wheat, and goodness knows what else but they arent fools. When they buy a pick-up they look for something thats at the top of its game, something reliable, tough, and capacious. This is why they are flocking to the D-Max in ever-increasing numbers, helped by the fact that it can tow 1,000kgs more than the Hilux.
The D-Maxs commercial appeal wasnt a surprise. What was a surprise is that it makes a perfectly credible everyday car too and would be ideal for a smallholder, or a keen outdoorsman, or even just someone who enjoys rugged dependability but cant face inching their way past a Defenders steering wheel every day...