Smart Fortwo Cabriolet Brabus – Does It Justify the Price Tag?
Feeling a sense of dj vu? You arent alone – we really have driven this car before, albeit only briefly.
And while we described it as an object of utter frivolity in our quick test, we wanted to see whether the BRABUS Fortwo had any hidden talents – and whether its character can make up for any shortcomings in daily use.
Exterior
Its no use – the BRABUS still looks fantastic. After a week with the car it continued looking great on the drive, and certainly doesnt hint at a basic shape which has remained unchanged since the current models launch in 2007.
The 17-inch Monoblock alloy wheels look huge in the tiny arches, and 225-section tyres at the rear are almost hot hatchback-spec. Theyre so wide the rear arches have been granted an extra lip to keep them in check. By contrast, the front wheels get only 175-section rubber bands, reminding you that Smart doesnt want to give this tall, narrow cartoo much grip.
Crystal white paint sets the car off a treat, contrasting with the dark grey alloys, the dark grey headlamp surrounds, and of course the black fabric soft top – thats right, its a convertible. The profile doesnt change much whether the roof is up or down, but remove the two roof bars and the car becomes more distinct from the coupe version.
Those who obsess over cleanliness will be less keen on the shape however – it attracts dirt like no other car weve driven, compounded by the white paint. Throw in spray-covered winter roads and youd need to give the car a thorough wash pretty much every week.
Interior
If youve never sat in a Smart before, the interior space might surprise you. Itll easily accommodate taller drivers and passengers, and its only when you turn your head around you realise how small the car actually is.
This shortness limits luggage space, which in the cabrio is 220 litres. Thats better than youd get in a
Toyota iQ
however, and enough to squeeze in an overnight bag and a few smaller pieces of luggage for weekends away.
The seats only adjust forward and backward, raising or lowering respectively as they do so. The steering wheel doesnt adjust either, but at 58 tall we found the driving position just about right. The leather seats feel firm but proved reasonably comfortable on a jaunt from Yorkshire to Cheltenham and back, and their heating was appreciated on cold mornings.
The cabin is a curious mix of quality and utter naffness. The wheel and seats are leather-lined, while the gear selector and handbrake grip are genuine aluminium. The lower dashboard is covered in a faux-leather which is convincing to look at but less so to touch, but the real crimes are reserved for plastics lower in the cabin. They look and feel well below par, and really make the car feel its age.
The 6.5 touchscreen system is a little outdated, but proved easy to use. It synced up with an iPhone without any troubles, though bumpy roads seemed to induce skipping during some songs. The navigation system is less impressive. Firstly, it cant be used simultaneously with the music player – you can pick directions or music on longer journeys, but not both. Secondly, it doesnt allow full postcodes – irritating in early sat-nav systems, just plain idiotic these days.
Still, with the roof down – the operation of a button press – the interior ambience is transformed. Its a noisy, unrefined space whether youve gone topless or not, but its more forgivable with the roof down and the sun shining in.
Driving
Driving the Fortwo BRABUS is a mixture of pleasure and pain. On the motorway, pleasure comes in the form of the cars surprising turbocharged performance, but pain stems from its spinnaker-like behaviour in crosswinds which leaves you gripping the wheel for dear life.
On country roads, pleasure is the cars nippy acceleration, baby-Porsche exhaust note and surprising grip if youre gentle with the controls. But youll find pain in the form of an admonishing stability control system (in fairness, designed to keep you upright) and spongy brakes.
And in town, pleasure comes from nipping through tight gaps youd not even attempt in a
VW up
!, rapid off-the-line acceleration, light steering and good visibility; pain is all about the cars ride quality, which sends shudders through the cabin over bumps you didnt even know were there.
Driving the BRABUS is actually great fun more often than not, but you have to be in the right mood for it. The ride quality alone may put you off if youre used to regular cars – though its worth noting that while nowhere near perfect, non-BRABUS Smarts do handle bumps rather better on their taller tyres.
Engine
The Smarts rear-mounted engine is actually a cracker. 999cc, turbocharged, and with three cylinders, it develops 102 horsepower at 6,000rpm and a useful 108 pounds-feet of torque between 2,500-3,600rpm.
Due to the way the car is geared youre always sitting right in the torque band at motorway speeds, and acceleration is quite lively even above 70mph – other city cars wouldnt have a hope of keeping up. In fact, it accelerates well at most speeds – the official 0-62 mph time is only 8.9 seconds, and top speed is a limited 96 mph.
But: and this is a big, voluptuous but – the gearbox can best be described as an acquired taste. And weve heard it called a lot worse.
Essentially, its a five-speed automated manual. It can be left to its own devices in automatic, or controlled by rocking the gear selector fore and aft, or using the wheel-mounted paddle-shift. We suggest you do one of the latter, and give a little lift off the gas each time you do, because it smooths and speeds up the changes no end. In automatic, every change results in a long, drawn-out pause during which youre rocked forward and backward in your seat. Its undignified, slow, and frustrating.
Manual changes are better, but by no means perfect. Once you get used to it its quite fun – but it could be even better with a better gearbox, and just think how quick the acceleration could be without wasting whole seconds changing gear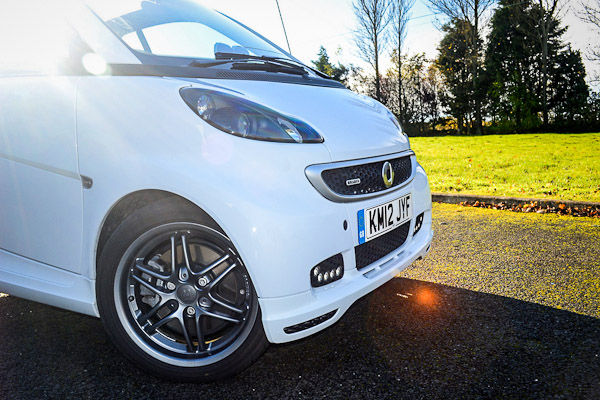 Value for money
Theres no easy way to say this, so well just come out with it: 17,930.
It would be insulting your intelligence to even attempt to justify that price. A basic Smart starts at 9,450, which makes some sense. Nearly eighteen grand does not, and for that reason the BRABUS is more of a toy for those with money to burn than it is a likely candidate for someones city runaround.
In fairness, a non-cabriolet BRABUS, without our cars electric heated mirrors, ambient lighting, surround sound system, cruise control and power steering starts at a slightly less heart-stopping 15,320, yet keeps many of its other qualities. Its probably a little quieter too, and has a more easily-accessible boot.
And for a tiny car, its very well equipped. In addition to the above, it gets leather seats, a host of safety goodies, dozens of unique BRABUS bits, and of course that 102-hp engine. But there are many, many cars with similar equipment levels and a whole lot more power for the same price.
Economy is pretty good though. The BRABUS requires super unleaded. Normally this would cost you a fortune, but even when running on reserve we couldnt squeeze more than about 27 litres into the tank, and recorded 50 mpg. Driving slightly more sedately, you may get even closer to the cars official 54.3 mpg combined rating.
Verdict
The score here doesnt tell all. If youre in a position to buy one without really caring about the price tag, you can give it two more points. And if you dont mind the jerky gearbox, give it another.
But judged objectively, where things like price and ease of use matter for city car buyers, its impossible to grant it a higher rating. There are, quite simply, dozens of other vehicles which make more sense as city cars – including the BRABUSs lesser siblings, like the Fortwo mhd, or the diesel cdi. Priced at 10,650 and with 85.6 mpg combined economy, the diesel in particular is hard to ignore.
What the press think
The critics observations dont come as much of a surprise. The gearbox, motorway manners and ride are all panned, but the cars character, space and ease of parking are praised.