The Volkswagen Polo looks smart, drives well, and isn't too expensive, but what are the colours options like, and would choosing a shade other than the regular white, black, and silver make any sense?
The Polo is available in two body configurations – three-door and five-door, and the baby Volkswagen looks good in both. Other than the missing rear doors two doors on the three-door version, there's not much to differentiate between the two.
Volkswagen offers a total of 12 colour choices on the Polo. These include non-metallic (solid), metallic, pearl, and special paints. The paint options include no-cost options as well as premium ones. It's worth noting that the Blue GT and SE Design variants are both limited to just four colour choices.
Non-metallic colours
The solid colours give the Volkswagen Polo a no-nonsense look. They have a good amount of shine, but not as much as you would find on a metallic or pearlescent paint. Scratches and small dents are more easily visible, but at the same time, touching it up won't be an issue, and overall maintenance for these paints is low.
Flash Red (£0)
The Volkswagen Polo has a timeless shape, and it looks good in red. Flash Red is a no-cost solid paint, which is slightly deeper than the metallic Carmen Red available on the car. Your Polo won't stand out in this one, but if you're looking for a shade of red that isn't too loud, this might well be it. This paint is available on all variants except Blue GT and SE Design.
Urano Grey (£0)
Another non-metallic colour, Urano Grey is offered as a standard no-cost option on the VW Polo. Grey is good for an understated look, but this shade makes the Polo look a bit unexciting. The other grey in the line up – the darker metallic Nimbus Grey – is available as a premium option and will shimmer more in bright light than this one. As for Urano Grey, you get it on all variants except Blue GT and SE Design.
Mayan Blue (£255)
A very young-looking shade of light blue, this spruces up the look of the Volkswagen Polo. It's bright and catches attention easily, making it a great option for those who don't mind people checking out their new purchase. If you don't appreciate the bright solid paint, you could give the darker metallic Blue Silk a try, although it's more expensive. Mayan Blue is available across the whole Polo range.
Pure White (£255)
Who says white is boring? Not Volkswagen. Available as a premium option, Pure White looks good on the Polo, especially on higher spec models, but on the Polo S and S AC, it can highlight some of the cheaper exterior trimmings. It's available across the range, but if you are looking for a more exotic version, try the special Oryx White.
Metallic colours
With metal flakes embedded in them, these paints exude more shine than solid colours. Small scratches aren't as easily visible on these, but touch-ups aren't as easy as on solid paint.
Blue Silk (£535)
Blue Silk is not too dark, but isn't as light as the solid Mayan Blue option. It's slightly less conspicuous than Mayan Blue, and can go well with the subtle design of the Polo. It is available on all versions.
Carmen Red (£535)
Paying extra for a paint colour might not be to everyone's liking, but paying more for a colour that looks this good should be acceptable. The Polo looks good in red, and more so in the metallic Carmen Red. It's deep but bright enough to make your car stand outm and adds a sporty look to the car. All variants except the Blue GT and SE Design are available in Carmen Red.
Java Metallic (£535)
Not everyone likes brown paints, but this one has a wider appeal than most attempts at the colour. Java Metallic gives the Polo a more premium, upmarket look and might be worth a look if you want to draw some similarities between your Polo and the bigger, more expensive Golf. Java Metallic isn't available on Blue GT and SE Design models.
Nimbus Grey (£535)
Unlike Urano Grey, this one doesn't make the Volkswagen Polo look drab. Being grey, it's still not as loud or easily visible as you might want, though it shines well in bright light. It suits the Polo well, and fits in with the car's understated design philosophy.
Reflex Silver (£535)
Silver has always been a popular paint for buyers who want to guarantee reasonable trade-in prices for their cars, and this version won't differ. It looks good, but fails to stand out. That said, Reflex Silver has been a standard Volkswagen colour for several decades, so you won't be making a mistake by opting for it. It is available across the range.
Pearlescent paints
Have you ever noticed how certain paints shimmer differently when viewed from different angles? Chances are that was a pearclescent colour. They shine a lot, but at the same time, they won't blind you like a chrome plated car would. Now there's a thought for the next version of the Polo…
Deep Black (£535)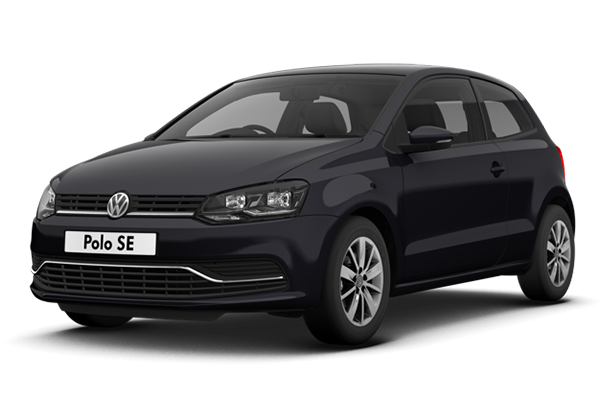 Black shines a lot. It does require utmost care because it attracts dust and scratches easily, but if you can commit yourself to keeping your car shining, black is a good option. Add a pearl finish, like Deep Black does, and you shall have one of the shiniest Volkswagen Polos around. Great for those who treat their cars well, not so great for those who drive through narrow lanes and have a constant fear of scratching the paint. If you'd like to lose the pearl finish, you can always get the special Black available at a lower cost. Deep Black is available across the whole range.
Special colours
To distinguish certain colours, Volkswagen has decided to call them 'special'. They aren't necessarily pricier, they are just categorised separately.
Black (£255)
Want a plain version of black? This is it. Available at a premium of £255, Black is a good choice for the Volkswagen Polo. Just keep in mind that keeping it clean wouldn't be very easy, and it'll get noticeably hotter than a cooler colour such as white when the sun is shining.
Oryx White (£950)
Another pearl finish paint, Oryx White, has been marketed as a Special paint for the Volkswagen Polo. It's more expensive than any other paint offered on the car, but those extra pounds do get you some exclusivity and a brilliant looking white paint that shines beautifully.
Want to find out more about the Polo?
You can find out what critics think of the car in our Polo review section, where you'll also find lots more photos, statistics and engine reviews. We've also pitted the Polo against its rivals.