Retro Road Test - 1972 Datsun 240Z
Driving any old car is an experience to enjoy, but there's one particular aspect of classic vehicles that few modern drivers would care to replicate nowadays.
That is the experience of climing into the vinyl-clad driver's seat of an old car after it has spent any length of time baking in the sun. Even with jeans and a t-shirt it's a painful experience - do it with a bare back or thighs and you'd need surgically removing from the seat.
Much better, we think, to simply avoid getting out of the car , particularly when it's a 1972 Datsun 240Z like the one you see here.
Flesh-searing vinyl is present and correct, but with windows rolled down and some air curling through the cabin you'll stay cool enough to appreciate the less painful aspects of classic motoring.
In this car, that starts as you twist the key. The engine catches quickly and settles into a smooth, six-cylinder hum. Each of the dashboard's many dials springs into life inside their individual cave-like recesses, but in this car your eye is drawn more to the slim, patinated wooden rim of the three-spoke steering wheel.
The gearknob is also a delicate affair and slips into a none-too-positive first, but a quick test of the clutch reveals the 2.4-litre engine is more than happy to carry you forward with only light pressure on the throttle.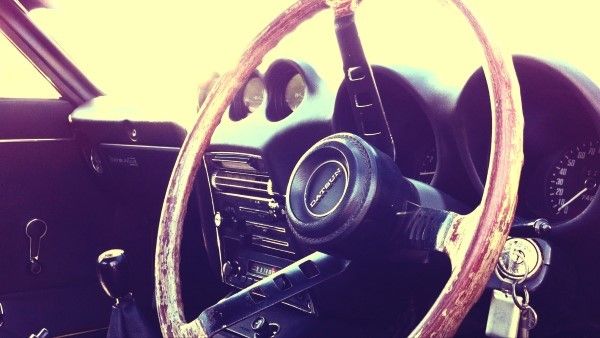 Second gear needs a firm hand and as we discover later, considered selection from higher gears to engage without a small crunch - but the rest of the 'box is much more positive. In fact, it's slick enough that you quickly adapt and begin to appreciate the 150-horse thrust, and the sonorous tones, of the reciprocating mass ahead of you.
The six sings sweetly up to higher revs but caution is needed when lower speeds are required, as the brakes need a firm shove. Pedal feel is excellent though, a sensation replicated in the 240Z's beautifully-weighted steering.
A slightest nudge of the wheel is enough to alter your course, while even from the low-set driver's seat it's easy to place the long bonnet just where you want.
Out of deference to the car's age and beautiful condition we didn't push it hard, but at moderate speeds it's easy to drive and feels like it has much more in reserve. Over forty years old it may be, but its appeal is as deep as ever.
Conclusion
The 240Z is a car you're loathe to get out of even after the briefest of drives, and staying put will certainly save you the pain of interacting with sun-scorched vinyl.
But with perfect proportions, blazing yellow paintwork and beautiful detailing, its classic lines are more than worth those few moments of discomfort. Whether driving or parked, the 240Z is a sports car to savour.
If classic cars aren't your thing, check out our full summary of the Nissan 370Z alongside reviews, stats, photos and videos!
Alternatively, check out our last Retro Road Test, of the Vauxhall Astra GTE Mk1.