M-Power Comes to BMW 3 and 4 Series
What am I looking at?
This is the result of BMW's M division giving the 3 series a thorough working over to make this generation's M3 sports saloon. Even better, they've done the same thing to the 4 series too, for the first ever M4 coupe.
What's new?
Just about everything that can be tweaked in the 3 and 4-series has been tweaked by BMW M, to provide a sportier and tauter drive. Changes to the steering, suspension, gearbox, differential and electronic driver aids give these M-cars a much more focussed driving experience, honed – where else – on the Nrburgring.
Weight-savings abound too, with low weight composite materials and aluminium playing their part in making the car lighter than the last generation, while more aggressive bodywork aids aerodynamics and cooling.
What powers it?
The engine in both cars is a development of the 3.0 straight six petrol found in the 335i and 435i. In those applications there's around 315hp available, but the more potent form in the M-cars produces a little over 430hp – giving the M4 the same power-to-weight ratio as a Porsche 911 Carrera 2. There's also 405lb-ft available – eclipsing the outgoing M3's torque rating by 40%.
Despite the extra power and torque, BMW report a 25% improvement in fuel economy to 34mpg combined (194g/km CO2).
How much will it cost me?
Neither car hits the market officially until May 2014, but you'll be looking to part with around 56,000 for either saloon or coupe. VED band J for the automatic cars means a 475 first year tax disc and 260 annually thereafter, with the manual cars a band higher.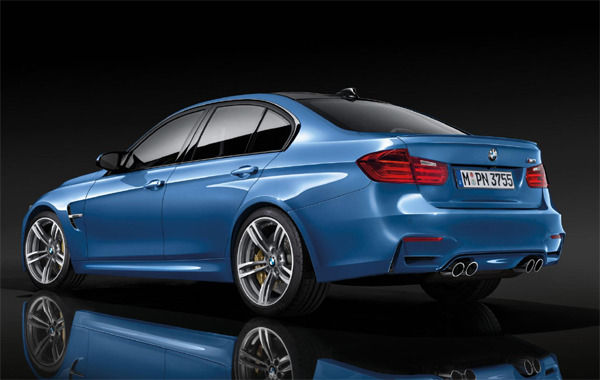 Any alternatives?
As a German high-performance saloon car, the M3's natural predators would be from Audi's RS division and Mercedes AMG – but the RS4 is only available as an estate at the moment, so all eyes will be on the slightly more powerful and marginally more expensive C63 AMG for the time being.
Audi do offer a competitor to the M4 in the form of the RS5 Coupe (and Cabriolet), while the C63 AMG is also available as a coupe, so we can look forward to another round of German tit-for-tat.
In a line…
Perhaps the fastest real-world cars of 2014.