BMW Lifts The Lid On M4 Convertible
What am I looking at?
This is the convertible version of BMW's M4 coupe – itself a coupe version of the M3 saloon.
What's new?
A great deal of headroom, courtesy of a three piece metal folding roof.
With the roof lowering in 20 seconds – and raising at up to 8mph in case of unexpected inclemency – the 4 Series convertible is around 2dB quieter than its direct predecessor and is equpped with a wider wind deflector and new three-stage neck-warming "Air Collar" in the front seats. With the M4 limited to 155mph, the habitual roofless driver will be glad of these refinements.
What powers it?
Like the M3 and M4, the heart is a 431hp, 405lbfft twin-turbo straight six. This three litre unit will push the convertible to 60mph in 4.6s (4.4 for the twin clutch auto) and on to the aforementioned 155mph.
However, the 4 series convertible is not a light car – over 300kg heavier than the coupe – and this results in a marked dent in the fuel economy compared to the coupe. With a best of 32.5mpg on the combined cycle (further reduced to 31.0mpg with the manual), the carbon emissions kick over 200g/km, making the M4 Convertible 20 more expensive each year for VED – and 145 more expensive in year one.
Anything else?
As you would expect, the M4 Convertible comes with a pretty high level of standard equipment and a whole host of abbreviations to keep you on the road. All UK cars also get Adaptive M suspension, BMW Professional media package, upgraded Bluetooth and USB, front and rear Park Distance Control, folding exterior mirrors and heated front seats.
Be aware though that, like all folding metal roof convertibles, boot space will be somewhat at a premium. The 4 Coupe musters up 445 litres and this drops to 370 litres with the convertible's roof up and just 220 litres with it stowed.
How much will it cost me?
It'll be available from September 6th, priced at 60,730 if you can resist the temptation to start ticking boxes. However, one option that may be worth the outlay is the automatic M Double Clutch Transmission – another 2,645 on top of the on the road price.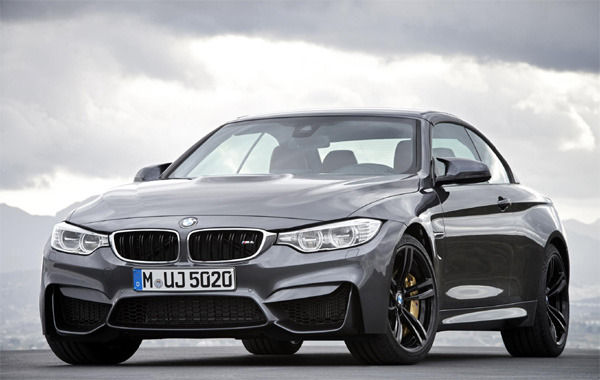 Any alternatives?
When shopping for a BMW, two rivals will automatically spring to mind.
Audi's A5 coupe, in 450hp RS5 form, provides an ample alternative – if a little pricier at 68k. The other 3/4 series rival, Mercedes C-Class, doesn't offer a convertible – much less a hot one – but its due an open top model as part of the new generation coming next year,
In a line…
The new-build housing development weapon of choice from Autumn 2014.