Grand Designs: Citroen's All-New C4 Picasso
The press release for the Citroen C4 Picasso reads more like the spec for a new house than a new car. In fact, such is the 'Grand Designs' feel of the release, we'd probably be better off drafting in Kevin McCloud to write some words.
Citroen proudly boasts about a "loft-style cabin", "glossy blacks", "sparkle-effect finishes", "sun blinds", "aluminium and steel construction" and a "composite floor". You may need planning permission to park this thing outside your house.
When do we move in?
But actually, joking apart, the all-new Citroen C4 Picasso looks like a class act. It's as though Citroen has taken its experience in the compact MPV sector and created the perfect vehicle. Less Multi-Purpose Vehicle and more My Perfect Vehicle then?
And when you think about it, we expect Citroens to be slightly eccentric and cutting edge. Something relatively easy to achieve when you're producing the likes of the C6, DS and SM. More of a challenge when you need to factor in minor irritations such as practicality, space and a child-proof interior.
On the face of it, Citroen seems to have worked some magic with the new C4 Picasso. It's the first Citroen to take advantage of the new PSA EMP2 platform and as a result it's 140kg lighter than the outgoing model. Amazingly, it weighs the same as the C3 Picasso.
In fact, all the family-friend elements have been improved. Boot space is increased by 40 litres to 537 litres, or 630 litres with the rear seats pushed forward. Fold the front passenger seat flat to create a 2.5m load length.
Cleverly, the tailgate is a clamshell design, meaning your load can protrude past the open aperture. A neat touch. The composite tailgate combines with the aluminium tailgate to save 70kg of weight. The remaining 70kg is saved by the aluminium and steel construction and composite rear floor.
It's a sharp looking thing, too. The chiseled and quite menacing front-end is in stark contrast to its predecessor. Citroen calls it "assertive" and we have to say we're impressed. It's a shame the chiselled good looks aren't carried round to the back. But hey, at some point, practicality must rule fashion.
The side profile is also enhanced by a 4cm reduction in length and a 6cm increased wheelbase. This pushes the wheels further apart, reducing the overhangs in the process. Which should help to improve the driving experience.
Yet despite this - and a 4cm reduction in height - the headroom remains the same and leg room has been increased by 2cm. The front and rear doors open to a 65-degrees angle. Such things matter in the family market.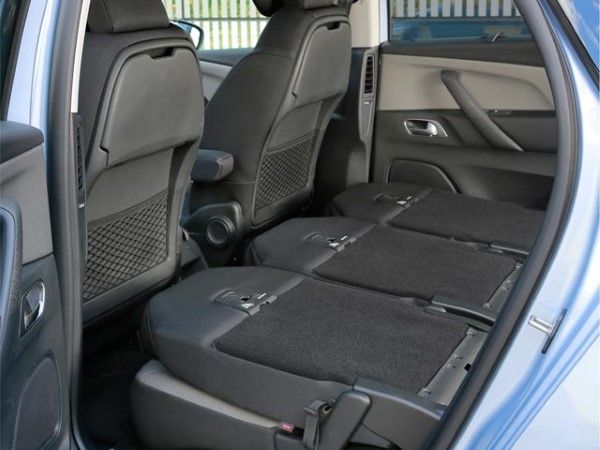 The standard specification also looks good. The entry level VTR offers dual-zone air conditioning, panoramic windscreen, LED daytime running lights, 16-inch alloys. cruise control, 7-inch touchscreen and Bluetooth connectivity.
Naturally the spec improves as you work through VTR+, Exclusive and Exclusive+. Expect such luxuries as DAB radio, rear parking sensors, 12-inch panoramic HD display, adaptive cruise control, keyless entry and start, park assist and electric tailgate. You can also spec massaging front seats and an electric footrest for the front passenger. No really - in a Citroen!
A range of engines are available, including a 98g/km CO2 e-HDi 90 Airdream, which has the potential to offer 74.3mpg on a combined cycle. The top selling model is likely to be the VTR+ e-HDi 115hp with a six-speed manual 'box. In fact, Citroen expects 90% of sales to be diesel.
Safety is paramount, so a five-star Euro NCAP rating is no surprise. This also includes an 88% child occupant safety rating.
Priced from: 17,500
Available from: Now
Conclusion
Is it possible to get excited about a compact MPV? Yes, although it's probably not something you'd admit to in public.
That said, the Citroen C4 Picasso looks like a genuinely credible vehicle. On paper it looks like someone has genuinely thought about the needs and wants of a typical growing family. And although we have to reserve judgement until we've driven the car, we reckon Citroen could be on to a winner with the new car.