FIAT 500L: Now With Beats
What am I looking at?
Resulting from a collaboration between FIAT and premium audio brand "Beats by Dr. Dre", this is the special edition FIAT 500L Beats Edition.
So what's new?
As you might expect, the headline feature is an enhanced audio system from BeatsAudio. An eight channel, 520W amplifier turns the 500L Beats Edition into an wholly new environment for music enthusiasts, with advanced equalisation algorithms purporting to provide a studio-like experience.
There's other trinkets and nick-nacks to set you apart from the rest of the 500L range too. From the outside the unique red calipers and mirror flashes and two-tone grey and black body provide an obvious visual demarcation and on the inside you get has automatic dual-zone climate control, matte grey dashboard panel and a Total Black interior pack which includes black part-leather seats with red "500″ logos on the front backrests.
What powers it?
There's a choice of four engines, two of which are brand new to the 500L range and are being rolled out across the board.
The 105hp 0.9 litre TwinAir petrol and 105hp 1.6 litre MultiJet II diesel are stalwarts of the FIAT range already. The new engines are a 120hp version of the diesel and a 120hp petrol 1.4 T-Jet, both compliant with the new Euro 6 emissions regulations.
The new, high output version of the MultiJet diesel engine increases the top speed by 5mph to 117mph and reduces the acceleration to 60mph from 11.3s to 10.7s compared with the 105hp version. There's a small sacrifice made in fuel economy, dropping by 1.8mph to a still pretty creditable 61.4mpg – and it sits the same VED band, so there's no annual financial penalty.
Opting for the petrol gets you the fastest-accelerating FIAT 500L yet, with 0-60mph polished off in 10.2s and the same 117mph top speed of the 120hp diesel. Fuel economy is not as good as the diesel – at 40.9mpg – while the 159g/km CO2 emissions are a bit punishing for your annual tax disc bill, moving it into VED band G at 175 a year.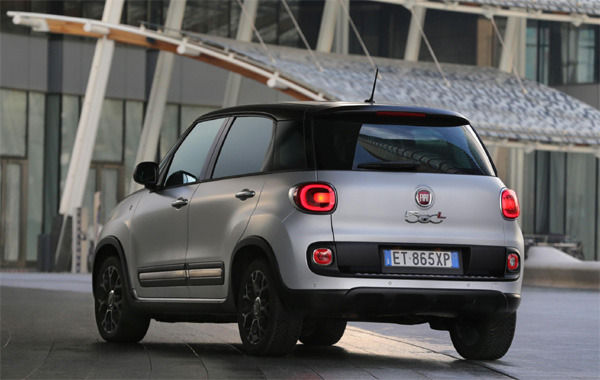 Anything else?
The Beats Edition is based on the Trekking version of the 500L. This means that standard kit already includes revised suspension, mud and snow tyres, rear electric windows, front fog lights, a touchscreen infotainment system, automatic headlights, rain sensors and rear privacy glass.
How much will it cost me?
Though it's on sale in mid-March, FIAT is remaining mum on official pricing. With the Trekking coming in at 18.5-19.5k with the existing 105hp engines, you should expect to part with around 20k for the Beats Edition, pushing on to around 22k for the new engine variants. If you're after the new engine elsewhere in the range, budget for 1,000 on top of existing prices.
Any alternatives?
It's a tough sector, this. There's no shortage of 50mpg, 5 seat hatchbacks in the expected price range and, let's be fair, the FIAT 500L is a bit of a niche-looker.
Unless you're seriously into your sounds, it'd take a strong will to walk past a Ford Fiesta ECOnetic, while the Citron DS3 is still the cool choice of the class. The audiophile might be more swayed by the Audi A1 though, which can be bought in equivalent spec with a 485W Bose surround package for similar money.
In a line…
A rare special edition with a unique selling point.
Want to know more? Check out our full buying guide to the FIAT 500L with reviews, user reviews, photos, videos and stats.