LaFerrari – Ferrari Enzo Successor Wows Geneva Crowds
The launch of a new Ferrari is an earth-moving event at the best of times, but La Cavallino's hypercars are even rarer, even faster and therefore, even more special.
There'll doubtless be a few concerned at the confusing name – Ferrari LaFerrari tops even 'Ferrari Enzo Ferrari' for needless repetition – but that distraction will last only a few seconds while setting eyes upon the car's curves.
To the untrained eye it's not hugely different from the 458 Italia supercar.
Where the Enzo was all about sharp edges, echoing those found on the brand's Formula 1 cars, LaFerrari has gone for swoops, dips and curves. It stops short of being traditionally beautiful, with one too many scoops and pointed edges for that, but it's still stunning to behold and eye-catching from any angle.
Like all modern Ferraris, the shape has been part-influenced by aerodynamics.
LaFerrari's shape was honed in the same wind tunnel used by the F1 team, and active aerodynamic devices choose between downforce and reduced drag depending on driving conditions. The sculpted haunches and low nose may look fantastic, but their shape is optimised to scythe through the air as cleanly as possible.
But, as a wise man once said, only 50 percent of a Ferrari is in the soul – a Ferrari's styling. The other 50 percent – the car's heart – is the engine, and at a stroke LaFerrari has become the most powerful road car ever to wear the Prancing Horse badge.
A 6,262cc V12 sits behind driver and passenger, developing 800 horsepower. Red-lined at 9,250 rpm, the V12 develops 128 horsepower per litre through a seven-speed dual-clutch transmission.
It doesn't stop there, though. LaFerrari is the first road car to feature the firm's HY-KERS hybrid system. A 163-horse electric motor assists the rear wheels, for a combined output of 963 bhp.
Performance will be mind-blowing. Officially, Ferrari claims a 0-62 sprint of under three seconds, and 0-124 mph in under 7. Top speed is ominously quoted at "over 217 mph", though luckily carbon ceramic brakes are standard all-round.
The new car can also circulate Ferrari's test track, Fiorano, in under 1 minute, 20 seconds – a full five seconds quicker than the old Enzo.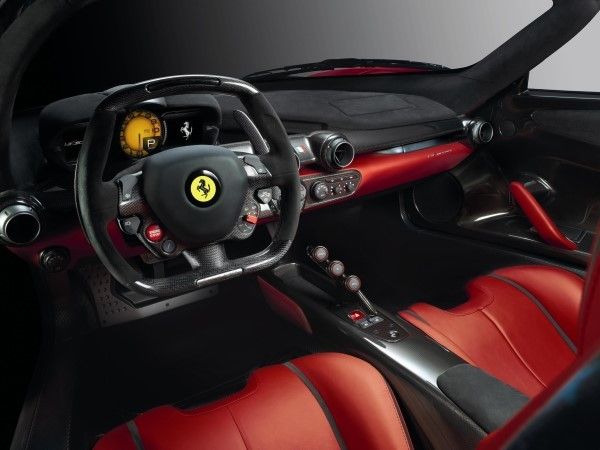 In the cabin, the seats are fixed – it's the pedal box and steering wheel which are adjusted, set by the factory to the buyer's specifications. Even the seat itself is tailored to each driver.
The driving position is as central as possible in a two-seater, to enhance the F1 car feeling, and while the interior is as pared-back and track-orientated as possible – check out the new F1-inspired wheel – quality will be to the highest standards.
The car's price hasn't yet been announced, but with only 499 ever to be built, they won't hang around for long…
Priced from: Not yet announced
Available from: Not yet announced
Conclusion
Let's face it – the latest Ferrari hypercar was never going to be any less than stunning, was it? On Ferrari's recent form, we're eager to see the first reviews coming in, and even more eager to see the first group tests against LaFerrari's illustrious predecessors…