Ford's 140hp Fiesta Red and Black special editions
What am I looking at?
This pair of diminutive dichromatic darlings are special editions of the Ford Fiesta Zetec S, dubbed the Fiesta Black and Fiesta Red.
What's new?
The paint treatment should be relatively plain to see moreso on the Fiesta Black. The cars will be available either in Race Red with a Panther Black roof and details or in the exact opposite paint scheme: black with eye-catchingred details and roof. If you couldn't decide on just one shade after reading our Fiesta colour guide, here's your chance to have your cake and eat it.
There area few other bells and whistles on the outside, namelynewgrille treatments, a sporty front splitter (a racing-inspired piece of bodywork underneath the bumper), sports bumpers and a roof spoiler. Both cars also get standard black 17-inch alloy wheels. The interior treatment is the same for both cars too. Both getblack leather sports steering wheels and gear-lever gaiters with red stitching, black floor mats with red stitching and black sport seats with contrasting red stitching and bolster exteriors.
What powers it?
These new editions aren't just an excuse for Ford to show off fancy paint jobs and trim details:these special editions are a little bit more powerful than your standard Fiesta Zetec S models. The 1.0-litre turbo petrol engine found in the regular Zetec S has been boostedfrom 123hp to 138hp, cutting half a second from the 0-60mph time, reducing it tonineseconds. This won't make many headlines, but Ford is keen to point out that, at 138hp per litre, the Red and Black editions produce more horsepower for their engine sizethan other famous red and/or black cars such as the Bugatti Veyron (123hp/litre) or Ferrari 458 Speciale (132.7hp/litre). A useful statisticwhen you're telling all your friends about your newFiesta Red or Black.
Thankfully, it's also markedly more frugal than the Bugattiand Ferrari offerings. Ford claims 62.8mpg combined, while the 104g/km CO2 emissions put the Fiestas many tax bands below the Veyron you won't even pay any Vehicle Excise Duty (VED) for the first year and it's 20 each year thereafter.
Anything else?
Special editions these may be, but limited they are not. If you're after an exclusive, look elsewhere because Ford will sell as many of these as it can make.
If you regularly use the back seats, you might want to think twice too. Red and Black will only be available in three-door bodystyles.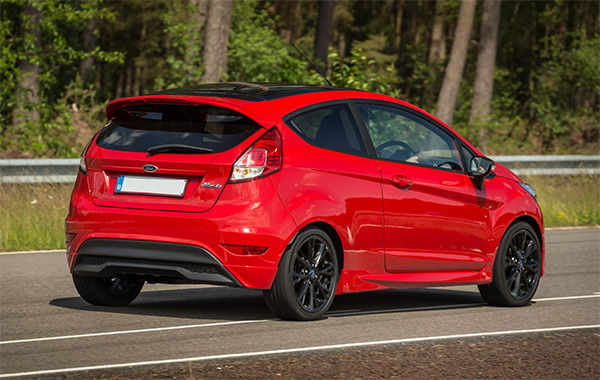 How much will it cost me?
Both the Black and Red versions are available for 15,995 – a mere 500 more than the regular Zetec S and 1,200 less than the hotter ST models.
Any alternatives?
There's an almost endless supply of hot hatches on the market, but warm ones are a bit less common. That said, there's still the MINI Cooper, Alfa Romeo MiTo 1.4, SEAT Ibiza 1.4 FR and Suzuki Swift Sport to deal with, and all offer similar performance for the same sort of price.
Big competitors would include the Vauxhall Corsa 1.4T Black and VW Polo BlueGT, although the Fiesta will be quicker than the Corsa and cheaper than the Polo.
If two-tone is your thing, take a look at the Citroen DS3 which has a number of customisable options and a pretty sprightly 155hp variant though you'll pay for the privilege.
Want to know more about Ford Fiestas?
If you want to find out more about the Fiesta Red and Black editions then check out our Ford Fiesta deals section.