Land Rover Freelander Facelift: Five Things You Need to Know
Poor old Freelander. Once Land Rovers fresh, exciting new car, back when ruddy Defenders and sluggish Discoverys were the order of the day, its now had its thunder well and truly stolen by Range Rovers meteoric rise, the
Evoque
in particular.
Never mind though, as Land Rover has seen fit to facelift the Freelander. It may be little more exciting than it was before and youd still prefer an Evoque on the drive, but the Freelander has always been pretty talented. So whats new?
1. Oh God, its sportier
Land Rover describes the freshened Freelander as having a sportier and purposeful look. Last time we checked, neither pulling caravans nor taking the kids to school were particularly sporty pastimes, yet those are surely the natural activities for the new, sportier Freelander. Really, bling would be more appropriate, as the cars face has gained the same Philips Electric Razor grille and bejewelled headlights as the rest of the Land Rover and Range Rover clan.
2. Premium feel
Premium is another thoroughly-abused term in the motor industry, but here Land Rover can claw back some credibility. Most of the Landie and Rangie range is beautifully appointed these days, with soft leathers, metal accents and a solid feel. A quick look at the pictures reveals the new 7-inch screen, and the centre console is a work of curvy art. Its doubtless full of controls that are pleasant to use, too. So premium? Yeah, well give them that.
3. Catchphrase!
Say what you see, see what you say great answer, but its not the one! Roy Walker would have approved of the Say What You See function in the new Freelander, allowing drivers to speak out a command to operate various functions on the audio system, optional satnav, climate control and phone systems. If it reduces driver distraction from fumbling with buttons, then were all for it. But whats Mr Chips doing these days?
4. Plenty of new tech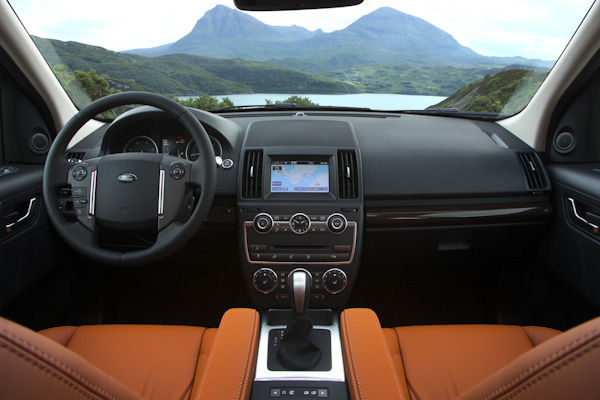 Land Rover has stepped its game up with tech recently, and now the Freelander benefits from its experience. A rear view camera is available, helping you see your surroundings for parking purposes, but it also comes with Hitch Assist. Rather than helping you get married, it shows you where the tow ball is so you can hook up the aforementioned caravan. An updated satnav is also available, as is the option of either a 380W or 825W Meridian audio system. Youll find it on Jags and Range Rovers, so you can be sure its high quality. A high-spec HSE LUX trim level tops the range, and cloth-seated S trim kicks it off. In the middle youll find the sporty Dynamic trim level.
5. Same competitive engines
Engines in the pre-facelift Freelander were already pretty good, so though there are no changes here, its hardly a bad thing. Most economical of the range is the 2.2-litre, 150PS front-drive eD4, but you can also have the same engine with four-wheel drive, or a higher 190PS output. The eD4 gets a six-speed manual transmission, stop-start and manages 47.1mpg - with 158g/km CO2 emissions. Weve sampled the engine in Freelanders, Evoques and Jaguar XFs - theyre smooth, punchy and quiet.
Conclusion
We like the Freelander. The wider motoring press also likes the Freelander. Overshadowed it may be by the
Evoque
, but then the Evoque forces plenty of practicality compromises, and the Freelander still goes a little further off road.
You can make your own mind up on the facelifted styling - for us its a little too bling for a workhorse like the Freelander - but the new interior looks great and weve no reason to expect the quality wont be up to scratch. And that Land Rover badge still carries plenty of cachet.