Mercedes C-Class: Watch out, BMW 3 Series
What am I looking at?
This is the all-new version of Mercedes' biggest selling car, the C-Class. Sitting in the same junior management sector as BMW's 3 Series and Audi A4, the C-Class is Mercedes' most important car, selling 2.4 million of the last generation alone.
So what's new?
More or less everything. It's an entirely new car so, with the exception of some engines and gearboxes, everything important inside and out is new.
It's grown too, with 80mm extra between the wheels to increase legroom and measuring in at 4.69m top to toe – not a significant increase over the old model, but enough to keep pace with its countrymen rivals.
What powers it?
At launch there'll be two petrols and one diesel available, each developments of previously seen engines but adhering to new "Euro 6″ emissions standards and promising up to 20% better fuel economy than the outgoing C.
The petrols come in the shape of a 156hp 1.6 in the C180 and a 184hp 1.9 in the C200, while the C220 BlueTEC diesel is a 170hp 2.1 litre. These engines are all capable of prodding a C-Class to 60mph in just about 8 seconds, with 53.3-56.5mpg available from the petrols and 70.6mpg from the diesel. None is in any worse tax bracket than Band C, so all have a free ticket for the first year and no more than 30 annually thereafter.
Depending on available power output, the cars will all be available with a 6 speed manual or a 7 speed G-Tronic Plus automatic.
Mercedes promises a huge range of future engine options after launch. A new 1.6 diesel unit in two states of tune, offering 115hp or 136hp, should be the most fuel-thrifty, while the 2.2 diesel will be offered with 204hp for a bit more pace. A hybrid based on this latter unit, with a 27hp electric motor, should return 72.4mpg with a further plug-in hybrid to follow.
There's no word at this point on sportier models, but it can't be too long before the sanity-free tinkerers at AMG get their hands on the new C-Class and put something fruity under the bonnet.
How much will it cost me?
Full UK pricing and specifications haven't been announced yet – it's pretty early days – but it doesn't seem likely that the C-Class will be very much different in wallet-lightening terms than the outgoing models, starting at around 27,000.
Anything else?
Mercedes have gone a little overboard with tech in the new C-Class, pulling in features that have literally just made their debut in the considerably more expensive S-Class.
This means that, amongst other things, you can get adaptive brakes that will slow you down so long as you're above 5mph (but below 125mph!) and react to stationary vehicles ahead at up to 31mph, or even the follow-my-leader Distronic Plus system which will modulate steering, brake and throttle at speeds up to 37mph to keep with the flow of traffic.
Along with reading road signs for you and managing your main beams for you, the C-Class is pretty well loaded with electronic kit – but still manages to be around 100kg lighter than the previous model.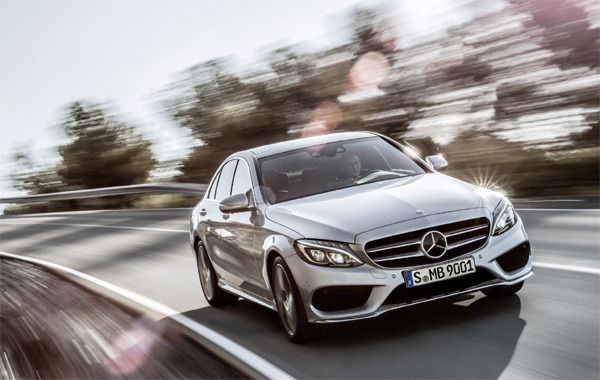 Any alternatives?
It's likely that in this sector you're going to want to cross-shop with the aforementioned BMWs 3 Series and Audi A4 – which should become an even more interesting choice when Audi conjures up its A4 replacement. A novel competitor would be the sharp-looking Lexus IS – also recently updated onto a new platform.
If you like value for money, you could do worse than getting the mother of all Mondeos for entry C-Class money, while there's a bit of leftfield chic in the shape of Citron's suave C5 – though both will depreciate like meteors in comparison to the Germans.
In a line?
Move over, Munich – Stuttgart is coming through…