Mitsubishi Mirage – Lighter, Cleaner, Greener
The new Mitsubishi Mirage might not look like much, even compared to its Mitsubishi Evo-style Colt predecessor, but it notches up a first in the supermini class.
When it goes on sale this month, the Mirage will be the only vehicle in the class with a full range of engines under the magic 100 grams per kilometre CO2 barrier – meaning free road tax and congestion charge exemption all round.
Of course, there'll be only two engines to choose from, but the message is clear – the Mirage majors on green. And not just in terms of colour…
Those two engines are a 1.0-litre, 3-cylinder unit with Mitsubishi's MIVEC variable valve timing, and a similar 3-cylinder MIVEC engine displacing 1.2 litres.
The former puts out a respectable 71 PS, the latter 80 PS, and each uses Auto Stop & Go, regenerative braking and a high efficiency alternator to keep consumption low. Officially, the 1.0-litre car manages 70.6 mpg combined with CO2 of just 92 g/km, while the 1.2 gets 68.9 mpg, with 96 g/km of CO2.
Also available is the top-spec MIVEC 3 with a continuously-variable transmission, which emits only 95 g/km of CO2, bettering the manual by just a fraction.
Efficient engines aren't the only string to the Mirage's bow – a low base kerb weight of only 845 kg and drag coefficient of only 0.27 also aid economy. Performance is average for the class – 13.6 seconds to 62 mph with the 1.0, 11.7 seconds from the 1.2.
With all that technology and light weight engineering, it's a pity Mitsubishi hasn't been more adventurous with the Mirage's styling.
Instead, the shape is rather generic – this particular mirage seems to be refracting the styling trends of a decade ago…
Priced from: 7,999
Available from: Order now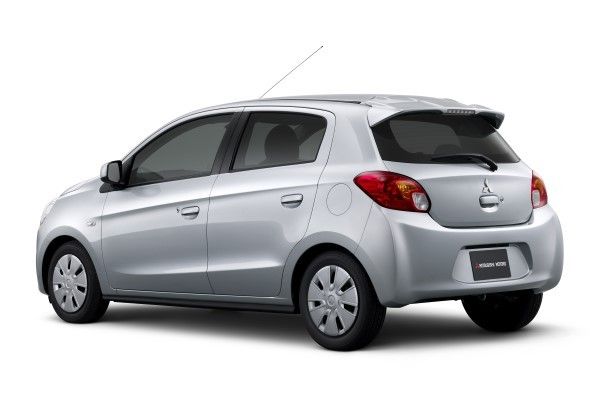 Conclusion
Dull styling aside, the Mirage seems to have some merit. It's inexpensive to buy – the 7,999 figure aided by a 1,000-off launch offer – and low emissions and high economy should make it inexpensive to run. We'll be testing the new Mirage in just a few weeks, so stay tuned for our full report.