This 3-Wheeler is a New Car. Yes, Really!
No, you are not mistaken. This is a new car.
Honest it is. I promise you. It's called the 3-Wheeler. You can go into your Morgan dealer, or to the actual factory if you like, and place an order for this car. Brand-new and tailor made to your specification.
And this isnt like other stereotypical Morgans. Some think that this manufacturer started making cars in the early part of the 20th century and then never changed. Why change a product that works? Well let me tell you now, Morgan is a company that has changed. Although the companys values and practices remain intact, their ideas and designs are as modern and crisp as an iPad.
Looking at the three-wheeler, you might think Im blind for saying its a modern crisp design, but read on before you lose faith in me. A few weeks ago, I visited the Morgan factory deep in the Malvern Hills, Worchester. Stepping out of the car, youre greeted by a smell of wood; not the usual smell you expect at a car factory. Barn doors lie just agar for you to peep in and see a workforce all crafting cars from natural materials.
Inside, there are endless reminders that this is a factory time has forgot. Bells still ring throughout the factory signalling the official tea break. Each member had their own workstation and individual parts are hand made from wood, leather and metal. Wooden frames lie around the factory, as cars are slowly hand built. In one of the large sheds lives the workforce of their latest car the Morgan 3 wheeler.
Announced in March 2011, Morgan had originally hoped to produce a limited run of these vehicles. Overnight, orders began flooding in and before they knew it, 800 people had lined up ready to put cash on the new Moggy it had more orders than any other model. They had to do something. A new production line was organised within the limited buildings at the Morgan factory and only now, in December 2011, production cars are beginning to roll off the line.
They dont roll off the line one after the other like they would a mass manufacturer. No, each one is slowly completely, lovingly with an attention to detail that dates back to the origins of the factory. Other mass manufacturers have tolerances, measured by super computers and impossibly accurate robots. Morgan use something far more powerful and cleaver a man. Using the most powerful computer in the world, the human brain, and the most advanced lens in the world, the human eye, every car is painstakingly checked before leaving the factory.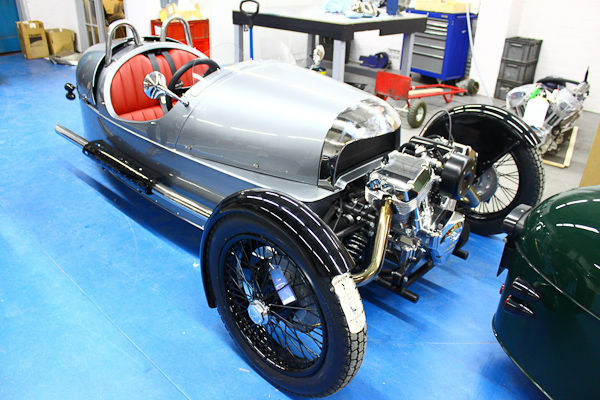 The 3-wheeler was designed for one single purpose; to make driving fun. Just looking at this car is a pleasure in itself, but driving it is truly inspiring. For all its old fashion looks, its perfectly simple and easy to drive. The twin-V engine that pokes out the front is mated to Mazda 5 speed gearbox. 115bhp is then transferred to the single rear wheel via a belt. With passengers aboard, the car is balanced with a low centre of gravity, which just implores you to enjoy the experience of driving.
Ok, the chassis isn't the most dynamic, grip isnt limitless and there are much better drivers cars on the market, but for sheer fun factor, you cant get anything better. Lets be honest, youre not about to buy this car for its dynamic ability, in the same way you dont buy a skip to fill space on your drive.
In a way, this car is a lot like Superdry, the fashion label. They mix new clothes and a brand that has only existed for 3 or four years with logos and designs from the early 20th century, the 60s and 70s. The brand, on face value has a long heritage, despite being in its infantcy. Morgan is sort of the opposite. Here is a car that is brand new, but looks old.
Some of the technology is brand new, like the gearbox and engine, but overall, youd never notice this. All that matters is the way it looks and sounds. Even if you had to pedal this car it would sell (they do sell a scaled down pedal car version, for 3000). The fact is sounds as good as it looks, and drives almost as well just makes it what it really is a true Morgan.
Morgan 3 Wheeler - Post-modernism defined?
Postmodernism is a term largely thrown around without true definition or clarity. One definition reads A late 20th-century style in the arts, architecture, and criticism that represents a departure from modernism. In this respect, the Morgan three wheeler is the perfect way to describe post-modernism. Its a new car that looks old, that blurs boundaries, that draws attention and challenges convention.
I dont know of any other car that has done this since the introduction of the original Citroen DS in 1955. Although new, it stands away from everything else with its design and features and because of this brave strong stance, its cool. Not in a retro way, or a designer label way, but in the way that only Morgan know how to do. Its by far and away one of the best new cars to ever be made, period.
To see reviews of is, plus more photos and videos, check out our detailed
Morgan 3-Wheeler section
.