New Audi TT - Geneva Motor Show Gallery
You're looking at the new Audi TT. No, really, it's all new - based on Volkswagen's modular MQB platform that underpins the Golf, the A3, half a dozen other VAG products and a dozen more in future.
But Audi knows better than to mess with a winning formula, so it hasn't. The third-generation TT is less of a leap from the second-gen model than that car was from the original TT. Some may see it as a shame that Audi hasn't experimented a little more with one of its most iconic models, but it's easy to see the logic for not doing so.
And anyway, the TT has always been a good-looking car. The new model doesn't change that, but does pull the car a little closer to other Audi models in its details.
That's most apparent in the front grille and the new LED daytime running lights, but aft of those the changes are much more subtle. There are a few more angles here and there and the sides feature a more pronounced "tornado line", but the side profile is near-identical to the old car and the rear is virtually indistinguishable too.
The real changes have happened under the skin. There's greater use of aluminium in the TT's construction, dropping the base model's kerbweight by 50 kg. The wheelbase is greater too, despite the overall length being largely the same.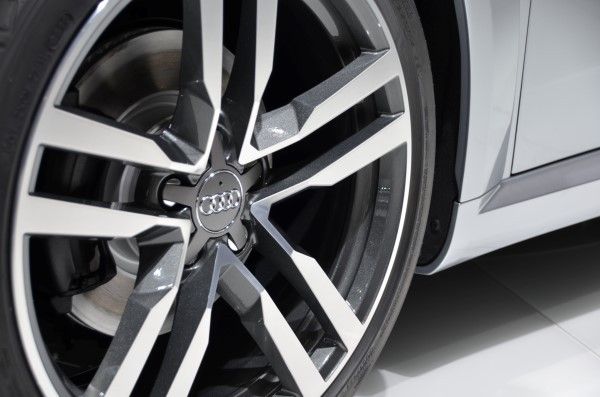 While the sporty TTS will make headlines for its 310 PS output - and 4.7-second 0-62 mph sprint - the diesel is if anything even more impressive and will be a big seller in the UK. The headline figure is 67.2 mpg combined, with CO2 of just 110 g/km - so VED will cost just 20 a year. Despite that, the new car takes little more than 7 seconds to reach 62 mph.
It's also Euro 6 emissions compliant, features two balancer shafts in the crankcase to reduce vibration, and has adjustable camshafts and common-rail injection. A manual 'box and front-wheel drive is standard, while other models get manual and DSG options, as well as Audi's quattro all-wheel drive system. A 2.0 TSI model is also available.
Magnetic adaptive dampers are standard on the TTS, while a progressive steering rack is standard on all TTS. It should be better to drive than the old TT then, but we'll find out for sure when the model goes on sale in late 2014.