BMW have just unveiled this brand new 6 Series. Its roots from the current 6 Series are clearly recognisable, but this is a new model, not just a facelift. From launch it will only be available as a convertible, with a coupe version coming soon after.
Engines
Two versions will be offered initially, the 640i and 650i. Unusually, there won't be a diesel from launch, only two petrol engines. No word yet on how much each one will cost.
The 640i has a 3.0 litre engine, with 320hp on tap, giving it a 0-60 of 5.7 seconds. It wont cost too much to run either, with 38.5mpg and CO2 emissions of only 185g/km (200 tax a year).
The faster 650i has a 4.4 litre V8 giving 407hp, meaning 60 will come in 5.0 seconds. This one will clearly be more fun, but won't be cheap, with a less impressive 24.6 mpg and 249g/km (435 tax a year).
Exterior
The new 6 Series has the new BMW design style, with the shark nose and trademark slanting kidney grilles. As with most new cars now, all versions will have daytime running lights as well. The side view shows the same strong lines that weve seen on the new 5-Series. With the roof up, the roof edges wrap around the long flat back forming a symmetrical fin shape on either side.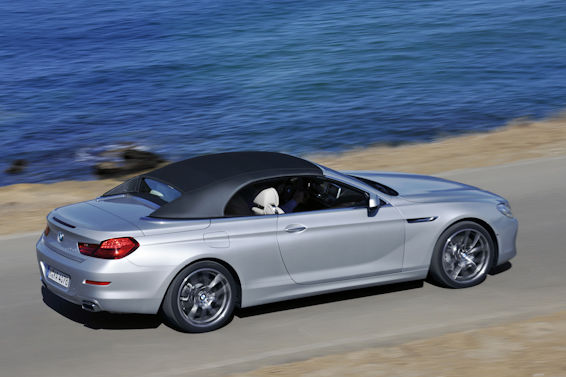 Interior
The new BMW 6 Series, like the existing one, is a 2+2, meaning it has space for 4 passengers, but that the rear seats are really only designed for occasional use. The interior design follows the same style as all the current BMW range, with this model having a large multimedia screen in the centre of the dash. You can choose whether you want the standard 7 inch screen, or go for a massive 10 inch version.
The roof, which is electronically operated, has multiple layers, meaning it should keep out road and wind noise, which is often a criticism of soft-tops. By going for a cloth roof, rather than a folding hard roof, it means there's plenty of space for luggage in the boot, even when the top is folded down.
The toys available with it are where things gets interesting! There are the fairly common options of lane departures warnings, rear-view cameras, internet access and night visions. But there is also a Head-Up Display system which projects 3-D graphics of traffic signals into the drivers line of view.
Verdict
Theres no doubt that this is going to be an exceptionally good grand cruiser. BMW dont make any bad cars, this one is bound to get impressive reviews. We just cant wait for them to bring out the M versions of it, the current M6 Convertible is one of our favourite cars.
The existing 6 Series is great to drive, with the improvements BMW have made to this new one, we see no reason to believe this one wont be too.