New BMW X5 Unveiled, Debuts November
People are quick to form opinions on BMW X5s and the people that drive them, but the fact remains that the X5 is - and always has been - a great car.
One of the first luxury SUVs to offer truly car-like handling, X5s offer a compelling mix of performance and practicality, and now BMW has unveiled the latest, third-generation X5.
BMW says it "delivers major advances in design, luxury, comfort, versatility, efficiency, driving pleasure, safety and connectivity".
It's hard to doubt any of those things but easiest to judge the new car's styling, since BMW's picturesque Monument Valley press images allow us to indulge in the new car's lines.
Unsurprisingly it features a few details from BMW's most recent models - the headlights are quite reminiscient of the 3-Series, the squared-off flanks not dissimilar to the 1-Series and the tail end has a hint of 5-Series Touring about it.
It hides its bulk well, at least in the images - were it not for the badges you might assume it was a new BMW X3 or BMW X1. It's certainly sharper than the slightly bloated current model, that's for sure.
It's definitely X5-sized inside though, with three rows of seats like the previous model, as well as a 40/20/40 split middle row, a minimum 650 litres of luggage space and 1,870 litres with them down - a 30-120 litre improvement seats up and down.
The split tailgate now has automatic operation for the upper section and remote opening and closing. BMW has liberated extra storage space within the cabin but this is no utilitarian workhorse - it's as luxurious as ever, and packed with kit.
Technology such as the latest generation of BMW ConnectedDrive makes an appearance, and a host of Driving Assistant features should make the X5 safer than ever to drive. Parking assistant will also become available from late this year, helping to pick a space and then automatically guide the car in without you touching a thing.
The new lighter-weight, more aerodynamic body hides a familiar range of engines, but performance and economy has been improved across the board.
A provisional 42,590 base price gets you the new sDrive25d model, with two-wheel drive and a 2.0-litre turbodiesel engine offering up to 50.4 mpg - the most economical X5 yet. It's also available in xDrive four-wheel drive trim for 44,895, where it gets 47.9 mpg.
3.0-litre turbocharged, 3.0-litre twin-turbo and 3.0-litre three-stage turbocharged diesel engines are all available too, under the 30d, 40d and M50d tags. A petrol is still available too - the xDrive50i, a 4.4-litre V8 provisionally priced at 63,920.
All engines meet September 2014's Euro6 emissions standards, and all produce lower CO2 than before - so expect VED to drop accordingly.
Priced from: 42,590
Available from: 16th November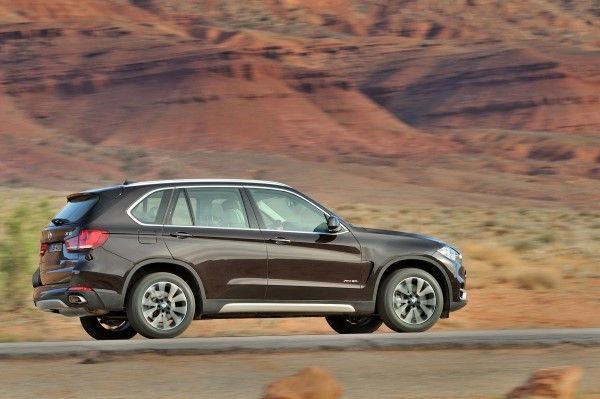 Conclusion
It isn't hard to imagine the new X5 shooting to the top of the class once more, when it hits the UK in November. People just like X5s, and research seems to suggest they breed some of the loyalest customers too - own an X5, and you'll almost certainly buy another.
The new entry-level two-wheel drive model also undercuts the old car's pricing by a fairly significant amount, so provided you don't need the extra all-weather traction, BMW X5 ownership has become a little more affordable - before you even consider the more efficient engine range.
Check out our full buying guide to the BMW X5 with reviews, user reviews, photos, videos and stats.