2013 Beetle Cabriolet: Five Things You Need To Know
Fresh off the Los Angeles Motor Show stands, the Volkswagen Beetle Cabriolet is now available to order in the UK, too.
You might not feel like ordering a cabrio in the depths of winter, but the Beetles timeless styling could convince you otherwise – and by the time deliveries start in April, you may even have some suitable weather in which to drop the top. Weve selected five main things you should know about the latest car.
1. It has history
Unless youve literally been born in the last few years, youll probably have some idea of the VW Beetles long and illustrious history. Okay, so perhaps its first few years were a little inauspicious (Dont mention the war, Basil!) but since then its been everything from a dependable method of transport to a hippy icon.
Over 330,000 original Beetle cabrios hit the streets before production ended in 1980, and VW built a further 230,000 New Beetle cabrios over the last 8 years. Itll be hoping for similar success this time around.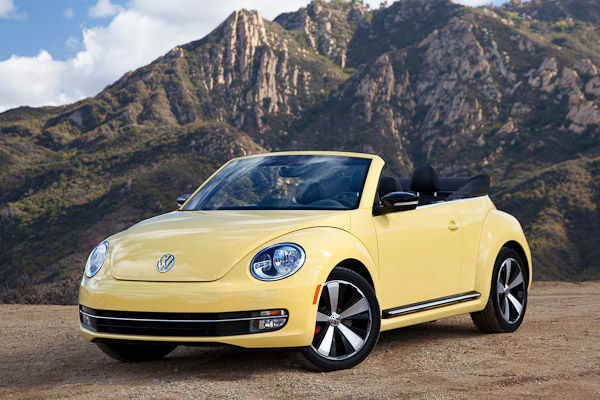 2. Hipsters, please queue here
Just look at it: Every fashion-conscious individual from Haight-Ashbury to Hoxton will want their hands on one. The black car with chrome hub-caps in the press images virtually bleeds retro, and the denim blue and metallic brown shades do nothing to shatter the illusion either.
Traditional car guys may scorn its effeminate image, but people who buy their clothes from vintage shops and wear dark glasses all year around will love it.
3. Wide range of engines
Theres not a noisy, air-cooled flat-four anywhere to be seen in the Beetles engine range. Instead, you get three, four-cylinder turbocharged engines – the 1.2 TSI 105PS, 1.4 TSI 160PS and 2.0 TSI 200PS – plus two diesels, a 1.6 TDI BlueMotion Technology, and a 140PS 2.0 TDI.
As ever, wed recommend petrols if you dont do many miles or youre on a budget, and diesels for those expecting to do plenty of long journeys. Weve driven the 1.2 and 1.4 TSIs in the Beetle hatchback, and found the 1.2 the sweetest. Five and six-speed manuals are available, as are six and seven-speed dual-clutch automatics.
4. Just a quick trim, darling
As with the regular Beetle, you get three trim levels – Beetle, Design, and Sport. Again, our preference lies with Design, which goes heavy on the retro image (surely the point of the Beetle, no?). Cool, chrome-laced wheels are available on the Design, and the interior gets Bluetooth and a neat body-colour dashboard panel.
Sport throws in larger 18-inch alloys, sport seats and a few more dials. Of the options, the 400W Fender-designed sound system is likely to be popular.
5. Special editions at launch
The cars you see in the pictures are the special edition models. The 50s Edition is the black car, with Orbit alloy wheels, chrome mirrors and black or beige upholstery. The 60s Edition comes in either denim blue (shown) or candy white, and gets blue/black or red/black leather. The 70s Edition is the natty Java Brown Metallic car, with beige leather and a beige hood.
Each special edition model comes standard with the 1.4 TSI engine and a six-speed manual gearbox. Pricing starts at 24,655 for the 50s, 25,875 for the 60s, and 25,450 for the 70s.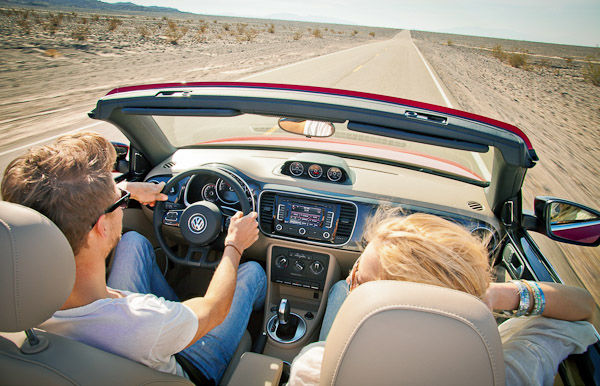 Priced from: 18,150
Available from: Order now, deliveries start April 2013
Conclusion
Like the original, you either love or hate the Beetle – and those that love it will really love it. Weve no doubt that itll be the best Beetle convertible yet, and if the only thing you were missing from the current Beetle hatch is an opening roof, then youve found your perfect car.
The special editions are cool, but were betting that the sweet spot in the range will be the 1.2 TSI in Design trim, with the DSG gearbox – a combination which starts at 21,970. Thats significantly more than the hatchback, of course – but what price can you really put on style?…