Citroen C1 Priced, New City Car Starts At £8,245
I recognise this one…
Indeed – it was only a few weeks ago that Citroen showed the first images of its new Citroen C1 city car, but now we have pricing details too.
What's new?
The whole car, really. The original C1 has been something of a hit, along with its near-identical cousins from Peugeot and Toyota. But in light of recent competition it's looking a bit cheap and nasty.
The new C1 fixes this, both with new styling – that you'll either love or hate – a frugal new engine and a cabin of much higher quality.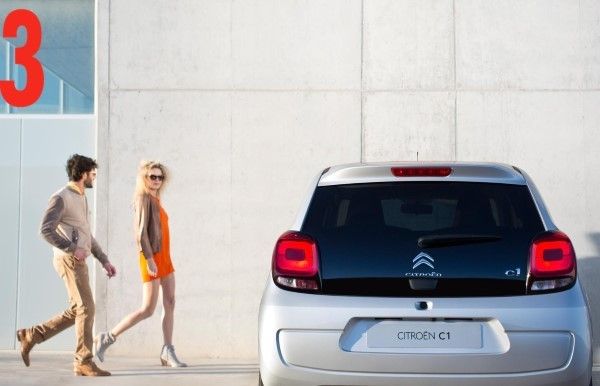 What's under the bonnet?
There are three main engine choices in the C1 range, all based around a one-litre three-cylinder unit.
The optimistically-named VTi (remember when that used to be a sporty badge?) gets 68 horsepower with a five-speed manual or five-speed clutchless ETG transmission. There's an 'e-VTi' Airdream with the same power, stop-start technology available in manual only, and topping the range you'll find an 82-horse 'PureTech' VTi engine, also manual-equipped.
So how much does it cost?
We now know: £8,245. That gets you a three-door VTi in 'Touch' trim – all the safety features you'd expect, along with LED daytime running lights, a USB socket and an MP3-compatible stereo. It doesn't get such niceties as a rev-counter or air-conditioning. 'Feel' trim costs £1,250 more, or another £400 if you want a five-door model. It adds aircon, DAB digital radio, a 7-inch touchscreen and bodycolour mirrors and doorhandles.
'Flair' trim adds another £490 to your bill, with 15″ alloys, a speed limiter, rev-counter, reversing camera, electric mirrors and a leather wheel. The e-VTi costs £10,435 in 3-door trim, and another £100 gets you the 82-hp car. A Flair with the ETG transmission starts at £11,085.
If you really feel like pushing the boat out with a full-length fabric sunroof, Airscape models begin at £10,245 in Feel trim.
Anything else?
You get eight body colours to choose from, four of which are metallic. There are plenty of option packs too – automatic aircon, headlights and keyless entry is a £570 pack (or £270 for the auto features alone). The 'Sunrise Red' and 'White' colour packs each cost £100, and cover the centre console, vents and gearknob surround in the colours you'd expect. The White pack also adds leather to the wheel and gearknob.
Any alternatives?
The Citroen's closest rivals will be its stablemates, the new Peugeot 108 and Toyota Aygo. Pricing for those should be similar – neither company has confirmed its pricing yet but traditionally the Citroen has been cheapest, so we'd expect that to continue.
Closest in VAG's trio of Up, Mii and Citigo will be Skoda's offering, a mite cheaper at £8,090. Alternatively, £100 more than the entry-level C1 gets you a new Hyundai i10 – already rated highly by the experts.
In a line…
Citroen throws down the gauntlet to Peugeot and Toyota.