Mercedes G-Class Facelift – What's New?
Mercedes-Benz as updated the G-Class, but you'll have to look closely to see the difference as it still looks much the same as it did when it was fresh first released in 1979.
Exterior
It's still upright, boxy, old-fashioned, and garnished with bling. No real changes have been made to the exterior of the standard cars other than the addition of some LED running lights and new door mirrors. Seriously, that's it; no wonder Mercedes call the changes discreet.
AMG models get more, being fitted with an AMG double-louvre radiator grille, a new bumper that incorporates large air intakes, red brake calipers and 20-inch alloy wheels.
Mercedes has also made Blind Spot Assist, PARKTRONIC, and the adaptive cruise control system DISTRONIC PLUS to the G-Class available as options, adding a measure of interactive safety.
Interior
The instrument cluster and centre console have been completely redesigned and look utterly modern; peer more closely though and the G-Class age becomes more apparent.
The grab handle in front of the passenger seat is crudely bolted onto a flat slab of plastic and the interior door trim can't hide the rectangular doors.
Still, there is plenty of leather and it is all screwed together very well but modern it isnt, despite the addition of the voice-controlled and Bluetooth-compatible COMAND infotainment system.
If the standard G-Class is too boring for you then have a chat with Mercedes and mention the codeword designo, which will open up an Aladdin's cave of custom options.
Engine
Two engines are available in the UK: the G 63 AMG 5.5-litre, eight-cylinder, twin-turbo petrol engine with ECO stop/start, which is new to the range and the G 350 BlueTEC V6 diesel engine.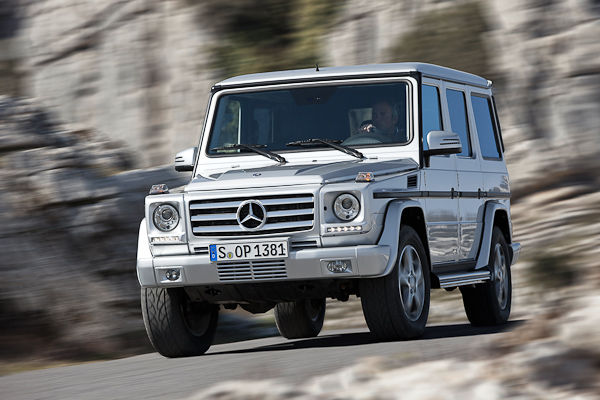 The twin-turbo V8 develops 544hp and 560lb ft of torque. Mercedes don't quote any performance figures but fast should cover it. Oh, and thirsty; Mercedes claim that 20mpg is possible, but it won't be, not really
The diesel is a meek and mild-mannered youth by comparison, developing just 211hp and 400lb ft of torque. Pedestrian should cover that one, as well as decently economical with up to 25mpg on offer. Mercedes also advise adding AdBlue, a water-based urea solution that is injected into the flow of exhaust gases. We've only heard of it being used in tractors and lorries before, but if Mercedes say that you need it
Worth knowing
The G-Class has always been a seriously good off-roader, and the new car retains the three (count em, three!) differential locks. And they're now silver too.
Price: The price and specification of UK cars will be eye-wateringly expensive when they're announced in the near future. Potential buyers with their eye on the G500 and G65 AMG will be disappointed though, as neither are coming to Britain.
Available from:The updated G-Class will be available in the UK from Autumn 2012.
Conclusion
The G-Class is probably the only vehicle on sale today that makes the
Land Rover Defender
look modern. It archaic, ancient, outclassed, and hopelessly outdated. But, it does have a certain appeal, and not just for gangstas and rappers; its indestructible and, in AMG form, incredibly fast.
---
Want huge savings on your new G-Class?
carwow is the smart way to buy your new G-Class, getting you amazing no-need-to-haggle deals from main Mercedes dealers.
Unlike other sites we let you compare upfront offers from multiple dealers. There's no pressure on you to buy, you can contact the dealers at any time directly without them being able to hassle you.
If you're happy with an offer, deal directly with that main dealer, leaving a deposit, and decide on whether you want to collect your car from their showroom or have it delivered as usual.
There are never any hidden costs or online payments and best of all it's completely free! Start getting offers on your new G-Class.