New Renault Twingo – Geneva Motor Show Gallery
The usual supercars and concepts aside, Geneva was all about the latest generation of small cars. Toyota had its Aygo, Peugeot had brought along the 108, and Citroen was displaying the new C1.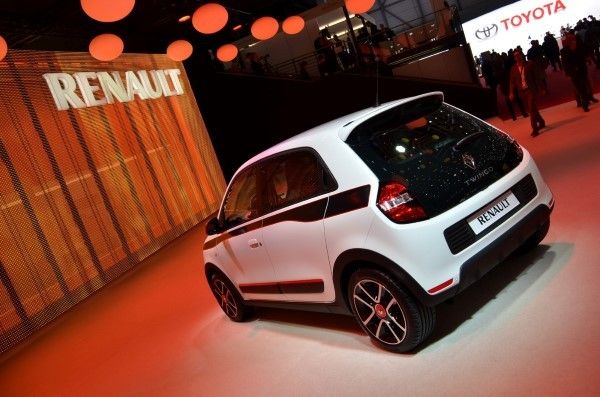 And amongst all those, Renault debuted its latest Twingo. Where the first-generation car was never sold in the UK and the second-gen Twingo was a largely uninteresting rehash of a previous-generation Clio, the newest Twingo is about as original as small cars get these days.
Outwardly you might not see why. There's more than a hint of Fiat 500 to the Twingo's profile, though Renault says it cribs inspiration from the original Twingo and even the old Renault 5, which went off sale in the mid 1990s.Squint a bit and you can see what they mean, as the Twingo has the same trapezium-with-a-bit-cut-out shape as the 5 did, albeit softened and rounded for a friendlier form.
There's also the now de rigeur all-glass tailgate, a wheel at each corner and a friendly face with two main headlamp units and smaller LED daytime running lights positioned below. The look, particularly at the front, ties in well to Renault's current styling cues without appearing unoriginal.
Also, it manages to look like a quality product without treading the same minimalist iPod-style look as the Volkswagen Up and its ilk. It's a bit more fun and carefree, aided by a bright palette of available colours – and like any self-respecting small car these days, personalisation options are rife.
The neat design touches continue inside. Everything feels Tonka-toy chunky without also feeling nasty, the dash is awash with rounded, organic forms, and there are some really cool details.
Take the glovebox, for instance. No, you can actually take it – a gap in the dashboard holds a tough fabric container that can be removed at will. There's also a removable bin in front of the gear lever, and both are colour-coded to other highlighted interior details.
The instrument display is also pretty swish, there's an optional integrated touchscreen, and you can also hook up a smartphone to relay directions or car data.
If we're to criticise, it's that the cabin feels rather small. With the front seat suitably adjusted for a 5'8 driver there wasn't a great deal of space behind, so you'll have to plan journeys with short and tall passengers sitting in tandem…
The boot isn't as big as some rivals too, since there's something rather important under the boot floor – the engine. The Twingo is rear-engined and rear-wheel drive, with 999cc 70-hp non turbo and 898cc 90-horse turbocharged engine options.
We just hope the Twingo is as fun to drive as it looks – and we should get to find out later this year when the Twingo goes on sale. Scroll down for even more photos from the Geneva Motor Show.