Renault's New Twingo Is Old-School, But Not Retro
What's this then?
You're looking at the brand new Renault Twingo, set to make its official debut at the Geneva Motor Show in a few weeks time.
Anything new?
All of it. While the outgoing Twingo was merely a rehash of the Clio of two generations back, the new car is a clean-sheet project co-developed with the Smart brand. It means some of what you find under the Twingo you'll also find under the next Fortwo and Forfour, but we're getting ahead of ourselves.
Essentially, the Twingo is a four-seat, five-door city car dressed in Renault's new design language. There's a hint of the previous Twingo in there and supposedly a nod to the old Renault 5 - most apparent in the side profile. However, it also incorporates some in-vogue personalisation options, an all-glass rear hatch and a slightly more upmarket appeal than the old car.
What's under the bonnet?
Probably a washer fluid bottle, a radiator and a few other unexciting ancillaries. The real news is at the back, as that's where Renault has put the engine. Yes, the new Twingo is rear engined and rear-wheel drive, like most small cars used to be before the original Mini came along and turned the market on its head.
Now, carmakers are able to do rear-engined cars without them spinning wildly as soon as the roads get wet and without them overheating after fifteen miles, and it's a good way of maximising interior space. Under the boot floor you'll find a small 0.9-litre turbocharged three-cylinder with Renault's TCe badging.
Little more than that is known right now, though it's fair to assume it'll dip below the all-important 100 g/km barrier. Manual and dual-clutch auto transmissions will also be available. A diesel probably won't. An electric one probably will, at some point.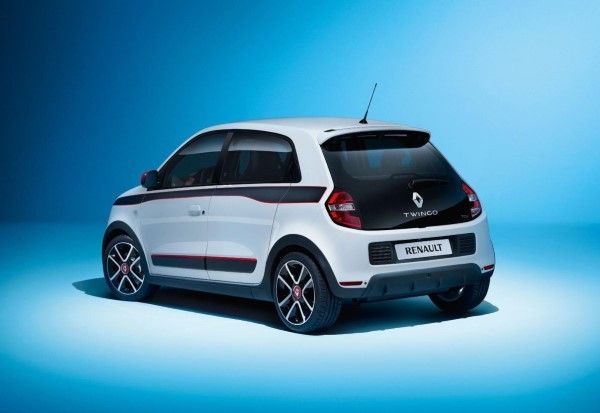 How much?
This we do not know, and probably won't until the car launches later this year. More details should surface at the Geneva Motor Show on March 4th though, and carwow will be there to bring you all the latest news.
What are the alternatives?
Peugeot's newly-announced 108 is the obvious one, but as ever the city car market is wildly competitive - there's the ubiquitous Up/Mii/Citigo trio, Kia's Picanto, Hyundai's new i10, Chevy's Spark, the Fiat Panda and at some point, the Suzuki Celerio.
In a line...
Chic city car gets total transformation