Will the New SEAT Toledo be 'the Perfect Saloon?'
The Toledo disappeared from the SEAT catalogue a few years ago despite selling nearly a million units over two generations. Buyers were, unsurprisingly, put off by the last model's pseudo-MPV styling and uninspiring chassis and stayed away in droves. SEAT finally put it out of its misery in 2009 and had, we all thought, consigned the name to the bin.
We were wrong; the mighty Toledo is set to rise again. Not content with just producing a good car, or even a great one, the new one will, according to James Muir, President of SEAT, S.A. write a whole new success story. Never one to be accused of understatement, he goes on to gush: This is how we envisage the perfect saloon. Mighty words, but does the new car warrant them?
Exterior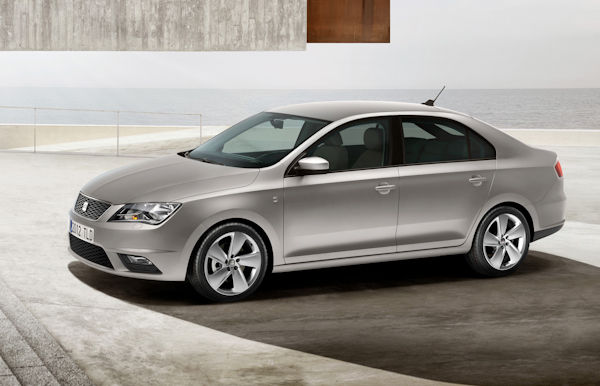 The new Toledo is 4cm longer than the one it replaces, and despite its saloon-like silhouette is actually a hatchback, based on a stretched VW Polo chassis. The casual observer might struggle to be able to identify the underlying DNA but the resemblance to the Skoda Rapid – its sister car with which it shares major body panels – is more obvious.
The front end is dominated by the corporate headlights, and much as wed like to be gratuitously snooty the effect is really rather nice. You'll make your own mind up, of course, but we think that its a handsome car, rather than a beautiful one.
Interior
Im afraid that we know nothing about the interior of the new car, other than it will contain airbags, central locking, a two-part folding rear seat, and leccy windows. But then we think that you could probably have predicted that for yourselves.
Oh, and it does have a huge boot.
Engines
The Toledos fuel consumption and emissions are apparently among the best-in-class. So, not the best then…
Never mind, because the VW Groups 1.2 and 1.4 TSI petrol engines are lovely little things (we drove the 1.2 TSI Ibiza recently and were stunned by its competence), producing between 74 and 121bhp. The highly effective DSG seven-speed auto box will be available with the higher-powered petrol engines.
It will also be available with the 1.6-litre 103bhp TDI diesel for those whose main concern is torque and economy, although sadly, even the Ecomotive TDI engine doesn't quite sneak under 100g/km so wont enjoy free road tax and exemption from the London Congestion Charge. However, if the 89bhp version follows in 2013, which is expected to do so, the customer base will open up considerably.
Worth knowing
The difference between SEATs interpretation and Skodas amounts to a change of lights, bonnet, and boot. Subtle, but probably enough to keep the two identities distinct.
Price
The exact specification and price of UK cars will be announced later in the year but if you have £13,000 saved up you should be able to afford the basic model.
Conclusion
Its hard to predict how good the new Toledo will be given the paucity of information thats available at the moment.
However, SEAT are producing some great cars at the moment, so its unlikely to be awful and it might even be very good. Keep watching, and as soon as we drive one well let you know what we think!
Available from
The new SEAT Toledo isnt available in the UK until early 2013, so those looking to buy one as a lavish Christmas present for a loved one will have to look elsewhere, Im afraid.
---
Looking for a great deal on your new SEAT Toledo without any hassle?
With carwow you can compare upfront offers from main UK SEAT dealers and get huge savings. Compare offers for the SEAT Toledo you're after by discount, delivery time, location and reviews of the dealers from previous carwow buyers. Communicate with dealers online, without them hassling you or putting any pressure on you to buy. If you're interested in their offer, buy directly, there are no online payments. There's no need to haggle and no hidden costs.
it's the best way to buy your new car! Find out more.