New Volkswagen Golf: Five Things You Need to Know
The pictures youre looking at depict the new, seventh-generation Volkswagen Golf, set to appear at the 2012 Paris Motor Show later this month.
No, honestly, they do – this really is an all-new Golf, despite what your eyes may be telling you. And as a brand new model, its set to be one of the most important launches this year. So weve sifted through the stats to bring you the most important things you need to know about the new car.
1. It looks just like a Golf
Volkswagen cant really be faulted for making the new Golf look like the
old Golf
, itself a development of the previous Golf, which was subtly changed from the Golf before that, which was a gradual evolution of every other Golf since 1974. The reason it looks just like a Golf is because thats what works – VW has sold 29 million of the things worldwide over the years, and thats a good reason to avoid changing a winning formula.
2. Its built like a Golf
VW has quite a reputation to uphold with build quality, and the new car should do nothing to undermine that. The new car is larger, has a longer wheelbase, its wider, and its lower than its predecessor – and thanks to a few aerodynamic tweaks to that familiar-looking body, it has a low drag coefficient of only 0.27 – the previous car was 0.31, and the class average is around the same. Interior space has improved by full centimetres in every direction, and the boot is 30 litres larger.
3. It handles like a Golf
The new Golf uses a variable-ratio power assisted steering rack, which changes depending on speed to ensure you get a nimble car in the city and a stable one out on the motorways. Another concession to handling is the Golfs new, post-diet body. At up to 100kg lighter than the car it replaces, youll see benefits everywhere – performance, handling and economy. VW hasnt compromised on safety either, so the light-weight body is also safer than before.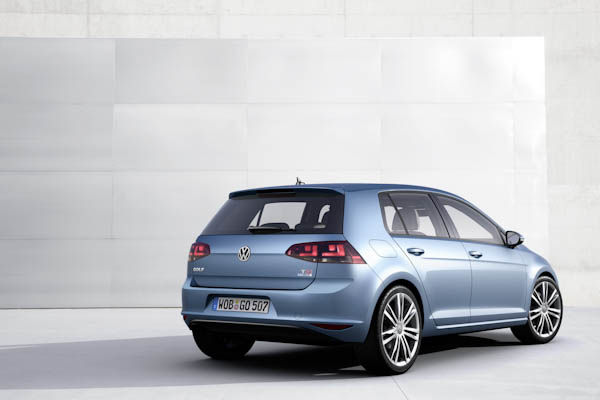 4. It goes just like a Golf
Both fans of diesel and petrol will be happy with the Golfs range of engines, which isnt dissimilar to those of the outgoing model. Petrol engines kick off with an 85PS 1.2-litre TSI engine that does over 57mpg, and a 1.4 TSI with 140PS and Active Cylinder Technology–which cuts two cylinders at speed, returning up to 58.9mpg. The launch diesels are a 74.3mpg 1.6 TDI, and a 150PS, 68.9mpg two-litre TDI. You can bet your tartan trim therell be a GTI at some stage, too.
5. Its filled to the gunwales with equipment, just like a Golf
Repeat after me: Standard 5.8-inch touchscreen; electronic parking brake; collision braking system; PreCrash system to improve the effectiveness of airbags in a crash; Adaptive Cruise Control; City Emergency Braking; Driver Alert System to detect tiredness; Lane Assist system to prevent you drifting out of your lane; Dynamic Light Assist to prevent you dazzling oncoming drivers; Park Assist; and driver profile selection, with Eco, Sport, Normal and Individual modes for different driving styles – plus Comfort, on DSG-equipped cars.
Conclusion
Whatever you think of the Golfs looks – and lets be honest, there are plenty that like its understated German solidity, and the connection with previous models – theres no doubting that a 100-kilo diet, a host of new technology and some ultra-efficient engines makes for a very attractive package.
If you're looking to buy a new Volkwagen then have a look at our
VW Golf deals
page.
Were excited to see what a new GTI will look like, but regular drivers will find the diesels and cylinder-deactivating petrols the most usable day-to-day. And if you really dont like the cars looks, then theres always the
Beetle
. Or
Scirocco
. Or
Skoda Octavia
, or
SEAT Leon
, or