Porsche Cayman R: Will it be awesome?
Porsche have just released details on a new lighter and faster version of the Cayman. Called the Cayman R, itll be even better to drive than the already impressive Cayman. We can confidently say that this car will be great!
The current Porsche Cayman gets fantastic reviews, its got an outstanding buzzScore of 9.3. All the journalists love both the standard Cayman and the Cayman S, a few even say its as good to drive as the 911. This new Cayman R looks like it may become an instant classic.
Whats Different?
The Cayman Ss 3.4 litre engine has been tuned to give an extra 10hp. This means that with a manual gearbox the R will hit 60 in 5.0 seconds, compared to 5.2 seconds for the S. However, go for the optional dual-clutch PDK auto gearbox and the R will do it in just 4.7.
Porsche engineers love to strip weight out of their cars, and theyve done it again with this one. Theyve chucked out the stereo and air-con, reduced the size of the petrol tank and used a bunch of lightweight components, many of which come from the 911 GT3 RS. The result is a decent saving of around 55kg. There are also lowered suspension units, as well as a limited slip differential as standard.
The exterior has had a few tweaks too, theyve added an aerokit, which includes the contrasting-colour spoiler on the back. Porsche like to offer their special editions in odd colours, remember the 997 Gen1 GT3 RS, you could only get it in bright orange or bright green! A new colour has been introduced for the R, this rather fetching Peridot green.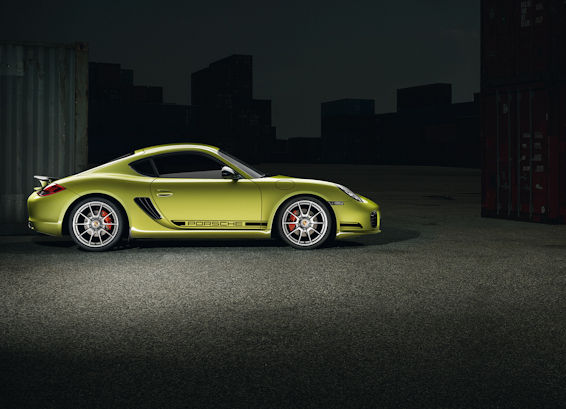 The Cost?
Itll start from 51,731 when it comes on sale in February. The PDK gearbox version will cost an extra 2k. Both versions come with a driving experience day at Porchess excellent Silverstone test centre.
Compared to the Cayman S, it means a price increase of about 5k. Which seems like quite a lot considering that air-con and the radio have been chucked out (presumably they will be paid-for optional extras on the R) and that its only a 10hp increase. However the residual values should be better on the R, which may make up for it.
Verdict
The current Cayman is already one of the best drivers car for under 60k, the Cayman R is clearly going to improve on it dramatically. We can quite easily see this competing with a Lotus Exige, and we expect a fair few complimentary comparisons to its big brother, the epic GT3 RS.
However, we can imagine some journalists wishing it was just a little more hardcore. Were sure they could get a load more hp out the engine, but it risks humbling the more expensive 911 Carrera if they were to do that. The weight savings are impressive, but its still not quite a fully stripped out track-day car.
Theres no doubting it will be great to drive, but it does wear the legendary R (for racing) badge, so it does have a lot to live up to to.
Edit: Interesting blog post from Chris Harris, on the history of the R badge.