Porsche Panamera S Hybrid Unveiled
Porsche have revealed a hybrid version of the Panamera. It offers a tempting mix of performance and economy, we take at look at it…
The Panamera Hybrid is powered by a 333hp 3.0 litre V6 petrol engine, and a 47hp electric engine. This gives a total power output of 380hp, which is 20hp less than the Panamera S and 4S, and 80hp more than the Panamera and Panamera 4.
The 0-60 time is 6.0 seconds, which is just fractionally slower than the standard V6 engine (the one found in the Panamera and 4). This Hybrid version can do 41.5 mpg.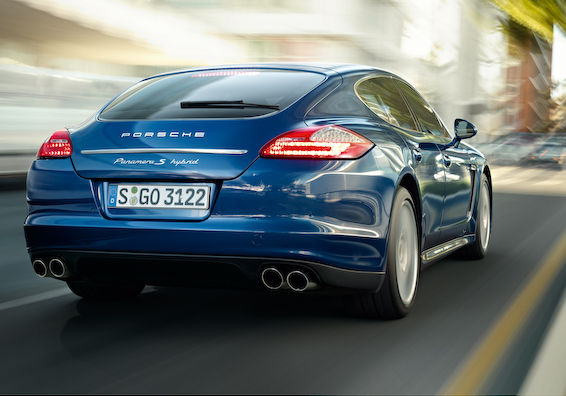 The CO2 output is very impressive for such a large car, just 159g/km. This translates to a market leading figure of just 2.4hp per g/CO2. The emissions have been deliberately set to meet the 160g/km limit, which is the limit at which companies can offset the price against tax at the rate of 20% per annum.
By just using the electric engine you can travel 1.25 miles, at speeds of up to 53mph. Another clever fuel saving trick is what Porsche calls sailing, where the petrol engine is switched off when not needed, which works at speeds up to 103mph.
The S Hybrid will come with Porsche Active Suspension Management, Sat-Nav, Bi-Xenon lights, adaptive air suspension and park assist. Prices will start at 86,146.
Verdict
Its the same engine as fitted in the Cayenne Hybrid, which got good reviews, so its bound to suit the Panamera well too.
Compared to the normal Panamera S, it costs around 9,000 more, is just half a second slower to 60, gets 14mpg more and will be 270 cheaper in road tax every year. Not only that, but the Hybrid S comes with an auto-gearbox as standard, as well as Adaptive air suspensions, which when combined would cost around 4,000 as optional extras on the Panamera S.
On those grounds, if youre considering buying a Panamera, the Hybrid does looks very attractive.
To read aggregated expert reviews of the Panamera, see the carwow page here – Porsche Panamera reviews.