Renault, Dacia Reveal Duster Prices: Bargain of the Decade?
Renaults Romanian budget brand Dacia has revealed pricing for its Duster SUV, due to hit the UK in right-hand drive form early next year.
We were expecting pricing to start from around 12,000, but Dacia has stunned the motoring world by kicking off the Duster range from a supermini-beating 8,995, for the front-wheel drive model.
Four-wheel drive Dusters will start at a still-bargainous 10,995, making it comfortably the cheapest 4x4 on sale in the UK.
Exterior
About the size of a
Nissan Qashqai
, the Duster is a rugged-looking vehicle that belies its humble, Clio-based roots. It may not be the prettiest car youve ever seen, but theres a pleasing simplicity to its lines, and a feeling that - like an old Land Rover - it might actually look even better with a few dings and scrapes, befitting its utilitarian image.
Access based models break the trend for extra bling by coming with chunky 16-inch steel wheels. Move up to Ambiance trim and you get a few more body-colour accents, and top-level (though still well-priced at 12,995) Laurate trim gains 16-inch alloys.
Interior
The inside has a basic, no-nonsense design, and having peered inside a few at recent motor shows we can confirm it has a bit of a late-1990s Renault feel to it. However, it also feels well-built and its certainly spacious - nothing else at this price has as much interior or boot space.
Dacias ethos revolves around eliminating the unnecessary, so equipment levels in the hilariously cheap Access lines are very sparse - theres not even a radio, for example. That may put off some buyers, but those who do without still get front electric windows and four airbags. Move up to higher levels of trim and a CD/USB stereo, rear electric windows and aircon all make themselves known.
Engine
Two engines are available, with either two- or four-wheel drive. The base unit (only available in Access trim) is a 1.6-litre, 105-horsepower petrol, capable of almost 40mpg. Ambiance and Laurate models get the well-proven 1.5 dCi diesel found in many Renaults and Nissans, and delivers up to 56.5mpg in two-wheel drive models.
Petrols get a five-speed manual gearbox, and a six-speed unit can be found in the diesels. 4WD diesels also get a lower first gear, for better traction in off-road conditions.
Price
As weve alluded, pricing is extremely competitive. Even top-line Laurate models with four-wheel drive come in at under 15,000, and the 8,995 entry-level car makes many superminis look wildly expensive. To put that into perspective, you cant currently buy a Renault Clio that cheap, and only two or three Twingos come in under that price.
Available from: January 2013, order books open 28th June 2012.
Priced from: 8,995 (2WD), 10,995 (4WD)
Insurance shouldnt be too dear either. The Access models are provisionally group 7, and all other models are in group 10. A 3-year, 60,000-mile warranty is standard, and this can be extended to five or seven years for 395 or 850.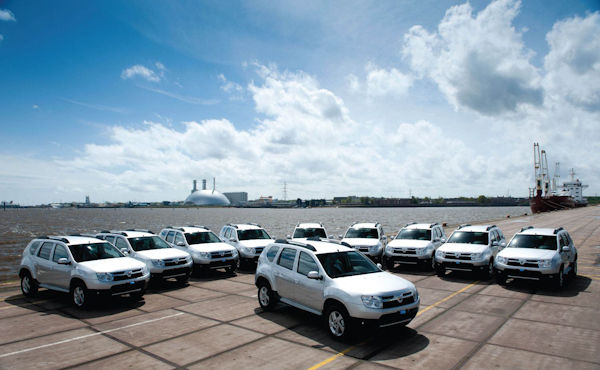 Conclusion
Theres no getting around the fact that the Dacia Duster represents absolutely staggering value for money. Its over 7,000 cheaper than a basic Nissan Qashqai, and although the Nissan offers more equipment, there arent enough toys in the world to hide that sort of price difference.
Dacia may be an unknown brand to British car buyers, but with pricing this aggressive, it could be the most important company youve never heard of.