Renault's Electric Car, the Fluence Z.E.
We take a look at Renault's new Electric car, the Fluence Z.E. We find how much it costs, what the range is and compare it to the Nissan Leaf.
What is it?
A new electric car. Its based on a saloon called the Fluence that Renault already sell in other countries.
Is it just a concept car?
Nope its a production model thatll go on sale in 2012.
How much is it?
To buy it will cost 17,850 (after the governments 5000 rebate).
However, there is a catch. You also have to rent the battery, which will cost 81 a month. Though that cost allows you to travel for just 9,000 miles, less than the average UK motorist does (10,000 miles).
You cant get round that either, the press release very formally states that it ..remains the property of Renault via RCI Financial Services.. The hire price also has breakdown cover, which includes helping you out if the battery goes flat.
Or you can lease it from Renault, though prices and details havent been released yet.
Annoyingly there will only be 20 Renault dealers who can service the Fluence Z.E., so you may have to travel a long way.
Why is it called the Fluence Z.E.?
The Z.E. bit, which is annoying to type, stands for Zero Emissions
How do you charge it?
There are three ways.
1. Through a Wall-box that can be installed at your home (Takes 6-8 hours)
2. A cable with a conventional plug (Takes 10-12 hours)
3. At public charging points
An extra Wall-box (e.g. for your office) will cost 799.
What if it runs out of electricity?
It has a smart feature that when the battery is close to dying it will limit the car to only travel at low speeds. Plus the breakdown support will cover you.
What about the styling?
It looks a little like the
Renault Wind
, which we like, but were not a fan. It looks rather dull from the front, not helped by the ugly black plastic wing mirrors. Inside its instantly forgettable. Round the back it looks a little smarter, though those large rear lights do remind us of the Saab 9-5.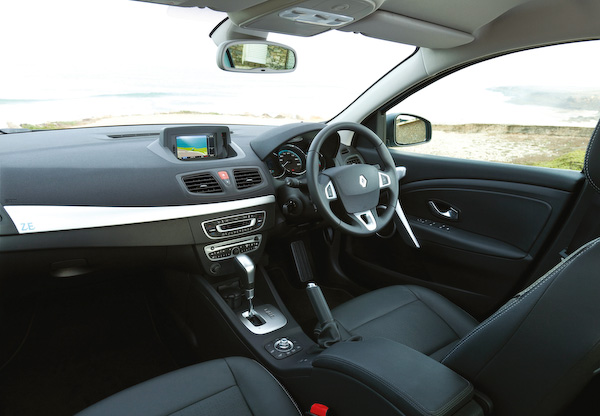 How slow will it go?
The electric motor produces 70kW, which is equivalent to 95hp. So its not going to be quick. The Nissan Leaf has 90kW (120hp).
How far will it go?
The official combinded range is 115 miles. Though Renault claim it can be as high as 125 miles, though also admit it could be just 50 miles.
Verdict
Comparisons with the Nissan Leaf are inevitable. This Fluence Z.E. is around 8,000 less, and has a range thats 6 miles more.
The Fluence Z.E. has a slight advantage in the UK as its a model thats not currently sold here, so will at least stand-out slightly. However, the styling is really boring, both inside and out.
The battery hire issue is a bit annoying and something the Leaf doesnt charge for. An extra 80 odd pounds a month is a lot, even if it does include breakdown hire.
Itll be interesting to see what the reviews make of it and just what the range will be like in real-world driving.