New SEAT Leon SC – Full UK Pricing And Specification
Ford, Renault and others might be dropping three-doors from some of their model ranges, but SEAT has gone the opposite way and introduced a three-door version of the new Leon, called the Leon SC.
The good news for buyers is that the new SC is priced £300 lower, model-for-model, than the existing five-door hatchback – so a slight practicality hit is the only penalty for picking the sportier option.
Outwardly similar to the existing five-door, the SC is in fact entirely new from the A-pillars back. SEAT has given the car a lower roofline than the more practical option, a steeply raked rear screen and a redesigned tailgate, echoing the differences between the smaller Ibiza and Ibiza SC.
It's also a little shorter than the five-door – 35 mm has been removed overall, all of it from the car's wheelbase – with more pronounced blisters over the rear wheel arches to lend the car a more aggressive, wider stance.
The SEAT Leon SC range kicks off in S trim with a 1.2 TSI engine for only £15,370 on the road (£17,070 for the 1.6 TDI diesel), rising to £22,335 for a top-end 2.0 TDI FR with the DSG gearbox option.
S models get aircon, Bluetooth, a six-speaker MP3-compatible audio system with touchscreen display, and sports front seats are standard on all Leon SCs. Upgrade to SE, which starts with the same 1.2 for £16,490 but extends engine options to a 1.4 TSI, 1.6 TDI and 2.0 TDI, and 16-inch alloys, leather steering wheel and gearknob, ambient lighting, chrome interior details and electronic differential control all appear as standard equipment.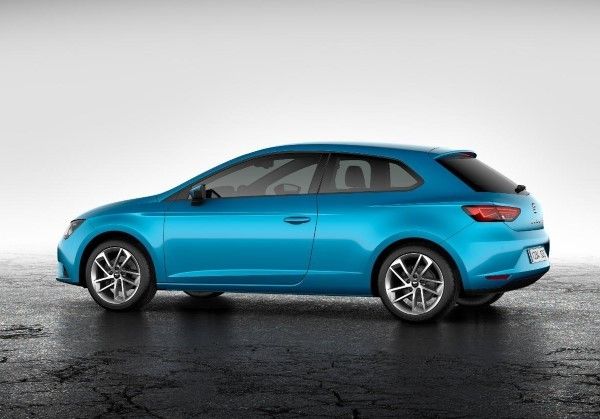 Next up is FR trim. A 1.4 TSI starts at £19,085, with a 1.8 TSI with 180 PS starting at £20,290. A 2.0 TDI is again available, with prices from £21,085. A dual-clutch DSG gearbox is available on selected models for an extra £1,250.
Most economical in the range is the 1.6 TDI 105 PS, with combined consumption of 74.3 mpg. You'll get free road tax too, as the CO2 output sneaks in at 99 g/km.
And if reduced practicality isn't your thing, SEAT has confirmed an ST estate model is also on the way before the end of 2013…
Priced from: £15,370
Available from: Order April 15, deliveries July
Conclusion
We're surprised that SEAT has taken so long to offer a three-door Leon – the company has one of the youngest customer bases in the market, and those younger drivers love their three-door models. With great styling and at a few hundred quid cheaper than the regular Leon it's sure to be a hit. Now we're eager to see the inevitable Cupra model…
---
Looking for a great deal on your new SEAT Leon SC without any hassle?
With carwow you can compare upfront offers from main UK SEAT dealers and get huge savings. Compare offers for the SEAT Leon SC you're after by discount, delivery time, location and reviews of the dealers from previous carwow buyers. Communicate with dealers online, without them hassling you or putting any pressure on you to buy. If you're interested in their offer, buy directly, there are no online payments. There's no need to haggle and no hidden costs.
it's the best way to buy your new car! Find out more.
For more information check out our full summary of the SEAT Leon alongside reviews, stats, photos and videos!