Smart Fortwo BoConcept Is A Fully Furnished City Car
Fans of needlessly expensive minimalist furniture will be pleased to hear they can now have a car that reflects those tastes, with the new Smart Fortwo BoConcept special edition.
As the name suggests, the model has been developed in collaboration with Danish urban interior designers BoConcept.
Interior and exterior styling is designed to reflect the sort of ambience you might enjoy if you filled your trendy apartment with the company's furniture, so a host of features elevate the BoConcept above the Fortwo Passion it's based on.
Smart has pilfered the BRABUS bin for a bodykit, headlights, exhaust system and some Monoblock VII alloy wheels, but unlike regular BRABUS models you just get the normal 84 horsepower engine.
Also differing from the BRABUS is a less monotone colour scheme, matte crystal white body panels contrasting with a matte oriental brown metallic Tridion safety cell, wheels and door mirror caps. Cabriolet versions also get a brown canvas roof, while the coupe models have a panoramic sunroof.
Lemon striping is used to highlight the alloys and door mirror caps, and the brown and lemon theme also makes its way inside. Seats, door trims, dashboard and wheels are all trimmed in brown leather while lemon details and grey felt is used for contrast.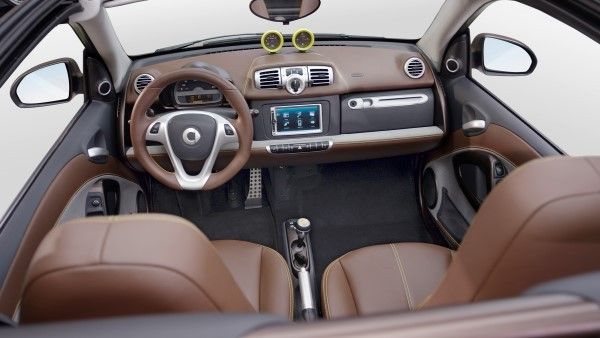 Traditionally Smarts have trodden a distinctly modern path, so it's a surprise to see an oak insert in the gearknob. The car's standard kit is rather less traditional, with a 6.5-inch touchscreen, Bluetooth, AUX/USB, aircon, ambient lighting and LED daytime running lights.
As you might have guessed, all this leather, wood and brown paint comes at a price - 22,135 for the coupe and 24,515 for the cabrio. We promise those aren't typos.
A range of 'Smartville' furniture is also available, if you've not already spent enough on the car...
Priced from: 22,135
Available from: Now
Conclusion
There is no remotely sensible reason to put family crossover money on a lightly jazzed-up and increasingly outdated city car, but even if only a handful of buyers step forward, we suspect there are healthy margins in it for Smart.
The Fortwo's interior hardly lacks ambience anyway, so our money would go on a BRABUS or Electric Drive Fortwo and we'd pocket the rest for rent on that trendy apartment.
Still, it's better than the Smart Forjeremy...
For more information check out our full summary of the Smart Fortwo alongside reviews, stats, photos and videos!