Smart Fortwo Cityflame - Not So Mellow Yellow
The Smart Fortwo seems to be this generation's classic Mini.
It hasn't quite revolutionised transport in the same way as Alec Issigonis's classic, but the myriad special edition models seem very familiar to those who were part of the Mini scene in the 1980s and 1990s.
Latest into the fray is the Fortwo Cityflame, the most unique aspect of which is apparent when you clap eyes on it. We suspect the photos don't quite do it justice, as what appears to be a gloss yellow is actually a pearlescent shade.
A black Tridion safety cell, black 3-double spoke alloy wheels, black mirrors, BRABUS darkened headlamp units and a black grille contrast with the loud paintwork.
Black and yellow is a theme that also continues inside, with natty yellow surrounds to the fabric and leather-look seats, Cityflame-embroidered floor mats, and a leather-look dashboard featuring yellow stitching.
A three-spoke leather sports steering wheel also features yellow stitching, and paddle shifters for the (frustratingly jerky) five-speed semi-auto gearbox are standard.
Air conditioning, electric windows and a satellite navigation and multimedia system are all standard. A panoramic roof is also standard if you choose the 10,995 Coupe version, but those looking for even more attention can opt for the 12,495 Cabrio.
Upgrade to the turbocharged 84 horsepower version from the non-turbo 71 bhp car, and pricing starts at 11,495 for the Coupe, 12,995 for the cabrio. Only 200 Cityflame edition models will reach the UK.
Priced from: 10,995
Available from: May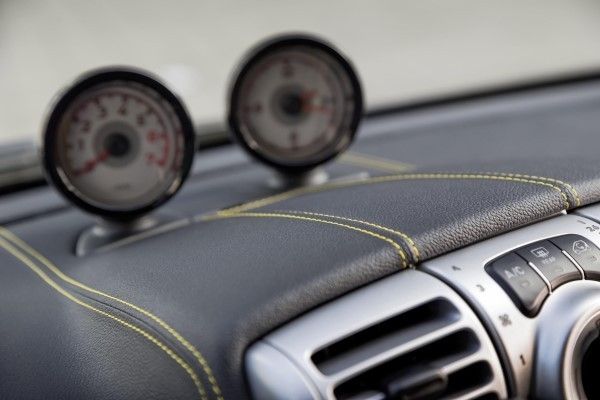 Conclusion
If you don't mind forking out the extra dosh, we're fans of the Fortwo Cabrio here at carwow - it's just a little more fun tearing around in a Fortwo with the wind rolling through the cabin.
However, we'd also be tempted to choose the 84 bhp version too since we didn't warm to the 71 bhp in our first drive review - and by this point the little Smart is starting to command big money. We'd be more tempted by a used BRABUS, ourselves.
Oh, and that talk of Mini special editions? Fans of trivia may have noticed that both 'City' and 'Flame' were the names of special edition Minis. Neither were yellow, though...
For more information check out our full summary of the Smart Fortwo alongside reviews, stats, photos and videos!