2012 Toyota Aygo Facelift – What's Different?
The Toyota Aygo has been about since 2005 and has, bar one minor facelift, remained much the same ever since. The changes follow a familiar pattern for small cars (they are, in fact, almost a mirror of updates Peugeot 107 and Citroen C1 funnily enough) and comprise a new corporate face, reduced fuel consumption and CO2 emissions, and some fiddling with the specification and equipment.
Exterior
The Aygos new face follows Toyota's new design language apparently, which means that there is a wider front bumper with integrated front foglights, a more slender front grille, and tweaks to the bonnet. Tinted rear privacy glass is now fitted to three and five-door models and front LED running lights are available as an optional extra. The changes add up to a toughened, lowered stance that works well.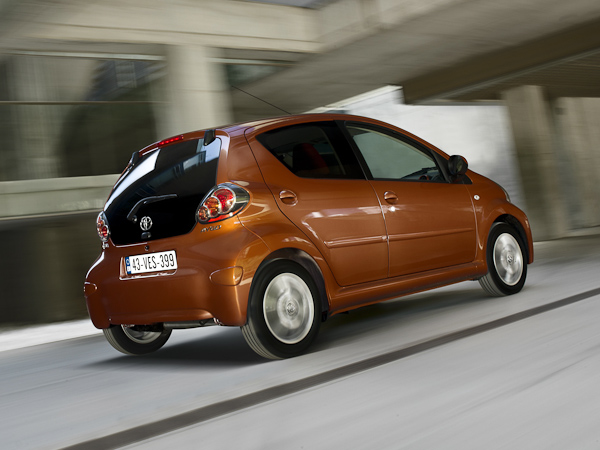 Interior
Inside the Aygo youll find better-looking materials have been used, which feel more upmarket too. The upper and lower dashboards are the same dark grey colour and the steering wheel is trimmed with leather and has flappy paddles behind it. There are flashes of coloured trim too, with the bezels on the dashboard dials finished in grey, orange or black
It wont come as a surprise to find out that it now has iPod connectivity, a USB point and Bluetooth. Annoyingly, Toyota haven't yet released photos of the interior of this new Aygo.
Engine
The three-cylinder, 1.0-litre VVT-i petrol engine has been massaged to get the manual cars emissions down to 99g/km, qualifying it for free tax in the UK. Fuel consumption improves by about 4mpg while the power remains unaltered at 62bhp and 93Nm of torque. Aygos fitted with MultiMode now produce 104g/km and fuel consumption actually rises by a couple of mpg.
Worth knowing
The angle that the parcel shelf will open to has been increased to give better access to the boot. Apparently!
Price
The final UK price and specification hasnt been released yet, although you can expect it to be a bit more expensive that the Citroen C1 and on a par with the Peugeot 107. Just dont expect the same whopping discounts at the dealers!
Conclusion
The Aygo was already a keen performer in the sector and the changes that Toyota has made only makes sure that it retains its competitiveness and dont really move it forward in any way. Its still a very attractive car – and still very hard to differentiate it from the
Peugeot 107
and
Citroen C1
.