Toyota GT86 TRD - Style over substance?
If you've even a dribble of petrol flowing through your veins, you'll know at least something of the Toyota GT86.
It's significant not for its modest 200bhp power output, nor its largely unremarkable styling, nor its ability to tear up tarmac with huge reserves of grip.
Instead, it's significant for not needing to do or be any of those things - trading numbers and pub ammunition for pure, unadorned fun.
It's also comparatively inexpensive, at around 25,000. Which makes us question why you'd want to spend an extra 6,500 or so to get the new TRD version, other than its 250-unit rarity when sales start in March.
TRD stands for Toyota Racing Development, and is to Toyota what NISMO is to Nissan. As Nissan's tuning division makes its debut on UK shores, so too does Toyota's.
We accept that it looks a little better, with a subtle bodykit and a set of 18-inch TF6 cast alloy wheels, as tasteful as the standard 17-inch wheels are chintzy.
The bodykit also includes a rear diffuser which Toyota says increases stability - though it's most noticeable for housing a new four-exit exhaust system. Despite the exhaust, performance is unchanged from the standard car.
There's a TRD-branded fuel filler cap and radiator cap, and a new TRD shift lever in the cabin - and that's as far as visual changes get. Want a power boost or tweaked suspension? You'll have to dig deeper and look elsewhere.
Priced from: 31,495 (manual), 32,995 (auto)
Available from: March 1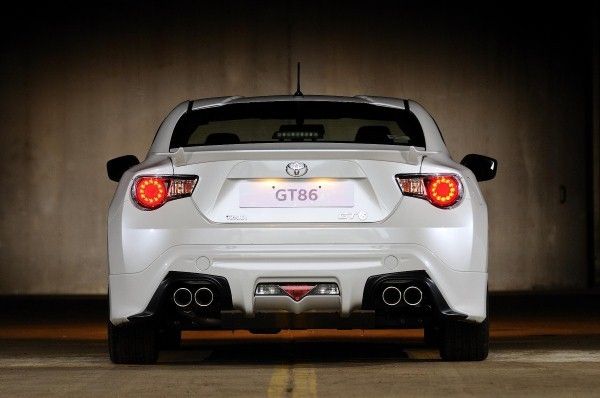 Conclusion
The GT86 is one of the cars of the moment. It's a return to inexpensive, fun motoring, before 300-horsepower hot hatchbacks became the performance norm. We love that about the GT86, but the TRD feels a little under-done. A few token visual changes does not a tuned car make, and we expect a little more for our six-point-five grand - some racing seats and a few engine tweaks wouldn't go amiss.
Still, Toyota only has to shift 250 of them, and they're likely to go quickly. Us? We'll stick with the standard car, thanks.