Volkswagen Golf Mk7 BlueMotion - Economy And Pricing Details
Volkswagen has managed to cultivate a cult following around its Bluemotion models.
One of the first brands to truly embrace ultra-economy diesels, VW's Bluemotions are known for their class-leading economy without compromising on quality or even performance.
The Volkswagen Golf Mk7 now gets its own Bluemotion variant, with a headline figure of an unbelievable 88.3 mpg.
The other headline figure, the all-important carbon dioxide emissions, is just 85 g/km of CO2. While that won't let Golf Bluemotion drivers sneak into London without paying the new, lower congestion charge, it'll ensure zero road tax for some time to come and help keep company car tax to manageable levels too.
Striking economy figures are the result of clever tweaks to the regular Golf 1.6 TDI, itself a 99 g/km car.
Among these is the application of lightweight technology (or the subtraction of excess weight, if you like). The oily bits are 26 kg lighter than before, the body 37 kg lighter. Super low rolling resistance tyres are used with higher air pressure, the six-speed manual gearbox features longer ratios for lower-revs cruising and there are some aerodynamic tweaks too.
The current Golf already slips through the air better than its predecessor but with a 15mm lower ride height, a set of low-drag spoilers, some underbody panneling and more, the Bluemotion has a coefficient of drag of just 0.27.
Despite the eco-mods the new 1.6 TDI unit under the Bluemotion's bonnet is 5 PS more powerful than the regular 1.6 TDI in other Golfs.
Pricing starts at 20,335 for the three-door model, 20,990 for the five-door. VW says specification is based on that of the Golf S - 1,215 cheaper model for model, but 14 mpg down on combined economy too.
Priced from: 20,335
Available from: Order now, deliveries August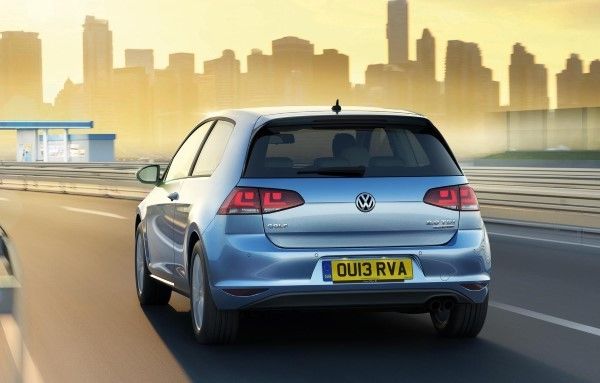 Conclusion
There's a train of thought that suggests there are only a handful of Golfs you should really invest in. The cheapest car, because you get a Golf for as little as money as possible. The GTI, because it's the quickest; the GTD, because it offers unmatched performance and economy; and the Bluemotion, because it's by far the most economical.
And it's still a Golf, with all the other virtues that brings. Expect to see them everywhere when it hits the roads in August.
For more information check out our full summary of the Volkswagen Golf alongside reviews, stats, photos and videos!
If you want to buy a new Golf then check out our Golf deals page, with details on how to save around 10% off RRP directly from main dealers.