Vauxhall Adam - Doesn't Matter If It's Black Or White
What are these then?
The latest special edition variants of the Vauxhall Adam, Vauxhall's attempt at nabbing sales from MINI, the Citroen DS3, the Fiat 500 and other stylish superminis.
Anything new?
Aside for a lick of infuriatingly-named "I'll Be Black" and "Saturday White Fever" paintwork - see if you can guess which of the Black and White Editions wears which colour - each special's main trump card is equipment.
Vauxhall continues to beat us to death with its marketing stick by calling it a "smartphone on wheels". Aside from the black and white colour schemes (also available on refrigerators), the smartphone connection is justified by standard fitment of Vauxhall's IntelliLink infotainment system and Siri Eyes Free voice control.
Anyone with an iPhone and iOS 6 or later can activate Siri Eyes Free using a button on the steering wheel and then talk to their phone as they normally would to access emails, take notes, play music, get weather reports and Siri's other features.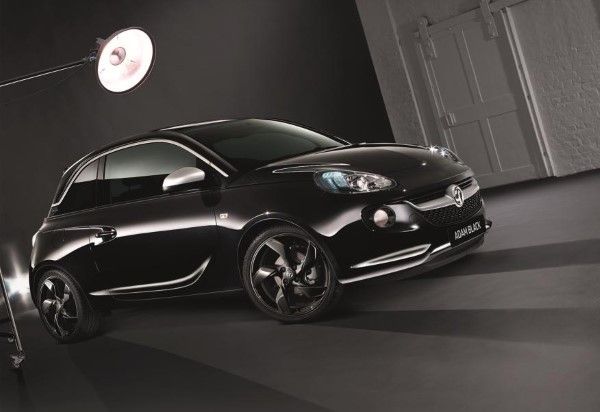 What powers them?
Until Vauxhall's long-awaited three-cylinder turbocharged lump arrives you're stuck with the Adam's existing engines, in this case the 87 PS 1.4-litre petrol.
Unfortunately the smarphone metaphor slips out of your hand and falls into the toilet here since the engine is about as modern as a Nokia 3210. Acceleration to 62 mph takes a wheezy 12.5 seconds and combined economy is an unimpressive 51.4 mpg. We drove one in June last year and disliked almost every aspect of it...
How much will it set me back?
Whichever colour you choose, Adam Black and White editions start at 14,995. Basic Adams with the 87 PS 1.4 start at 11,730 in Jam spec, 13,125 for Glam models and 13,625 for a Slam.
Anything else I should know?
Have we mentioned the paintwork? Well aside from that you also get a host of brushed aluminium-look details such as mirror housings and the grille bar. Inside, your colour scheme corresponds to that of the exterior - Ocio Black Morrocana trim for the Black, Ocio White Morrocana for the White. The trimmings extend to door pulls, handbrake and gear stick grips and dashboard panels.
Vauxhall's press release doesn't mention compatibility with non-Apple smartphones, so those with Android or Windows devices may feel a little left out...
Any alternatives?
Several. There's the MINI, DS3 and Fiat 500 mentioned above, all of which offer cleaner, more modern engines and paint colour namesthat don't make you want to stab your ears.
You could also save a few quid and buy Vauxhall's own Corsa, since it's essentially the same under the skin. Or you could buy the new MG3, which has a similarly thrashy and low-tech engine but also offers a couple of extra doors, similarly plentiful personalisation options and costs two thirds as much.
In a line:
Contrived supermini gets unoriginal special editions.