Volkswagen Up – First Drive | Expert Advice
It would be easy to dismiss the up! in Volkswagen's range, launched alongside the more fashionable new Beetle, but to do so would be a big mistake. With clever engineering, clean styling and a dash of good old-fashioned simplicity, the up! sets a high target that all other carmakers now have to aim for in the city car class.
Exterior
VWs are known for their clean, enduring designs, and the up! should be little different. It breaks no new real ground in the class – even the clean glass tailgate has been seen before on the Toyota Aygo/Peugeot 107/Citroen C1 trio – but because its free of frills the up! is unlikely to date too quickly.
Even so, its still a fairly attractive and modern take on the city car theme. The wheels are pushed right out to each corner, and theres no flame surfacing or kinetic design nonsense – just squared-off proportions designed to make city driving a doddle. The large badge on the nose leave onlookers in no doubt as to the make of car youre driving.
If Volkswagen has allowed one real flourish, its in the alloy wheel design of the up! black and up! white special editions. Its one of the best wheel designs on any production car today – a real work of rolling art.
Interior
With wheels pushed to the four corners and a tiny engine in the nose, cabin space has been maximised. There's sliding and height adjustment on the front seats and a height (but not reach)-adjustable steering wheel, so most should be able to get comfortable. There's more head- than legroom in the rear, but again, it should do the trick for shorter trips.
Once ensconced, its a pleasant place to sit. The cabin is light and airy, with great visibility and a good driving position. The sporty steering wheel is nice to hold too, even when not wrapped with leather. The design is basic, but the whole cabin feels of high quality. There's plenty of boot space too, with a deep floor. On better-specified models you get the excellent detachable Maps More infotainment system, with satellite navigation, media streaming and car info. Well worth seeking out.
Driving
Much of the driving experience is centred around the engine, though you can read about that in the next section. The rest of the up! is still something to celebrate though – Volkswagen has designed a car that handles like the light vehicle it is, but rides like a much larger vehicle.
That means two things. First, that the up! is great fun to chuck around. The steering is very light indeed, but never edgy, so you'll feel confident taking the car to higher speeds. Its also responsive. There's not a great deal of feel filtering through the rim, but the accuracy will be all most people will need.
The second is that, because of the excellent ride quality, that isolates you from even larger intrusions, this shouldn't be a tiring car to drive on longer distances. It also means you can throw it around town, or country roads, without being thrown around in your seat. Buyers of small cars will rarely have had it so good.
Engine
As of the moment, theres only one engine. Its a 1.0-litre, 3-cylinder petrol available in 59 or 74hp outputs. Theres not actually a lot to choose between the two – both have the same torque, but the 74hp model has a little more outright performance.
Its a fun engine to use. At idle, and below about 1,500rpm, its as near to silent as any engine we've ever used, even when you get out of the car. Above that, there's an odd diesel-like rattle, and exploring further into the rev range reveals a sound not unlike that of an old air-cooled Porsche 911.
That makes it fun to drive quickly. The gearshift is as light and easy to use as the steering. If we had one minor issue, its that when driving the car harder the revs dont die away very quickly, meaning faster gearchanges aren't as smooth as they might be. However, around town you'll not notice this, and the quiet, characterful engine is just another string to the up!s bow.
Value for money
The basic Take up! starts at 7,995 on the road. A mid-spec Move up! with BlueMotion Technology (for free road tax and congestion charge) will set you back 9,330, and current range-toppers the up! black and up! white cost 11,180. Thats a little more than some rivals, though usefully inexpensive by VW standards. Take a look at their deals
here
.
We drove a Take up!, High up! and up! white, which were equipped with some of the following options.
Drivers assistance pack (225) – This includes city emergency braking. Could be worth the money – below about 20mph the car scans the road 10 metres in front for obstructions. If the driver doesnt slow down in time, the car takes over and brakes with maximum force, missing the car in front – or wall – by mere inches.
Sensor pack (350) – The up! isnt a difficult car to park, so parking sensors would be a personal preference thing. Also included is cruise control and a multifunction computer. If you plan to do longer journeys, it could be a useful option.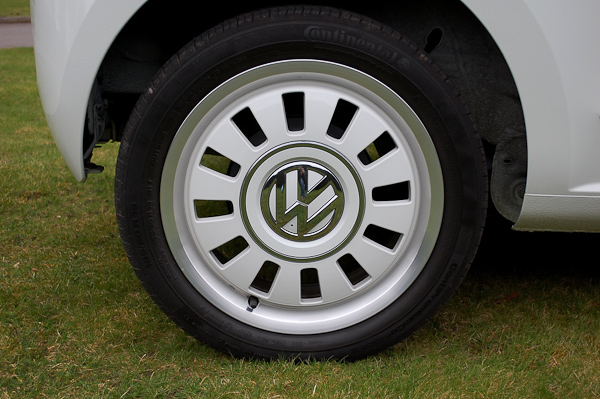 Fuel economy is pretty good on all models – 62.8mpg combined on the 60 PS cars, 60.1mpg on the 75 PS, and you spend money to save money with the
BlueMotion Technology
, which gets 68.9mpg combined, free road tax, and free congestion charge. All other up!s are in tax band B, which costs 20 a year.
We saw real-world economy of an indicated 52mpg in the 75 PS up! we drove, a mix of spirited B-roads and some town work – so 60-odd mpg doesn't seem impossible.
Verdict
Weve no hesitation giving the up! such a high rating after our first drive. The qualities that endeared it to us in an hour or two of driving arent ones that would diminish over time – youd not get tired of not crashing through pot holes for example, nor would the well-built cabin become a place of misery.
Your only real choice is which engine to go for. London drivers should seriously think about the C-charge-exempt BlueMotion Technology – even though it costs more, youd save thousands over the years on congestion charges. Elsewhere, city-dwellers would be more than happy with the basic 60 PS model – it doesnt feel appreciably slower than the 75 PS, and costs far less.
If there's only one issue, its that Skoda and SEAT will soon be launching their own versions – the CitiGo and the Mii. They'll be the same excellent vehicles – just for even less money
What the press think
We arent the only ones to praise the up! – it also gets very good scores from the experts. The only real concerns are over the price, ride quality on sport suspension and larger wheels (its very good otherwise), and motorway performance – something we found little issue with.
Still, judging by reviews youd have little to fear choosing the up! as your next small car.