Audi Q5 2017 price, specs and release date
Six months before the new Audi Q5 hits showroom floors, the motoring media has tested early versions built in the firm's factory in Mexico. Based on the new A4's chassis, it's much improved compared to the old model and aims to beat the Mercedes GLC, Jaguar F-Pace and BMW X3.
Check out the best Audi Q5 deals available on the outgoing model using our configurator or read our Audi Q5 review for full details on the car this new model replaces.
The Q5's high-tech MLB Evo underpinnings means, despite being bigger than the outgoing model, the new Q5 is around 90kgs lighter. Unfortunately, the weight loss doesn't automatically give the Audi the same agile handling you get in a Jaguar F-Pace nor does it make it as playful as a Porsche Macan. It tends to lean towards comfort rather than sportiness.
The benefits of lighter weight can be felt elsewhere, though, particularly in terms of ride comfort. You can choose between two standard suspension setups – a rounded regular one and a sportier setup with stiffer springs. Alternatively, you can have Audi's adaptive dampers either on their own or in combination with comfortable air suspension.
Equipped with the latter, the Q5 glides over even the worst of roads while still keeping body roll in check. Audi gives you no less than seven driving modes – from Efficiency to Off-Road. We reckon the Q5 feels best left in Auto, however.
Efficiency mode is interesting because it sets the standard quattro four-wheel-drive system to its maximum fuel-saving setting. Normally it works as a front-wheel-drive system with the rear axle taking 250 milliseconds to engage if needed. However, this system is only available with 2.0-litre engines, everything else gets the thirstier standard quattro system.
The bestselling engine will almost certainly be the 188hp 2.0-litre diesel thanks to its combination of decent power and low fuel consumption – though exact running costs have yet to be revealed. There's also a 248hp 2.0-litre petrol that emits 154g/km of CO2 for £185 annual road tax.
Finally, there's an updated version of Audi's 3.0-litre V6 diesel with 282hp. It offers immense pulling power, is very smooth and, when combined with the standard eight-speed automatic gearbox, gives an effortless driving experience.
Audi Q5 price and release date
Audi is yet to announce how much the new car will cost, but we expect it to carry a similar price tag to the outgoing model, which cost from £32,000. Expect the new Q5 to go on sale in early 2017.
Save money on your new Audi Q5
Before the new model goes on sale, many dealers will be keen to offer large discounts on the outgoing car to clear space in their showroom – view these great Audi Q5 deals using our configurator. If you're not sure what to buy, read our list of the best SUVs currently on sale or check out our deals page and car chooser tool.
Audi Q5 price, specs and release date (updated September 2016)
Audi has pulled the wraps off its new Q5 SUV at the 2016 Paris Motor Show. This all-new model combines a stylish new look with a comprehensively updated cabin and a range of new tech.
Not only does it sport a lighter chassis than its predecessor, but its slinky body is more aerodynamic than ever. Combine this with an updated range of engines and Audi's latest high-riding SUV should be more fuel efficient across the range than the outgoing model.
The 2017 Q5 boasts a heavily revised body with stylish new features shared with the larger Q7. Its angular grille boasts a brushed metal finish and the headlights are much more aggressive looking thanks to a new square design and integrated daytime running lights.
The rear has received a similar treatment – both the rear bumper and the brake lights are broader, helping to make the new Q5 look noticeably more squat and aggressive than the old model.
The interior appears to boast the same exquisite build quality and upmarket materials we've come to expect from Audi. A raft of high-tech features including Audi's Virtual Cockpit display – a system that replaces analogue dials with a high-definition screen – and a rear seat entertainment package are available while numerous safety systems come fitted as standard.
The Q5 will come fitted with Audi's quattro ultra four-wheel-drive system that promises to offer better fuel economy than the current car. Under normal driving conditions power is sent to just the front wheels but, if the onboard computer detects a wheel is slipping or if the road surface ahead changes dramatically, a secondary clutch engages to send drive to the rear axle, too.
The new Q5 will be offered with air suspension that will waft you to and from work as comfortably as possible while also handling the lumps and bumps of occasional off-roading with ease.
Audi Q5 price and release date
Audi is yet to announce how much the new car will cost, but we expect it to carry a similar price tag to the outgoing model across the range. Entry-level versions should cost approximately £35,000 when it goes on sale in early 2017, while models with more powerful engines will cost closer to £45,000. Future SQ5 versions could set you back as much as £50,000.
Save money on your new Audi Q5
Before the new model goes on sale, many dealers will be keen to offer large discounts on the outgoing car to clear space in their showroom – you can find out by looking at our Audi Q5 deals page. If you're not sure what to buy, read our list of the best SUVs currently on sale or check out our deals page and car chooser tool.
New Audi Q5 price, specs and release date (updated September 2016)
Audi has released a teaser video of the upcoming Q5 SUV ahead of its launch at the 2016 Paris Motor Show. While the video, below, doesn't give many clues to the car's final appearance it does show off the new car's advanced headlights and brakelights. Our render, above, is our best guess yet at what the new model will look like.
The headlight cluster features daytime running lights and LED technology first used on Audi's racing cars. Their extra luminosity lights up more of the road than a traditional headlight and reduces the blinding effect of oncoming drivers by deactivating parts of the beam as they approach.
Inside, buyers will get interior elements from the A4 and Q7 meaning new Q5 owners will have little to complain about with excellent build quality and great perceived quality of materials. Back outside, sweeping indicators will give the model an unmistakeable presence when viewed from behind.
A wide range of engines already shared across Audi's range will be offered. Most noteworthy is a hybrid predicted to feature a 2.0-litre petrol engine coupled to two electric motors. Four and six-cylinder diesel and petrol engines will be offered with both four-wheel drive and front-wheel drive, while a range-topping RS model will arrive with around 500hp later on.
The most efficient A4 can return 74.3mpg and is tax exempt. These figures will not be as impressive in the Q5 thanks to extra weight it'll carry but we still expect it to be one of the cleanest options in the class.

Contributing to efficiency gains alongside the revised drivetrains is the estimated 100kg diet. New construction methods and the use of the latest Audi MLB platform have helped reduce the new Q5's kerb weight.
The new Q5 will go up against the Mercedes GLE and BMW X3 when it arrives it in 2017. The current Q5 costs from £35,580, a nominal price increase is expected for the new model.
Audi Q5 latest news (updated September 2016)
The new Audi Q5 will sport updated modern styling and a host of new technology when it goes on sale in late 2016. Our exclusive renders show what it could look like when we first get a chance to see it at the 2016 Paris Motor Show in October.
This new car will be built using the same MLB chassis as both Audi's own A4 and the larger Q7 SUV. This new platform will help the updated Q5 weigh up to 100kg less than the outgoing version.
To help it compete with the likes of the stylish Mercedes GLC, the new Q5 will boast a completely redesigned body. Numerous features will be inspired by the recently refreshed Q7 including a thick chrome grille surround, aggressive air intakes and a pair of angular headlights featuring LED technology.
Audi will release a plug-in hybrid Q5 e-tron model following the standard car's launch, too. This model will probably make use of a series of powerful electric motors to offer both improved acceleration and better fuel economy.
The new car's cabin should boast a host of equipment upgrades. Entry-level models will reportedly be offered with a seven-inch display and a rotary dial controller while top-spec versions will boast a larger 8.3-inch display and Audi's impressive Virtual Cockpit display system.
The new Q5 is expected to cost from approximately £32,000 when it goes on sale on late 2016 – undercutting both the £34,950 Mercedes GLE and the £33,795 BMW X3. Some sources have suggested the cheapest versions will be offered with rear-wheel drive only but this is unlikely considering base model A4s, built on the same platform, are front-wheel drive as standard. In either case, buyers after a four-wheel drive model may have to stump up a few thousand pounds more
Read on for more information on the upcoming Q5 including details of a high-performance RS Q5 version and its efficient e-tron cousin.
Audi Q5 2017 price, specs and release date
The new Audi Q5 has been spotted undertaking final testing wearing a light disguise that can't hide the car's striking resemblance to our renders. The new SUV has a tough job on its hands as it goes after rivals such as the BMW X3, Land Rover Discovery Sport and Lexus NX.
Audi RS Q5
The second-generation Audi Q5 is predicted to be the first to get an RS model in 2017. The RS Q5 is expected to use the same 3.0-litre, twin-turbocharged V6 petrol engine found in the upcoming RS4 and RS5 – both due later in 2016. The thirsty non-turbo 4.2-litre V8 used in those variants will be dropped.
The dual-clutch S-tronic gearbox and quattro four-wheel-drive system should also be shared here and, with power claimed to exceed 450hp, the 0-62mph time is expected to be comfortably less than five seconds. In comparison, the current flagship SQ5 model punches its way from 0-62mph in 5.2 seconds thanks to a 340hp, 3.0-litre V6 diesel engine.
The next Q5 is expected to be 20 per cent lighter over the previous generation and, like other RS variants, will come with its own bespoke suspension settings along with larger brakes to reign in the extra performance.
The RS Q5 will be dressed up with its own unique bodykit, featuring bumpers with a set of large air intakes. The front signature black grille should also feature along with a set of flared wheel arches sitting closely above a unique set of alloy wheels. Large exhausts should neatly finish off the rear-end looks while a signature paint colour might also be available.
The A4-inspired interior will come with its own special sports seats, steering wheel design and sports pedals. RS logos will also be dotted around the cabin on the instrument dials, gear selector and door sill trims.
Audi Q5 spy shots (updated October 2015)
Although the spy pictures circulating the internet (courtesy of worldcarfans) show the car wearing black plastic cladding the top edge of Audi's new framed-chrome grille can be seen peeking out from beneath.
To our eyes, the new model also looks slightly bigger. That would make sense as it is set to use the same MLB EVO platform that's underpins both the Q7 and new A4. The A4 offers 24mm more headroom in the front seats and boosts rear legroom by 23mm. We can expect similar increases in the Q5.
Use of high-strength steels means the latest A4 is also up to 110kg lighter than the outgoing model, so we would hazard a guess that there'll be a similar weight reduction in the new Q5.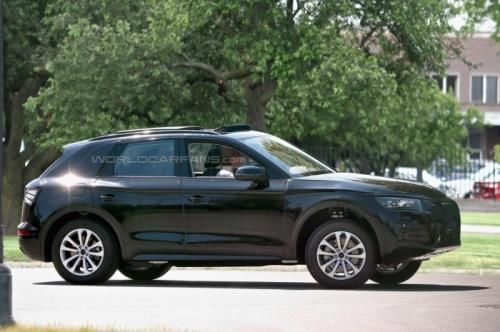 Aerodynamics were a big focus for Audi when it was styling the 2015 A4 and they're set to play a big part in the shape of the new Q5. Sharp lines that allow air to pass over the car more smoothly make the A4 the most aerodynamic model in its class and Audi will be aiming for the same target with the Q5. That could boost fuel economy by around 20 per cent, but also lower interior wind noise. Something that was done to great effect in the new A4, which Audi claims is as quiet inside as its flagship A8 luxury saloon.
Keep reading for more information and pictures of the new Audi Q5 SUV.
New Audi Q5 2017 latest news (updated 11 August '15)
The new Q5 will borrow much of the technology from the latest A4 and there will be a plug-in e-tron hybrid as well as a high-performance RS Q5 coming later in 2017.
Audi Q5 2017 styling
As our pictures reveal, the front end of the new Q5 is dominated by Audi's 3D-effect hexagonal grille first seen on the new Q7. We also expect the car to have more pronounced lower air intakes to compliment it's sporty image.
In profile, the new car has a sleeker roof-line, new LED brake lights and a redesigned rear bumper with two exhaust pipes to make the back end sportier looking. The new Q5 seems more rugged thanks to its large wheelarches, which are visible even under the camouflage of Audi's test cars.
High-tech Matrix headlights are almost certain to appear on the new model (they've already been confirmed for the latest A4), but they will be an optional extra rather than part of the standard equipment list.
Audi Q5 2017 interior
Inside, expect another class-leading interior from Audi. There will be a choice between regular analogue dials and the company's high-tech virtual cockpit. Buyers will also choose between two infotainment systems – base Q5s get a seven-inch screen and a rotary control, while top-of-the-range models add a touchpad, can access Google earth and have a larger 8.3-inch display.
For improved safety, Audi is working closely with driver assistance system specialist Mobile Eye, to provide the Q5 with the latest in 3D camera technology in order to improve a variety of driver aids such as the automatic emergency braking and the adaptive cruise control.
An increase in wheelbase, the space between the front and rear wheels, will boost interior space – Audi says that the new Q5 will have more leg and shoulder room than the outgoing model, while the current Q5's 540 litre-capacity is also set to increase.
Audi Q5 2017 specs
We don't expect any surprises when it comes to the engine line-up, so expect more fuel efficient and refined versions of the current four and six-cylinder petrol and diesel engines. That said a new V6 petrol engine, co-developed by Porsche, is also said to be in the making.
As in the Q3, expect more basic petrol and diesel models to be offered with the option of two-wheel drive to make them cheaper to buy and run. Meanwhile, the current performance model – the SQ5 will get a moderate power increase from 313 to around 330hp. Audi is also planning an even faster RS Q5 that will probably use the 500hp 3.0-litre twin-turbocharged V6 petrol that's earmarked for the new RS5.
The Q5's suspension system will be borrowed from the latest A4, complete with adjustable dampers offering various driving modes to set the car up for comfort or sporty driving. The option to specify air suspension would allow drivers to raise the car for off-roading, while a self-levelling function will make it ideal for towing.
Three gearboxes are expected to be offered depending on engine – a six-speed manual, a seven-speed S Tronic DSG automatic and an eight-speed conventional auto.
Audi Q5 2017 e-tron hybrid
The e-tron hybrid that is rumoured to join the line-up later in the model's life will borrow its technology from the 370hp Q7 e-tron that has impressive fuel economy of 166mpg. It will probably use a 2.0-litre petrol engine coupled to two electric motors – one in the gearbox and one that turns the rear wheels. It'll be free to tax and should also be exempt from paying the London Congestion Charge. An all-electric range of about 30-35 miles should be possible.
Audi Q5 2017 price and on sale date
We don't expect the new Q5 to cost much more than the current model, so an entry level price of around £32,000 seems probable. By comparison, a Mercedes GLC starts from £34,950, while you'll need to spend £33,795 to get behind the wheel of a BMW X3. The latest thinking is that the new Q5 will be revealed at a Motor Show in late 2016, with the car going on sale in 2017.