2017 Kia Picanto price, specs and release date
New Kia Picanto officially revealed
Sports a more aggressive design than its predecessor
It'll make its public debut at the 2017 Geneva Motor Show
Will go on sale in spring 2017
The upcoming Kia Picanto city car has been officially revealed before it goes on sale in spring 2017. We'll get a better chance to see this small hatchback in the metal at the 2017 Geneva Motor Show in March but read on for everything we know so far…
Now in its third generation, the Picanto has adopted more sporty styling inspired by Kia's potent Ceed GT and Pro Ceed GT models. Take a walk around this angry looking GT Line model and you'll spot a bright red trim piece from almost every angle.
The old car's cheery upturned grille has been replaced by a wide, angular item and a pair of scowling headlights that give it a far more aggressive look. The rear has been treated to a more subtle nip and tuck but new brakelights, reflectors and a twin-exit exhaust should help it stand out from the outgoing model.
The new Picanto is exactly the same length as the old car (3,595mm) but its wheelbase has been stretched slightly to offer passengers greater cabin space. Kia hasn't released any official figures but we expect the new car to boast a slightly more spacious boot than its predecessor's 200-litre offering.
Kia's keenness to coat its new Picanto with red trim continues inside. Not only do the seats sport thick red panels but the doors boast bright striped decals, too. If subtle colour combinations are your thing, we expect a range of more understated schemes to be available when this car goes on sale.
The old car's plain, cheap-looking dashboard has been relegated to the scrapheap. In its place we find a slick, minimalist design with a free-standing infotainment display. A set of physical buttons beside the screen should make it easy to operate key functions on the move but they do make Kia's system look a little more old fashioned than some rivals.
2017 Kia Picanto price and release date
Kia hasn't announced how much its new Picanto will cost but we expect it'll set you back slightly more than the old model across the range when it goes on sale in spring 2017. Entry-level cars should be priced from approximately £9,000 while range-topping versions could cost more than £13,000.
Save money on your new Kia Picanto
Before this new car goes on sale there'll be progressively bigger discounts available on the outgoing car. View the latest carwow offers on our Kia Picanto deals page or head over to our PCP calculator to get a better idea of how much your new car could cost per month.
2017 Kia Picanto price, specs and release date (updated December 2016)
Official renders show 2017 Kia Picanto for the first time
More sporty styling joined by new colour options
Finished car will be revealed in early 2017
Expected to go on sale before 2018
Kia's diminutive Picanto city car will get a whole new look for 2017 thanks to new styling and a revamped interior. We're yet to see the completed car but these official renders give us our best chance to check out what it'll look like when it goes on sale in late 2017.
These images suggest the new car will sport a similar gaping black air intake to the current model. A familiar pair of foglights should feature on the new model but the pinched Kia grille is now larger and appears to stretch from headlight to headlight.
The outgoing car's many door creases have been simplified for 2017 and the new Picanto features a subtle kink below the rear windows to keep it from looking too boxy. New contour lines exaggerate the size of the wheel arches and should give it a more sporty appearance, too.
The new car's brakelights look similar to the outgoing model's but feature a more distinct 'C' shape. The rear bumper has also been tweaked slightly and features slimmer, more elegant reflectors in place of the old car's chunky square units.
Inside, Kia's fitted a larger infotainment screen than the old car above a more stylish dashboard with neat contrasting trim pieces and a more minimalist selection of buttons. No official details have been released but we expect this new car to come with more standard equipment than its predecessor.
2017 Kia Picanto price and release date
Kia has confirmed its new Picanto will make its public debut in early 2017 and we expect the finished car to go on sale before 2018. Entry-level models could cost approximately £9,000 to £10,000 while top-spec versions may set you back more than £13,000.
Save money on your new Kia Picanto
Before this new car goes on sale, there'll be progressively bigger discounts available on the outgoing model. View the latest carwow offers on our Kia Picanto deals page or head over to our car chooser tool if you're not sure what to buy.
2017 Kia Picanto price, specs and release date (updated January 2016)
The new, third-generation Kia Picanto has been spotted undergoing winter testing in Lapland ahead of its predicted 2017 release date. This compact city car has previously done well on space and build quality but has, so far, struggled to generate the same desirable image as its key rival, the Volkswagen Up.
While we've no idea what it'll look like, these spy shots from autoevolution let us see the new Picanto's overall shape. We can also catch our first glimpse of the interior under heavy cladding that shows a cleaner dashboard with fewer buttons.
If you can't wait for the new model, put the outgoing Kia Picanto in our car configurator to see what deals carwow could help you get.
2017 Kia Picanto styling
Despite looking larger overall, the styling shouldn't be a great departure from the current model. The main changes will mostly be seen up front where the firm's latest signature 'tiger' grille will be found flanked by new headlight clusters with bold LED daytime running lights.
The rest of the changes will extend to a set of redesigned brake lights and new body creases down the side. The majority of current Picanto customers opted for the more practical five-door, so it's possible new model will only be offered in this body style.
2017 Kia Picanto interior
It's not clear whether the new Picanto will use an updated version of the existing platform or a totally new one but, either way, it will benefit from a larger interior increasing both boot space and rear seat leg- and headroom. The larger bodywork should also translate to larger doors making access easier.
A redesigned interior will bring a new steering wheel, new instrument dials and horizontal vents that now sit centrally on the dash below the infotainment system. The climate control dials have been pushed downwards and now sit above a larger storage area in front of the gear lever. The current Kia Picanto is already well built but the third generation model should employ smarter looking materials at eye-level to increase perceived quality.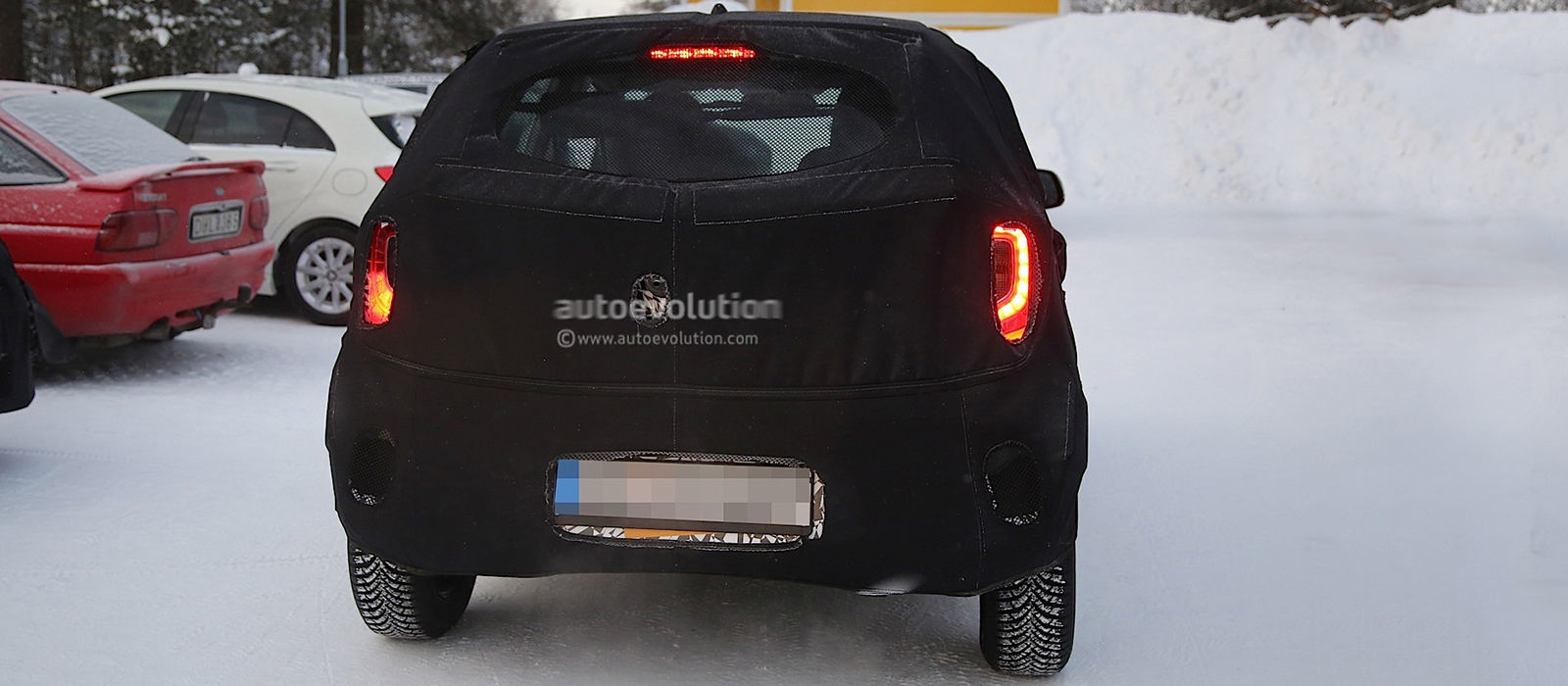 2017 Kia Picanto engines
The replacement Picanto is expected to use heavily revised versions of the existing 1.0-litre and 1.25-litre petrol engines. To keep Kia's new city car competitive, expect to see a reduction in CO2 emissions along with improved fuel efficiency.
Kia's excellent 1.0-litre turbocharged, three-cylinder engine used in the Cee'd may also be a possibility, but whether Kia decides to fit the 98hp variant into the Picanto is yet to be confirmed. If it does, this model could be the basis for a sporty Picanto later in the car's life. The current Picanto is one of the few city cars to offer a true automatic gearbox – most rivals use clunky automated manuals – so, hopefully, the new Picanto will continue this trend.
2017 Kia Picanto price
With the Kia Picanto currently costing less than £8,500, the new third-generation Picanto is predicted to remain in this price bracket to stay competitive amongst rivals including the Toyota Aygo, Peugeot 108 and Volkswagen Up.
2017 Kia Picanto release date
With an expected on sale date in 2017, the production Picanto might not appear until late 2016 at the Paris Motor Show.
Save money on your next new car
Put your ideal next car in our car configurator to see the deals carwow could help you get. For more options, head over to our car chooser to narrow down your search.