2017 Vauxhall Insignia Grand Sport price, specs and release date
New Insignia is up to 175kg lighter than the old car
Longer wheelbase should offer improved cabin space
Upgraded all-wheel-drive system with torque vectoring available
New eight-speed automatic gearbox option
More details about the new Vauxhall Insignia Grand Sport drivetrain have emerged. While buyers of mid-size saloons such as this tend to only care whether the car is comfy or not, Vauxhall claims the new Insignia's optional four-wheel drive with torque vectoring improves traction and grip on a variety of surfaces. It'll go up against the Ford Mondeo and Skoda Superb when it goes on sale in the summer.
The outgoing Insignia's more traditional system has been replaced by a version that does without the rear differential and instead utilises a pair of clutches to distribute power between the rear wheels. While this can help improve cornering grip when driving hard, it can also help improve stability when simply driving normally in addition to making the car much more effective on slippery surfaces.
Stuart Harris, Vauxhall's Head of Carline Brand claims "The new Insignia with torque vectoring all-wheel drive matches the best in the industry in terms of performance and efficiency". While it helps the Insignia put its power down in wet and icy conditions, the new system will marginally compromise performance and efficiency due to the added weight so buyers will have to make up their own minds whether they'll need it.
Vauxhall hasn't said exactly which models will be offered with four-wheel drive but it's likely that the smallest and cheapest models won't get the option. Looking at its rivals, we'd expect the four-wheel-drive models to add a premium of between £1,500 and £2,000 over their two-wheel-drive counterparts.
Vauxhall has not announced engine options but the range will probably include 1.4 and 2.0-litre petrol models, and 1.6 and 2.0-litre diesels. Following the launch of the conventional car, Vauxhall might opt to introduce a high-performance version under the VXR moniker – this will almost certainly feature the torque-vectoring four-wheel drive system as standard.
The styling has been tightened compared to the old model, but it's inside where the Insignia has made the biggest improvements. The most obvious addition is the large infotainment system that replaces the sea of buttons that used to festoon the centre console. It includes new features such as Apple CarPlay and Android Auto, a head-up display, adaptive cruise control, lane keeping assist and Vauxhall's on-board OnStar personal assistant and WiFi hotspot.
2017 Vauxhall Insignia Grand Sport price and release date
Order books will open in early 2017 and we expect the first deliveries to arrive in summer 2017. It'll compete with the Ford Mondeo so entry-level models could be priced from £18,000 rising to £32,000 for top-spec versions.
2017 Vauxhall Insignia latest news (updated December 2016)
Vauxhall's Insignia saloon – now called the Insignia Grand Sport – has been completely redesigned for 2017 and will now be offered with a host of new features. Read on for full details…
2017 Vauxhall Insignia Grand Sport styling
The new Insignia looks significantly sleeker than the outgoing model thanks to a wider body and a lower, coupe-like roofline. Its wheelbase has been lengthened to improve cabin space but both the front and rear overhangs have been made shorter. As a result, it's no longer than the old car – despite its sportier proportions and better cabin space.
The outgoing model's rounded headlights have been dropped in favour of more modern, angular units with distinctive built-in daytime running lights. The grille now features a seven-sided design while a pair of chrome wings mounted beside the Vauxhall badge replace the old car's numerous shiny slats.
The rear has lost some of the old car's fussy details such as the chrome bar running between the brakelights, but the small upturned spoiler on the bootlid remains mostly unchanged. A number of new creases feature on the 2017 Insignia's doors but its design certainly leans towards subtlety rather than sportiness.
2017 Vauxhall Insignia Grand Sport interior
The new car's interior looks vastly more modern than the outgoing model. Its slick, minimalist centre console features a large touchscreen infotainment system and its Astra-inspired dashboard looks far more upmarket than the old Insignia's bland and boring affair.
The new car's longer wheelbase should offer improved cabin space over the old model – its svelte roofline could, however, leave taller passengers feeling cramped in the rear seats. Boot space now stands at a fair 490-litres with the rear seats in place – fold them away and it grows to a BMW 3 Series-beating 1,450 litres.
A prototype Insignia Grand Sport Tourer estate has been spotted testing and should go on sale shortly after the saloon. Vauxhall is yet to confirm any official details but it'll undoubtedly offer an even more spacious boot and greater rear seat headroom.
2017 Vauxhall Insignia Grand Sport engines and driving
Vauxhall hasn't released details of what engines will power the new Insignia but it's expected to come with a similar selection of petrol and diesel units to the outgoing model. A range of 1.5, 1.6 and 2.0-litre engines should offer greater performance and economy across the range than the old car.
Entry-level models will come with a manual gearbox but Vauxhall will offer a new eight-speed automatic on higher-spec versions. Four-wheel drive will also be available, although the old Insignia's rear differential has been replaced by a pair of electronically controlled clutches to send power to whichever wheel has the most grip. This torque-vectoring system should make the new car feel more sure footed in slippery conditions.
The new Insignia weighs significantly less than the old car. As much as 175kg has been stripped from its total kerb weight which should improve not only fuel economy, but acceleration and handling, too.
2017 Vauxhall Insignia Grand Sport equipment
Adaptive headlights are a standout feature of the new Insignia – similar to those fitted to the Astra hatchback but with twice as many LED elements. These units can selectively light areas of the road ahead to match your steering inputs – useful for driving down poorly lit country lanes at night.
Other new features include adaptive cruise control, lane keeping assist and a head-up display that can project your speed, upcoming sat nav directions and traffic signs directly onto the windscreen.
2017 Vauxhall Insignia Grand Sport price and release date
Vauxhall hasn't announced how much the new Insignia will cost when it goes on sale in summer 2017 but it shouldn't stray far from the old model's £17,999 entry-level price. It'll make its public debut at the 2017 Geneva Motor Show in March when we expect to find out exactly how much it'll cost.
Save money on your new Vauxhall Insignia
Before this new car goes on sale, many dealers will be keen to offer progressively bigger discounts on the old model. View these carwow offers on our Vauxhall Insignia deals page or check out our car chooser tool if you're not sure what to buy.
2017 Vauxhall Insignia price, specs and release date (updated September 2016)
Further details about the next Vauxhall Insignia have surfaced following a glimpse of the 2017 replacement. Reports suggest the new family saloon needs a few finishing touches before it's launched at the 2016 Paris Motor Show in October. These images, courtesy of Carscoops give us an idea of what it might look like.
With a wheelbase that's 100mm longer and taller rear doors, owners get much easier access to second row seats. A reshaped rear end makes even better use of the space, with a larger, more practical boot. Its larger and deeper shape means the boot's capacity of 565-litres will compete with the Skoda Superb.
The outgoing 2.0-litre diesel – the most powerful in the range – will reportedly be scrapped in favour of the 1.6-litre unit as the sole diesel offering. It'll probably be offered in three power outputs ranging from 110hp to 160hp. The former achieves 83.1mpg and is tax exempt in the Vauxhall Astra so we can assume only slightly worse performance in the heavier Insignia. Vauxhall hopes its diesel lineup will lead the rest of the pack in terms of refinement.
The petrol 1.4-litre turbocharged engine in the current Insignia is expected to reappear in the new model. Returning 50.4mpg, it's priced from £18,234 for the current model, almost £2,000 less than the corresponding entry-level diesel. A VXR version is yet to be confirmed. It's likely to keep a four-wheel-drive system, possibly mated to the familiar 325hp 2.8-litre V6 powerplant. A new eight-speed automatic transmission will provide economy benefits of around three per cent over the basic six-speed manual gearbox.
The Insignia's interior will follow cues set by the new Astra. The new design will hopefully move away from the dull and cluttered layout of the current Insignia. A centrally mounted touchscreen will sit at the top of the centre console similar to the Astra, while a new dashboard will integrate two analogue gauges either side of a digital display.
We can expect the New Insignia to cost from around £18,000 for entry-level models rising to more than £30,000 for top spec versions. It's expected to go on sale in early 2017.
Vauxhall Insignia latest news (updates June 2016)
With the current generation Vauxhall Insignia family saloon nearing the end of its life, the firm is preparing a replacement. Expected to be more efficient, better built and roomier than ever before, the upcoming Ford Mondeo rival will aim to outdo its underwhelming predecessor. Spy shots courtesy of carscoops give us our best idea yet of what it'll look like.
Key to that success will be its value for money and low emissions – both of which help make the current car a strong success among business users. The new car will ramp up the perceived quality to tempt buyers away from established premium alternatives such as the BMW 3 Series, Audi A4 and Mercedes C-Class.
Before the new model gets released, dealers are likely to offer ever increasing discounts on the outgoing model. Put the current Vauxhall Insignia in our car configurator to see the deals carwow could help you get.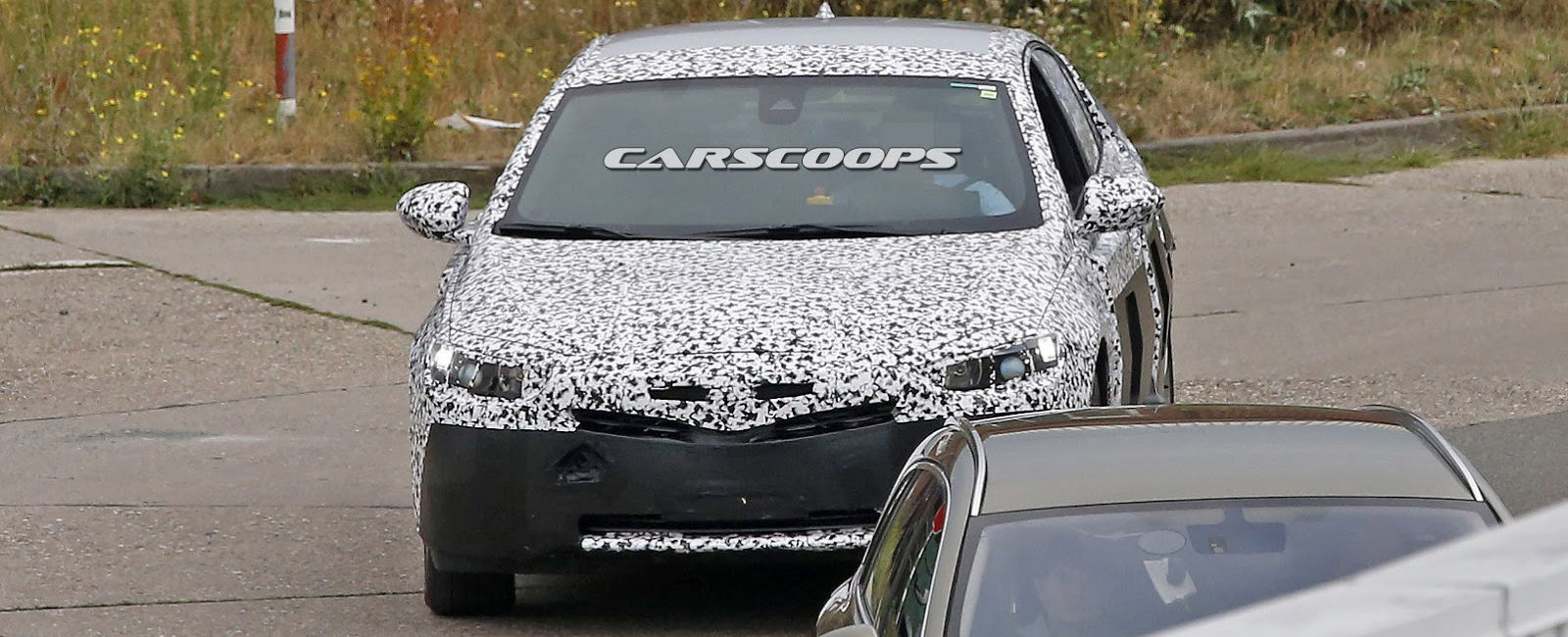 2017 Vauxhall Insignia styling
Early spy shots suggest the new Insignia will sport a more curved roofline than the current car. The longer, more gentle downward slope towards the bootlid should both accentuate the car's length while helping practicality on the inside. Overall dimensions shouldn't change much, but the wheelbase could increase by around 100mm, allowing more interior space. The new model will be offered as either a five-door hatch or as a Sports Tourer estate.
Though the only photos so far have shown heavily disguised prototypes, we'll expect the Insignia to share styling cues – in particular the slim headlights and grille – from the new Astra. The 2013 Opel Monza Concept is also said to have provided inspiration for the new car, too.
2017 Vauxhall Insignia interior
The current Astra represents a huge leap forward in the quality of Vauxhall's cabins, and the new Insignia looks set to take things a step further. Expect the latest infotainment systems to remove much of the current car's clutter from the dash and, like much of the current range, on-board WiFi and OnStar will be offered as standard.
One of the greatest benefits of the extended wheelbase should come in the form of improved interior space – especially for rear seat passengers. The old model was mediocre in this department but the new one could take aim at the class-leading Skoda Superb.
2017 Vauxhall Insignia driving and engines
Sitting on a heavily revised version of the current platform, the underpinnings will be used across parent firm General Motors' worldwide brands to reduce production costs. Much like the Astra, which weighed significantly less than the model it replaced, expect the new Insignia to go on an extensive diet – a weight reduction of as much as 200kg is rumoured.
While nothing too revolutionary is expected to launch on the engine front, the new lighter platform will see efficiency improve across the board. We could even see derivatives of the firm's excellent 1.0-litre three-cylinder petrol engine powering entry-level models.
With the current Insignia a popular seller among business users, a low-emission diesel is arguably the most important model in the range. A new 1.6-litre unit, already found in the Astra, will offer anywhere between 110hp and 160hp, and the most frugal variant in the smaller Astra returns a claimed 78.5mpg. A choice of six-speed manual or an all new eight-speed automatic will be offered throughout most of the range, with the latter offering superior fuel economy.
A Sporty VXR version should not be ruled out either. The current model, powered by a 321hp turbocharged 2.8-litre V6, offers incredible performance for the money.
2017 Vauxhall Insignia price
Despite the uplift in quality, Vauxhall looks likely to price the replacement Insignia at a similar price to the current model. That means we expect entry-level petrols to be priced from around £17,500.
2017 Vauxhall Insignia release date
We'll have a little longer to wait for the new model's arrival. It isn't expected to make an official debut until mid-to-late-2017, with sales commencing shortly after.
Save money on your next new car
Before the new model gets released, dealers are likely to offer ever increasing discounts on the outgoing model. Put the current Vauxhall Insignia in our car configurator to see the deals carwow could help you get. Not sure what you want? Try out our car chooser.