Dacia Sandero Access Quick Drive Review
Car adverts can be truly odious entities sometimes.
For every genial commercial showing Steve McQueen in a Ford Puma or a Skoda Fabia made of cake, there are ten more rivalling perfume adverts for pretentious dross, or so sickly sweet your eyes scan for a handy receptacle into which you can empty your stomach contents.
Dacia's TV slot isn't a work of genius, but it won't have the dog howling in agony either. It's simple and slightly self-deprecating, matching the carmaker's product line precisely.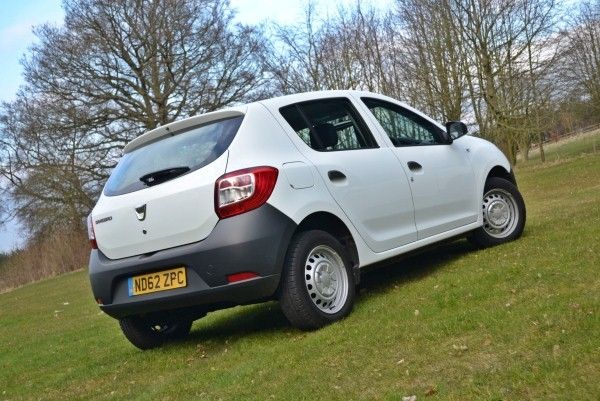 Simplest and most self-deprecating of the lot is the Sandero, granted fame by Top Gear's James May and raising eyebrows with its 5,995 entry price. That makes it the cheapest car on sale, yet one competing in a class where another four thousand pounds are usually required to sign on the dotted line.
Its real competitors are cars two or three years old, typically out of warranty and beginning to show signs of distress. Against these, a shiny, zero-mile supermini starts to look attractive, no matter how spartan.
And spartan it is. The exterior is as simple as it gets: White paint, unpainted bumpers, and steel wheels on this Access version. Some love its simplicity, others scoff at its poverty.
Inside, you get manual windows and blanked-off buttons galore. Our test car had an extra 300 lavished on it – 50 for a spare wheel, and another 250 for a Kenwood stereo straight out of the 1990s.
It resides in an interior plucked from a similar era, all hard, scratchy plastics in a uniform shade of grey. Most is from parent company Renault's parts bin, but everything feels well screwed-together too. Not perfectly, mind – the clutch pedal screeched like the door to a haunted house on this particular example.
Happily, it drives better than you'd think. Its 75 PS, 1.2-litre engine seems a bit old-tech next to modern turbocharged lumps, but it's tolerably frugal, responsive and reasonably refined.
It's also connected to pleasantly-weighted controls – the gearshift is as easy as they come, the brakes progressive and less grabby than many modern cars, and the hydraulic power steering (you do get that, even in Access trim) feels more natural than in its more lavish competitors, even if it isn't as sporty.
It corners and rides to acceptable degrees, though you'll be doing all this from a seat lacking any sort of support. In fact, inadequate comfort for front passengers is the only real significant blot on its copybook, and would likely make for unpleasant long-distance travel for all but the shortest of drivers.
The cabin is spacious though, there's a class-leading 320-litre boot, and you'll never be distracted by a satnav system, complicated aircon controls or complicated trip computer, as it doesn't have any of them.
Price as tested: 6,295
Combined MPG: 48.7
CO2: 135 g/km
Conclusion
It would be all too easy to deliver a snarky verdict like It's a good car for the price, before writing it off as an unrealistic proposition next to more luxuriously-appointed, second-hand superminis. Yes, the Sandero is crude, but to justify it on price alone would be unfair. The Sandero is frill-free transport at its best, and motoring at its least pretentious.
If you want a new car but don't need all the bells and whistles of vastly more expensive equivalents, you should find little to deter you from the Sandero. And if you like the car but really do need extra equipment, those too are available for a little extra dosh.