What is Android Auto? How does it work?
If you're looking at buying a new car, you might've heard of Android Auto. A number of new models offer this technology that, as the name suggests, enables you to connect an Android device to your car but offers even more functionality than many current built-in infotainment systems.
Like the rival Apple CarPlay system, Android Auto lets buyers use their smartphone without risking distraction while on the move. In addition, it works seamlessly with the car's built in infotainment system and doesn't require any ugly aftermarket modifications.
What is Android Auto?
Android Auto allows owners of Android smartphones and devices to easily connect to their vehicle via its infotainment display. Basic features including making and receiving calls and text messages, using navigation and listening to music are all possible thanks to the system.
Its easy-to-use layout and quick responses can make Android Auto a better option for many drivers than the car's in-built system, and helps drivers to keep their eyes on the road. In addition, it allows access to a range of apps beyond an infotainment system's normal functionality including internet radio and performance monitoring.
Which cars support Android Auto?
A variety of manufacturers have announced their support for Android Auto, among them Volkswagen, Fiat and Vauxhall. To help you out, we've come up with a list of all the cars that currently support Android Auto as well as a full list of manufacturers who have expressed support for the system. Bear in mind, you need to have an Android device running 5.0 (Lollipop) or later, regardless of whether you use an aftermarket or integrated system.
If you'd rather see Android Auto in your current car, it's possible to buy an aftermarket head unit from companies such as Pioneer. These systems replace your built-in infotainment screen and offer compatibility with Android Auto. It's handy if you're passionate about having the latest technology in your car, but these systems aren't exactly cheap and won't fit into every car's interior.
How does Android Auto work?
Much like connecting your phone to your car via USB, Android Auto uses a standard cable to connect the two – simultaneously charging your device and using its data connection for certain features. Wireless connection has been mooted, but it makes sense to keep your phone charged while you're using the system.
Information is displayed on your car's central screen, and you can access the system's features using voice control or your car's infotainment input – whether it be touchscreen or button based. Not all of your phone's features will be accessible, but there's a good range to choose from and certainly more than a traditional infotainment system.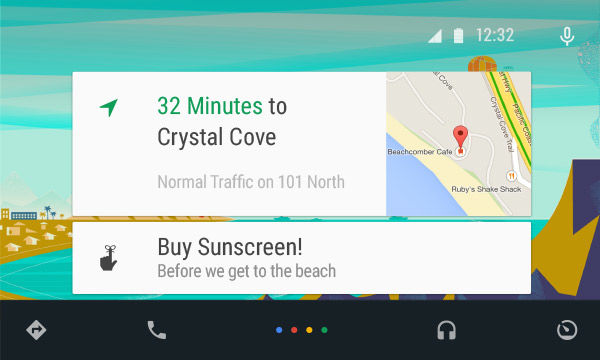 Android Auto features
Maps
Google Maps is widely regarded as one of the best navigation systems out there, and Android Auto allows it to be displayed in full on your car's infotainment system instead of a small phone screen. That means free voice navigation, live traffic information, constantly updated maps and the ability to send locations straight from your phone to the car. With this system, it's hard to see why you'd want any other kind of sat-nav.
Communication
This gives you the ability to make and receive phone calls and text messages through your phone (with the latter making use of voice recognition). There's also a large range of apps, too – including favourites such as WhatsApp and Skype – so you'll never need to take your eyes off the road again to stay in contact.
Music
Android Auto's built-in music players allows users to access their phone's music on the move. That doesn't just mean anything stored on the device, because it comes with a free 90-day trial of Google Music to help you make the most of it. There's also a Spotify App and various audiobook and radio applications to ensure you never get bored of listening to the same songs.
Apps
A huge range of apps are available for use with Android Auto – these include BBC Media Player and Google Hangouts, as well as plenty more communication and music apps on top of the ones already mentioned. Plenty more are being developed offering even more integration between phone and car, too.
Save money on your next car
Check out our new car deals page to see the savings carwow could help you get. For more options, head over to our car chooser to narrow down your search. Searching for a system to handle your iPhone instead? Check out our guide to Apple CarPlay.