Best 7 Seater 4×4 – Expert Reviews & Advice
We look at the best 4x4s with 7 seats on sale today, as voted by experts. The 4x4s are arranged by budget, with links to details on all the cars.
For each 7 Seater car we have shown the average scores given to it in expert reviews, this is called the buzzScore. It gives a quick overview as to the consensus of what the motoring journalists think of the car.
Also included is a link to the 4×4's page on our website, which shows compiled reviews of the car, user reviews, photo, videos and stats.
We've shown the best 7 seat 4x4s for various price brackets. The Off-Roaders are listed below in ascending price, with a link at the bottom to show where to find a list of all the seven seat 4x4s on sale today.
Nissan Qashqai +2
The Qashqai +2 may be the cheapest 7 seater 4×4 on sale, but it's a good car. It's decent to drive, there are some very economical engines and a large boot. Be aware though that not all versions have 4 wheel drive, and that the 3rd row of seats is pretty cramped.
Price: £17,000 – £27,500
MPG: 34 – 54
buzzScore: 7.2
Nissan Qashqai +2 Reviews
Hyundai SantaFe
The Santa Fe gets some impressive reviews. The experts generally think it would make a great car for large families. The 2.2 litre diesel won't cost too much to run and is powerful enough to carry a car load of people. Another advantage is the 5 year warranty it comes with as standard.
Price: £20,500 – £26,500
MPG: 34 – 42
buzzScore: 7.5
Hyundai Santa Fe Reviews
Volvo XC90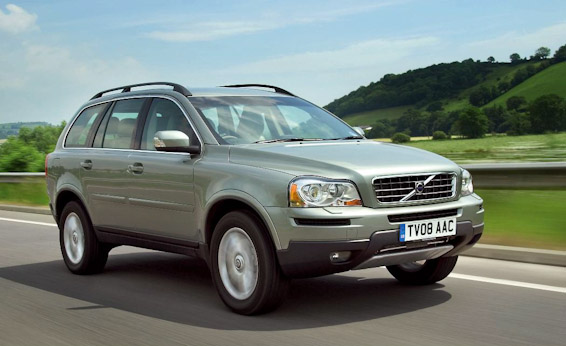 The XC90 is the oldest car on the list, but still one of the best large 7 seat 4×4 cars. The very back seats are a generous size and could accommodate adults on a short journey. Obviously being a Volvo, it's also safe.
Price: £32,000 – £50,000
MPG: 21 – 34
buzzScore: 7.9
Volvo XC90 Reviews
Land Rover Discovery – Winner!
The Discovery 4 isn't the most expensive 7 seat 4×4 on sale, but it is the highest rated. The buzzScore of 9.1 shows that experts think it's a truly fantastic car. The interior is smart and roomy, the engines are all modern and it's very comfortable to travel in. It is quite comfortably the best off-road car which can carry seven people.
Price: £32,500 – £50,000
MPG: 28 – 30
buzzScore: 9.1
Land Rover Discovery Reviews
BMW X5
The BMW X5 is one of the most expensive SUVs with 7 seats. It's the best to drive on the list, but also the priciest. There is no doubting it's a good car, the reviews are very favourable, but to be honest we'd prefer the cheaper Land Rover Discovery.
Price: £44,500 – £80,000
MPG: 20 – 38
buzzScore: 7.5
BMW X5 Reviews
To see complete list of all 7 Seater 4×4 cars, use our fantastic Car Chooser