Subaru BRZ - Full Review Of Subaru's Sideways Sportster
The Subaru BRZ was, alongside the Toyota GT86, one of the most talked about cars of 2012. In fact, it was so popular with my normally cynical colleagues that it has taken me a year to get my grubby little mitts on one for longer than an hour or so.
Living near the evo triangle and being blessed with a job that means taking a car out for a blast is, officially, work should have meant that the last seven days have been petrolhead nirvana. Read on to find out if the BRZ was automotive perfection or a damp squib
Exterior
The jury is still out on the way the BRZ looks. For what it is worth, I think its a decent enough design thats let down by trying a wee bit too hard; the rear carbon diffuser, for example, and the overly complex front and rear lights do little for me and I cant help thinking that something simpler would look better and take the BRZ closer to modern classic status.
Enough of my opinionated waffle, though. Most will agree that the BRZs looks indicate its role clearly enough and it certainly has presence, especially in the beautiful blue of my test car.
Interior
The front seats are sublime; supportive and comfortable and perfectly positioned. You sit low in the BRZ and adopt a legs-out driving position that is utterly in keeping with the cars mission to provide maximum driving and handling fun.
The rear seats are big enough for you to persuade your other half that the Scooby is practical enough that you could pick the kids up from school in it but it isnt in all honesty a four-seater
The 1980s-themed black and red trim of the BRZ works better than you might imagine, but aside from the seating position the interior isnt the BRZs greatest attribute. The quality of the plastic trim isnt brilliant but hell, this is a cheap car and perhaps theyve spent the money on the engineering.
Driving
Yes they have. The BRZ will be a culture shock to anyone who has grown up driving front-wheel-drive hatchbacks. The combination of a complete absence of torque steer and an abundance of oversteer will lead to the first few miles being driven gingerly as its limits are explored.
Ah, those famous limits. Subaru has deliberately chosen to endow the BRZ with less grip than it could have done, allowing tail-out fun at sensible, rather than insane, speeds. This is what has made the BRZ, and its near-identical twin, the Toyota GT86, infamous. And you know what? It might even be a good thing.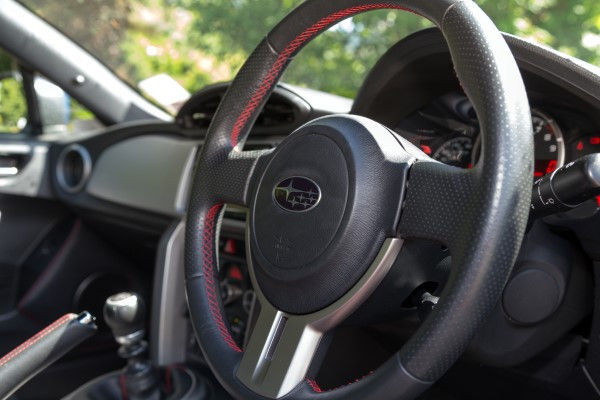 Oversteer, when it comes, comes as a result of prodding a couple of buttons and a deliberate effort on your part. This isnt a lairy, hairy sports car in the TVR mould. Oh no. The BRZs oversteer is utterly benign, completely controllable, and straightforward to access, even if you have to be trying quite hard for it to happen. Balls-out B-road runs aside, the BRZ makes an acceptable everyday car.
The ride might be a bit harsh, tyre and engine noise intrusive but none of it is anywhere near bad enough to disqualify it, even if it isnt a relaxing car to drive.
I do wonder whether its hyper-active nature would get a bit wearing when you just want to make progress with as little fuss as possible at the end of a long day.
While Im sounding the horn of caution, the gear change can be a bit obstructive at times but it gets better if you a firm with it. In fact, the same could be said of the BRZ as a whole; the harder you drive it the more it shines.
Engine
The 2.0-litre, normally aspirated Boxer engine might sit low for optimum handling but it delivers its power at high revs. This isnt a hardship as it loves to rev but I did find that I always needed to be in a lower gear than usual.
Maximum power is a reasonable 200bhp and 151 lb/ft of torque, neither of which feels like enough. This might be because the chassis can so clearly cope with more, or it might be because I was yearning for more low-down torque to make overtaking less of a will-I-or-wont-I gamble.
The figures (7.6 seconds and 140mph) arent too shabby but then there are plenty of small turbo-diesels that are quicker.
Still, the fuel consumption for the week was a respectable 34mpg. Considering the manual versions achieve 36.2 mpg on the usually-optimistic European combined cycle, a real-world, economy-be-damned 34 is quite impressive.
Value for Money
The BRZ comes in just two flavours: SE for 24,995 and SE Lux (with leather and Alcantara seats) for 27,995. Both come with a manual gearbox as standard that can be swapped for an auto plus flappy paddles for another 1,500. I love automatic gearboxes as a rule but in this instance Id swap the cogs manually.
VfM, though? If you love thoughtful engineering its a bargain; just dont expect to impress anyone with the quality of the interior.
Remember that you dont have to stick with the factory specification for the engine, suspension, wheels, exhaust, or brakes though as everything on the BRZ can be tuned and honed and tweaked thanks to the rapidly growing tuning industry that has sprung up to support it. This could become an expensive, albeit fun, hobby.
Verdict
If speed is your thing then the BRZ isnt for you. It isnt a fast car by any stretch of the imagination and it could easily be described especially midovertake when your buttocks are starting to clench as a slow one. Fords Focus ST might be a better choice, or maybe a Renault Megane Renaultsport.
And if premium products rock your world then you wont like the Subaru either. The trim is too cheap in too many places for you to be able to derive much tactile pleasure from it. An Audi TT or perhaps a hot Golf would probably slot into your life more comfortably than the BRZ.
But if handling is your bag then the shortlist of cars will only have a couple of names on it: the Subaru BRZ or the Toyota GT86, depending on which badge you prefer.
Or a BMW M135i - which boasts 306bhp, far more performance, handles even better, has a nicer interior... and only costs 67 a month more