Alfa Giulietta 1.4 MultiAir Review - It Won't End in Heartache
Alfa Romeos have, until recently, been bought with your heart not your head. Top Gear road trips in older models might be amusing and they definitely make great television - but they do highlight the fact that an old Alfa can often be unreliable.
This problem trickles up into the new car buying process; who wants to buy a showroom fresh Alfa with their own money only to watch with a thousand-yard stare as its glacial depreciation runs them into bankruptcy?
But times are changing, or so were told, but weve remained cynical preferring to borrow a Giulietta for a week to make our own minds up.
Exterior
The Alfas looks split opinion like few cars Ive driven this year. Some people, the majority I confess, love it, while others accuse it of looking, well, gormless. It grew on me but I cant see it ever making its way into my Top Ten Most Desirable Cars based on looks alone.
The headlights are a bit too big and an odd shape in my opinion giving it a touch of Russell Howards eyes; they draw you in because they just dont look quite right. The rear view is much better, and I like the nuanced stance and the big 18-inch alloy wheels, even if they are a 420 option.
The rear door handles are covert, a trick my younger son delighted in exposing, telling his mum: Alfa put them here to confuse grown-ups! Im sure that isnt true but they are well hidden, giving the four-door hatchback the look of a two-door coupe.
It does, however, look like a sports car, which is how an Alfa Romeo should look.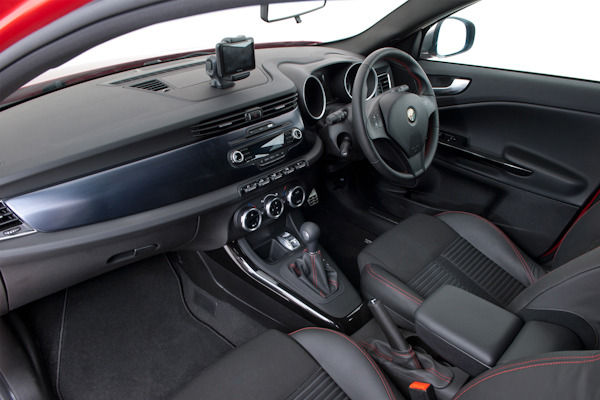 Interior
Things are more cohesive inside, and the seating position is very good; low, supportive, and with great visibility. The front seats, black leather with fabric inserts in our Veloce model, look great and are super comfortable.
Room in the drivers foot well isnt brilliant but was helped on our test car by the absence of a clutch pedal as we had the TCT auto box on our car.
The rest of the interior is beautifully done, feeling high-end and well screwed together. It isnt an Audi, of course, or even a Volkswagen, but it is up there with the best of them. Rear seat legroom isnt the best in its class but it is adequate and the boot is generous.
Driving
The arrival of the Giulietta coincided with some of the worst weather in living memory here in North Wales. Indeed, the drifts were so deep and so extensive that the poor little thing sat alone in a car park for two days until I could retrieve it and bring it home. So dont expect lurid tales of white-knuckle rides along storming A-roads, will you?
Despite the unpromising conditions, the Alfa acquitted itself very well. It rides and handles beautifully balancing the competing demands of a suspension system - a good ride, keeping the body controlled, absorbing bumps, and not being noisy - better than most. It felt (and you can feel a clich coming along cant you?) like an Alfa. More sporting than a Golf but never jarringly so.
Which is more than can be said of the DNA function. Switching between the three modes (Dynamic, Normal, and All-weather) triggers a number of changes, all of them confusing and with some discordant results.
Dynamic sharpens the throttle and reduces the electronic chassis intervention but weights the steering unpleasantly. Normal returns the lovely pliant steering feel and dulls the throttle. All-weather was effective in the adverse conditions that marked our test period but was worthy and a bit dull. Chances are youll never use it unless conditions are uber-poor. All-in-all, I couldnt help thinking that the DNA settings were a bit of a missed opportunity for Alfa.
Engine
Our car was fitted with the 1.4 MultiAir engine, developing 170bhp and up to 185lb/ft of torque in Dynamic mode (170lb/ft in the two others modes, All-weather and Normal, but with the same power output). Its a feisty engine, and one that sounds the part too, helped by those twin exhausts.
With that on tap its no surprise that the Giulietta never wanted for urge. What did surprise me, though, was that the power delivery was pretty linear; there was no off-boost/on-boost chasm. You put your foot down and the Alfa just takes off. Top speed is a more-than-adequate 135 mph and you will hit 62 mph in 7.7 seconds and thats quick enough for anyone really, isnt it?
Fuel efficiency was hard to judge, as the weather was so poor that the car was idling for long periods. Also, a lot of the journeys were nose-to-tail jams, but other users report that high-40s is possible, which is very impressive.
The thoughtful driver will find that the 1.4 MultiAir balances performance, economy, and purchase price beautifully. You can go faster in a Giulietta, but youll pay more (unnecessarily, given how good this engine is) in both purchase and running costs.
Value for Money
The Alfa Romeo Giulietta range starts at 17,760 for a basic 1.4 TB with 120bhp and rises to 26,660 for a top-of-the-range 2.0-litre JTDm
diesel.
Our test car, a Veloce 1.4 MultiAir with a smattering of options (electric lumbar support, parking sensors, red paint, flappy paddles, and a cooled glove box) was a smidgeon under 25,000. Thats not remarkable value but it is OK.
Verdict
Life with an Alfa Romeo is so much more than the way it looks and feels. Its about the entire ownership experience; actually buying and living with a car should be a marriage not a torrid weekend with someone unsuitable in a high-class hotel.
Historically, Alfas have been the high-end escorts of the car world. Beautiful, expensive to keep, and likely to break your heart at a moments notice. I know. Ive owned a few and theyve all ended in heartache.
So Alfa Romeos engineers and designers needed to work to keep all of the exciting bits but in a package that works as a rationale choice, as well as an emotional one.
Which is exactly how the Giulietta feels. Its a Golf for someone who will accept the odd flaw in return for some passion. The actual
VW Golf
is utterly flawless and will be the default option for many. Those unconvinced by the seventh generation of the middle-classes favourite car, or those needing more reassurance from jealous neighbours, might safely opt for the
Audi A3
or
Volvo V40
instead.
Yet the autophile, the committed believer, can now buy an Alfa with a clear conscience in the knowledge that it wont break him. Mission accomplished.