Suzuki Swift sizes and dimensions guide
In the market for a simple, unpretentious supermini, which is as cheap to buy as it is fun to drive? Then the Suzuki Swift might just be the perfect car for you.
With prices starting at less than £9,000, the Swift is significantly cheaper than the likes of the Ford Fiesta, Volkswagen Polo and Peugeot 208. But how much car are you getting for the money? We've taken a closer look at the Swift to see how easily it'll fit into everyday life.
Suzuki Swift external dimensions
At 3.85 metres long, the Swift is 119mm and 120mm shorter than the Ford Fiesta and Volkswagen Polo respectively. This could come in pretty handy if you frequently have to park on a busy street. It's narrower than either too, so it scores big points for its city-driving credentials. The deeper, more aggressive bumpers of the Sport model mean that it's 40mm longer than the rest of the Swift range.
External dimensions

| | |
| --- | --- |
| Length | 3,850mm (Sport 3,890mm) |
| Width | 1,695mm |
| Height | 1,510mm |
| Wheelbase | 2,430mm |
Internal dimensions
That shorter length and narrower body does result in one or two compromises though. We'd advise anyone thinking about carrying adults in the back to consider other options first – rear headroom is a little tight, and three-door Swift models only have four seats. Still, there are Isofix child-seat mounting points in the two rear seats, which, combined with a five-star Euro NCAP safety rating makes it an ideal car for young families.
Boot space
As with the rear of the cabin space, boot volume is a little compromised by the overall length. The Swift's 211-litre boot is much smaller than the boots of rivals such as the Skoda Fabia (330 litres) and even the slightly more sporty-looking Peugeot 208 (285 litres). The rear seat backs fold down to stow longer items, but unlike many of the Swift's rivals, they don't fold flat.
Boot space

| | |
| --- | --- |
| Seats up | 211 litres |
| Seats down | 528 litres (3 door 512 litres) |
Turning circle and fuel tank capacity
The 10.4m turning circle isn't the smallest in the class, but it isn't large enough to fret about. A 42-litre fuel tank means that should you match the most frugal Swift's claimed 65.7mpg, a range of just over 600 miles should be possible. Opt for the four-wheel drive system and the fuel tank shrinks ever so slightly to 40 litres.
Turning circle and fuel tank

| | |
| --- | --- |
| Turning circle | 10.4 metres |
| Fuel tank | 42 litres (4×4 40 litres) |
Weights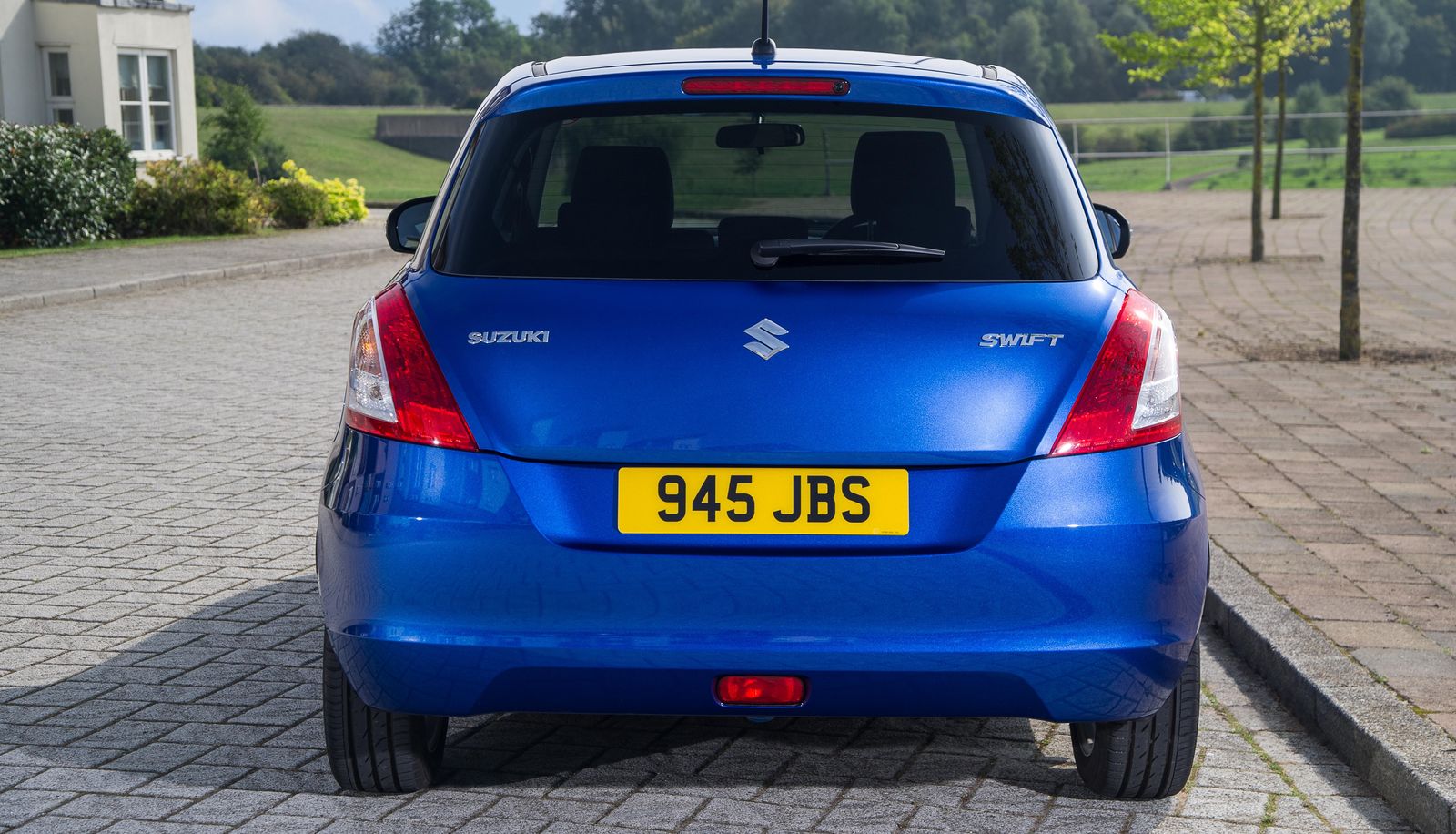 Although there are undoubtedly drawbacks to the Swift's compact size relative to some rivals, it does mean that it is very lightweight. With every model in the range weighing in at under 1,100 kilos, it should come as no surprise to discover that the Swift is considered one of the most agile and fun-handling cars in the supermini segment.
Weights

| | |
| --- | --- |
| Lightest | Heaviest |
| 1,005kg (1.2 3 door) | 1,095kg (1.2 5 door 4×4) |
Discover more
Our in-depth Suzuki Swift review takes the opinions of the UK's motoring press to figure how it compares to its rivals in all of the key areas. Once you've decided that the Swift is the car for you, our deal checker helps you to find a great deal by comparing prices from the UK's top Suzuki dealers.