Smart Fortwo Electric Drive Drops In - Cheapest Electric Car in the UK
/
January 18, 2013
We drove Smart's electric car, the Fortwo Electric Drive, last year. While the Fortwo itself is still an acquired taste, with a hard ride, love-it or hate-it styling and only two seats, we decreed the electric version the best car in the range.
It's easy to understand why when you drive it. Compared to the normal Fortwo, whose engines are noisy and gearboxes frustratingly staccato, power from the Electric Drive's motor and transmission is silent and seamless.
Within yards it feels a more natural car to drive despite the unfamiliar technology underneath, and the ace up its sleeve is performance that sees off all but the 102-horsepower Smart Fortwo BRABUS. Throw in the appeals of zero tax, zero congestion charging and zero local emissions, and the Electric Drive feels like the car the Fortwo should have been all along.
It's also the cheapest new electric car on sale in the UK.
Smart has announced pricing for the Electric Drive, available through two different purchasing options.
The first is outright purchase, where you buy the car and battery together. Recommended retail pricing is a scary-sounding £20,075, but after the government's £5,000 plug-in car grant, plus on-the-road (OTR) costs, the final purchase price comes down to £15,395. That's still a lot, but less than the BRABUS and cheaper than any other electric car on sale. Renault's Twizy is of course cheaper, but then it isn't technically a car either…
Cheaper still is Smart's sale&care option. Much like Renault's purchase option for the Twizy, this treats the battery as a separate entity, which is rented for £55 per month.
This, says Smart, provides owners with peace of mind, covering everything up to free replacement of the entire battery should it develop any faults in the first ten years. It also makes the car much cheaper to buy, with an OTR price of only £12,275 after a slightly reduced plug-in car grant of £3,993.34.
For comparison, that OTR is around the same as the diesel Smart Fortwo CDI in equivalent Passion spec.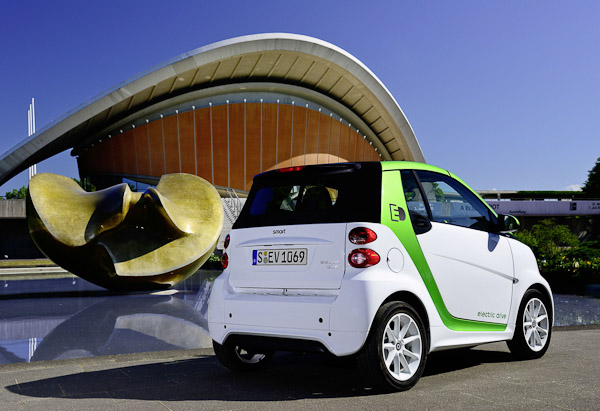 Options on the Electric Drive include a 22 kW on-board charger for rapid one-hour quick charging (a normal charge takes around 7 hours from empty), an 'Electric Drive design package' (£600) to make the car look like the example in the pictures, and the 'Electric Drive assistance pack' (£380) which adds cruise control and a three-spoke sports steering wheels, with pedals to enhance or reduce regenerative braking. Additionally, there's even a £155 optional sound module which emits a subtle tone to alert pedestrians to your otherwise silent car.
Priced from: £12,275 (sale&care), £15,395 (purchase); cabrio version +£1,500
On sale from: Now
Conclusion
We like the Smart Fortwo Electric Drive, but it's a car on which we'd advise spending a little time doing your sums, to ensure it works for you financially as well as environmentally. The OTR price is certainly tempting on the sale&care package, but like Renault's offerings the monthly battery rental approaches - or even eclipses - the sort of money a typical city car driver may spend on fuel anyway.
Naturally, none of its petrol or diesel competitors can match the Smart on emissions (even when taking the UK's energy mix into consideration) and as we've discovered, the electric Smart is far better to drive than its combustion counterparts. For some, the driving experience and environmental appeal will still offset the price and limited 90-mile range.
Comments
comments powered by Disqus