Audi A6 Allroad UK Review - Worth More Than An Avant?
Audi has a long history of producing high-performance estate cars (or Avant in Audi-speak) stretching back to the early 80s. Its quattro four-wheel-drive system has been around for just as long and it didnt take the greatest leap of imagination for Audi engineers to combine the two to create an all-purpose family estate that could be used in foul weather and across muddy fields as well as for relaxed inter-continental jaunts.
The next leap took a while longer but as we entered the noughties Audi had created the allroad, an estate car with all-wheel-drive, an estate body, raised suspension and limited underbody protection. Suddenly potential Land Rover Discovery owners had a credible alternative to a full-blown off-roader.
The latest Audi A6 allroad takes the concept of utility and combines it with luxury and performance in what Audi claims is a niche car. That may well be true, but is it a niche that others are reluctant to explore for a good reason?
Exterior
The A6 allroad isnt a flashy car but it is beautifully executed. The lights echo the corporate Audi design and the roof rails are (and I didnt think Id ever type this word combination) a work of art. Aluminium has been used extensively throughout the bodyshell to reduce weight while maintaining rigidity.
The wheel arch trims are painted in a contrasting colour as standard (although owners can have them in the same colour as the body if they prefer), bolstering the toughened stance of the allroad. Underbody protection peeks out fore and aft too, giving potential owners reassurance that this isnt just a Chelsea tractor.
The rear of the car is finished off with twin tailpipes that are flattened at the bottom, a distinguishing feature of the allroad. Further unique touches to the allroad include a chrome-effect grille and revised front and rear bumpers.
Interior
If Audi does nothing else it does build beautiful interiors. The fit and finish is superb and Audi has used some of the nicest materials youll ever see inside the A6; just take a look at this yacht-inspired veneer, for example
The rest of the car is equally lovely. The seats are some of the most comfortable and supportive youll ever find and the ergonomics are peerless. Within two minutes of getting in the A6 Id arranged everything how I like it and was ready to drive away without having to read the manual, which wasnt the case with every car in this class.
There is only one trim level with the allroad, which gives leather seats, the MMI navigation/stereo system with 180W and 10-speakers, light and rain sensors, Bluetooth, dual-zone climate control, and spilt folding rear seats.
If that isnt enough for you there are a three optional packages to choose from: Technology gives you a better MMI navigation system and music interface and costs 1,500; the Technology Plus pack costs 3,250 and adds adaptive cruise control, lane assist, and electrically-operated and heated mirrors; the Comfort pack adds parking cameras (which are brilliant and can even simulate a birds eye view of the car) and electric seats for 1,800. As you can see, its very easy to get carried away with the options lists turning a premium car into a very expensive one.
The boot is huge and features a great restraint system but I was disappointed to see that it doesnt have power closing; Audi A6 owners are some of the wealthiest people in the country and they will object (quite rightly, in my opinion) to the absence of assistance.
Driving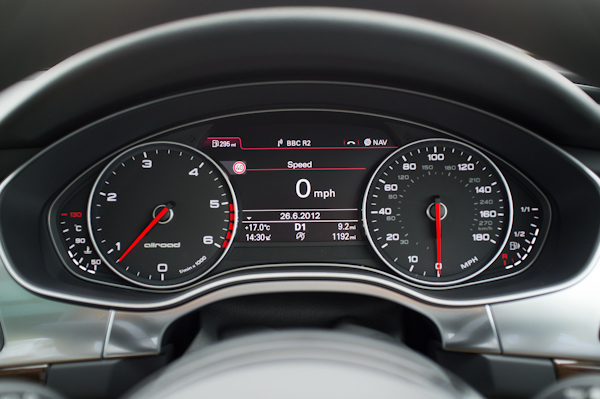 You could be forgiven for approaching the A6 allroad with trepidation. After all, surely that off-road suspension - capable of up to 18.5cms of ground clearance is bound to corrupt the handling and roadholding? Well, that might be a reasonable assumption but it isnt an accurate one. I drove an A6 back-to-back with the allroad and struggled to tell them apart, even when driven quickly.
The reason, or at least a large part of it, is because the allroad has five-stage adjustable suspension and only raises itself in an off-road situation retaining a standard ride height on the road. The result is amazing; I have never driven faster on public roads in my life. Thats not, I hasten to add, to say that I was speeding but Dartmoors roads are rough in places, always twisty and frequently have great visibility round them. The result is a drivers delight and the quattro driveline, fine suspension and powerful engines meant that I could exploit the topography perfectly.
The steering might be a bit light for some but the suspension is polished and perfectly damped and doesnt suffer from the overly harsh ride that afflicts many Audis. The roads were frequently wet and yet I was able to deploy all of the cars power safely thanks to the four-wheel-drive; I didnt ever experience torque steer, wheel spin, oversteer or understeer, just utterly neutral, wonderfully-balanced, confidence inspiring handling; the A6s best party trick is the confidence that it inspires.
Faults? Well, the gearbox could be a mite tardy at times when I wanted it to kick-down but other than that Im struggling to think of anything about the driving experience that isnt very, very good; thats quite an achievement for a big, boxy estate that is a decent off-roader as well.
Engine
The allroad is available with four engines: a 3.0-litre TDI diesel with either 201bhp or 242bhp depending on tune, a 3.0-litre TFSI supercharged petrol engine with 306bhp and a sublime 309bhp BiTDI diesel engine with twin turbos. All come with an automatic gearbox and Start-Stop with brake recuperation.
I drove the 201bhp diesel first and found it willing but a bit breathless when you want to push on. It costs 43,150 but for a little over 1,500 more you can have the more-highly tuned, 242bhp version that is infinitely better. Audi expects more than 85 percent of buyers to opt for this engine and with good reason. Its torquey, flexible and refined, giving a top speed of 147mph, 0-62mph acceleration of 6.6 seconds and fuel consumption of as little as 44.8mpg.
I couldnt drive the petrol engine but its key statistics are 155mph, 5.9 seconds, and 31.7mpg; Audi expects just 2 percent of buyers to opt for this engine as most performance-oriented customers will opt for the mighty 309bhp twin-turbo diesel. This has a (limited) top speed of 155mph, will hit 62mph after 5.6 seconds, can return up to 31.7mpg, and has a glorious exhaust note. It costs less than 5,000 more than the 242bhp model and is worth every penny. Stick with the basic trim level if you must and use the money for the extra power; trust me, you wont regret it.
Value for Money
If you do stick with the basic trim then the A6 allroad range is good value with prices starting at 43,150. Pile on the options though and this can rise to well over 60,000 with little effort, so restraint is the name of the game if you want the best VfM.
Residual values are predicted to be the best in its class and fuel consumption, helped by a 70kg weight reduction compared to the last model, is good too.
Verdict
If you need to tow more than 2,500kgs and need serious off road ability then the Land Rover Discovery is still the best vehicle of its type. Youll never get stuck, no matter where you are, and its lofty driving position is very attractive.
However, if you can manage with a towing capacity of just 2,500kgs and wont venture further than a muddy field or severely rutted track then the Audi A6 allroad is a far better solution. Its chassis dynamics are infinitely superior to those of the Discovery (or, indeed, that of any dedicated off-roader) and deliver a genuinely sporting and polished drive. That it is beautifully built, roomy, economical, discreet and good-looking is just the icing on the cake.