2014 Mitsubishi Outlander Plug-In Hybrid – Test Drive Review
Professional motoring writers greeted the diesel Mitsubishi Outlander with a resounding meh – though we were a little kinder. With plenty to like but little to wow, the Outlander sits in the middle of an ultra-competitive class and the middle ground is not where Mitsubishi wants to be.
Because and this might have escaped you too Mitsubishi is currently the UKs fastest growing car manufacturer having sold 38 percent more passengers cars in 2013 than in the year before. And the meh Outlander? That sold 67 percent more. So much for the professional opinion…
So Mitsubishi has every right to be confident, but should they be this bullish? One of the suggested hashtags for the Outlander PHEV launch was #gamechanger, which, for me at least, tipped bullish into bullsh*t. Harsh? Lets see, shall we?
Exterior
Its an Outlander, which means an SUV/estate shape (tilted very firmly towards the estate side) with a lofty stance and an imperious expression. Its not ugly but then it isnt an especially handsome thing either; it is Middle England in metal and none the worse for that.
Changes to the PHEV are subtle to the point of invisibility: a couple of blue-tinged badges seem to cover it, so shall we skip to the interesting bits?
Interior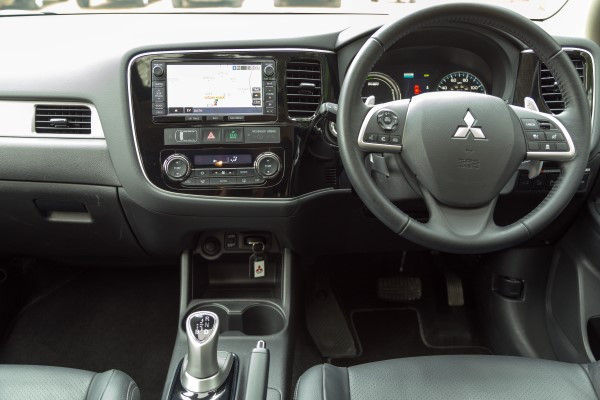 Its a similar story with the interior, with very few changes compared to its oil-burning brother, which is more remarkable than it sounds. So the boot floor is at the same height as it is in the diesel model and the three rear seats are all present and correct thanks to the batteries being mounted under the length of the cars floor.
It becomes obvious very quickly that Mitsubishi planned an electric version of the Outlander from the beginning – so engineering compromises are fewer than they might otherwise have been.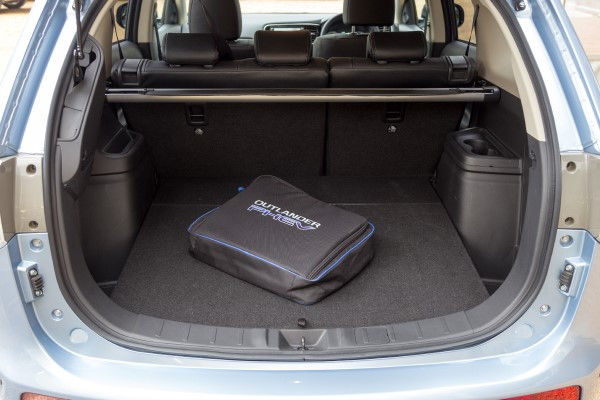 The changes are few and entirely to do with the business of playing with electricity, rather than storing it: a new dash layout; charge and save and eco buttons; and a new gear lever. The rest is, like the exterior, neat and unobtrusive and entirely familiar.
Trim levels match that of the diesel with the base GX3h expected to account for fewer than 10 percent of sales, with the top-of-the-range GX4hs expected to pick of the bulk of customers. The middle-ground GX4h is where the equipment gets electric-spec, with the fitment of the (free to download and use) iOS and Android app that controls the 1,000 remote charging/heating/cooling controls.
Driving
Under pure electric power, something you can enjoy for up to 32.5 miles, the Outlander surges along on a delicious combination of torque and silence. This makes the most mundane journey an absolute joy – wafting and surging along with little apparent effort is how city journeys should be undertaken.
When you hit the derestricted speed signs things stay much the same, really. I drove the Outlander for a day and averaged (averaged, mind) well over 300 mpg – and mine was one of the worst fuel consumption figures. Others got over 700 mpg (and no, that isnt a misprint) on mixed roads that included motorways, fast A-roads, winding country roads, and some city work.
The suspension is supple and the braking system progressive and easily modulated. Which reminds me; those flappy paddles arent for the gearbox, theyre to control the level of regenerative braking. This can be set to minimal, super-firm, or any one of three levels in between.
Its fun and effective and lets me play my favourite 21st Century driving game: getting something for nothing. Charging the battery under braking and coasting is hugely addictive, adding a new complexity to the challenge of driving as effectively and efficiently as possible.
Engine
The 2-litre petrol engine can drive the car and charge the battery, doing so quietly and unobtrusively. It produces 119 bhp and 140 lb/ft of torque, enough to move the PHEV from rest to 62 mph in 11 seconds and onto a top speed of 106mph.
But you dont care about that, do you? And nor should you; the engine is there in a supporting role only, something it does with aplomb. It is possible to detect when it cuts in and out but why bother trying? You need to be concentrating very hard and obsessing on the motive source is pointless in a car that does as much as this one does to remove driving-related anxieties.
The two electric motors (one to drive the front axle and one to drive the rear) provide enough propulsive effort for the average driver to undertake the average commute on electricity alone. And please dont think you need to drive like a saint, either. We tootled along with the rest of the traffic with the merest nod towards fuel efficiency under initial acceleration and didnt hold anyone up. Not once.
Driven thus, you should be able to replenish the charge at home overnight for between 1.00 and 1.50 (depending on what you pay for your electricity per unit) and if you dont have a dedicated charger you can do it in 5 hours via a 13-amp socket or you can ask British Gas to install one for free (something theyll do whether you are a customer of theirs or not) and accomplish the same thing in 3.5 hours.
That electric motor pays dividends far beyond bumper-car-surging too. The official fuel consumption figure for the Outlander PHEV is 148 mpg with a CO2 figure of just 44 g/km. This means free VED, an exemption from the Congestion Charge, and a business car BIK rating of just 5 percent. This makes the Outlander PHEV very, very cheap for the business car driver and very cheap for the private owner.
Value for Money
With the exception of the 1,000 remote heating and cooling package (which would, I suspect, prove to be much more than a gimmick) the PHEV matches the diesel models price points to the pound; prices start at 28,249 and rise to a maximum of 34,999 (after the Government grant has been applied).
That is astonishing. Utterly astonishing. It is, in fact, a #gamechanger. Business car drivers will also find the 5% BIK rating makes the Outlander PHEV attractive; those paying the higher-rate of income tax could benefit by up to five-figures a year.
Verdict
A lot of people have an appetite for an SUV, but many are put off by their gas-guzzler reputation. Many have an appetite for electric cars too, but are deterred by range anxiety (more properly defined as charge anxiety, surely?) and price.
The Outlander PHEV pretty much dismisses all of these objections at a stroke. Its cheap to buy, can be astoundingly economical to run, wont ever leave you stranded with no charge, and is a decent drive for those who regularly do journeys of fewer than 100-miles (anyone regularly travelling further than this will find the diesel-engined model cheaper, if less satisfying, to drive).
There is now no excuse, and for that the Outlander PHEV deserves its bullish #gamechanger hashtag. I didnt see that coming.
Head over to our full Mitsubishi Outlander review page for more reviews, stats, photos and videos.