Kia Optima Review - Hard to Fault?
The humble family car teeters on the precipice of obsolescence these days, as crossover-this and sport-that make four or five doors, five seats and a three-box profile seem a bit dull. Mondeo man, it seems, is dying out.
Still, there is hope, and while Kia doesnt have particularly high sales targets for its Optima, the combination of a huge warranty, fantastic styling and an equipment roster to shame a footballers front room is a hard one to ignore.
So rather than ignoring it, weve been driving an Optima for a week. Can it save the family saloon?
Exterior
Were aware that exterior styling is very much a subject of personal preference, but well stick our necks out and say that the Optima is probably one of the best looking new cars on sale.
Thats particularly true of our Santorini Blue test car, and even more so on the razor-like 18-inch alloy wheels available in Luxe trim. Over our week with the car, it was variously compared to Alfa Romeos, Lexus and Jaguars, all of which suggest the car has considerably more visual clout than the homely image the Kia badge would typically project.
The chrome strip arcing along the roofline certainly has an air of Jaguar XJ about it, and the clean-cut lines remind us a little of the Lexus GS. The LED-lined head and tail-lights look bang up to date, and those wheels are pure rolling artwork. Our car was visually sullied by an incongruous towbar, but other than that its hard to fault.
And that Santorini Blue paint is one of the best encouragements yet to ditch the dull silver or black paint of most cars and be a bit more adventurous. A Kia youd be proud to have on the driveway? Nobody said that about the old Magentis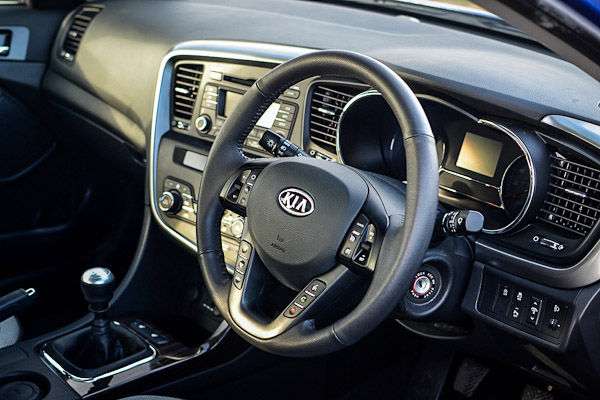 Interior
The other car references continue in the cabin. For the entire week, the large, clear, curved dashboard facia screamed Saab at us. And thats certainly no bad thing, as Saab interiors were renowned for their comfort and ergonomic qualities.
The cabin is attractive, with some variation in materials - but not too much - to liven up the environment. Even the imitation wood trim is tasteful. Optimas in 2 trim and above ditch a standard three-dial instrument layout for two dials and a central TFT screen, which is clear and easy to use via steering wheel-mounted buttons.
Build quality on our 13,000-mile test car was still up to the job, with no rattles or squeaks. Some materials are a little below the standard you may find on other mainstream brands, but its hard to complain. The surfaces that matter - seats, steering wheel, handbrake grip and gearknob, all feel good to use.
The seats themselves are comfortable (8-way electrically adjustable on the 2 Luxe), though one passenger complained that the less-adjustable passenger seat felt a little firm over a long journey. Back-seat passengers, however, were more than happy enough with the expanses of leg and head-room. The boot, too, is suitably spacious.
Visibility is also good - and it certainly has a better view out of the back window than the Jaguars it seems to mimic. One neat touch is the reversing cameras screen location - in the rear-view mirror unit. Put the car in reverse, and the screen illuminates in the place youd ideally be looking for reversing anyway.
Driving
The Optima isnt the last word in driving dynamics, but its still extremely competent.
Show it a twisty road and it takes corners and surface changes in its stride, with accurate and well-weighted steering, and respectable levels of feedback inspiring confidence. Around town it proves easy to drive and capable of dealing with bumpy surfaces - despite the large 18-inch wheels.
The Optimas natural habitat is on the motorway, where its only bugbear is tyre noise. Even this subsides on better surfaces (its a little noisy on concrete), and on the smoothest sections youll note just how little wind or engine noise there is at motorway speeds. Its nowhere near Lexus standards of whisper-silence, but its unlikely to bother you.
All the controls are easy to use. The clutch and gearbox are light and precise, and while the brake pedal always feels a little soft, its easy to modulate and the power is there when you need it.
Engine
Power being there when you need it brings us to one of the few slightly disappointing aspects of the Optima - the engine.
Theres little hugely wrong with it - refinement from the 1.7-litre unit is a little behind the best these days, but its much quieter at motorway speeds and over a week of mixed motorway, country and town driving, averaged a perfectly respectable indicated 49 mpg. If you rigidly stick to 70 mph on motorways, you might even see a little more - much of our motorway driving was done at typical UK motorway speeds.
Official combined economy is 57.6 mpg. Kias ISG stop-start system isnt the smoothest weve used, but its still fairly unobtrusive.
Unfortunately though, when hard acceleration or good responses are needed, it feels a little lacking. 134 bhp isnt a lot to haul along 1.5 tonnes of saloon car, and below the optimum 2,000-2,500 rpm torque band, the car can feel very lazy indeed. Our car was a manual, and were led to believe the automatic gearbox does feel a little more peppy, even though outright performance is lower.
0-60 mph in 10.2 seconds and a top speed of 125 mph is hardly atrocious, but many do expect a little more these days. We cant help wondering what it would be like with the 194-horsepower 2.2-litre engine from the Kia Sorento
Value for money
In the past, Kias would usually be priced well below that of similarly-sized rivals. These days its much more even, but its also easier to swallow given how talented Kias products are at the moment.
Our Optima in 2 Luxe trim is priced at 21,695 on the road, plus another 475 for the brilliant blue paintwork. A close rival like the Ford Mondeo, with a similarly-powerful diesel engine and similar mid-range spec - the TDCi 140 Titanium - is 22,640. Go for less equipment, in Edge trim, and the Mondeo is 20,140, so the Optima does still offer good value for the equipment you get.
That kit includes leather seats, 18-inch alloys, a dual-panoramic sunroof, cornering lights, a rear-view camera, electric everything, Kias typically excellent iPod-compatible audio system, plenty of safety equipment, and of course that 7-year, 100,000-mile warranty.
It also sits in VED band D, which is free in the first year and 100 thereafter.
Verdict
Yes, the Kia Optima really is that good. It would be even better with just a touch more power, too. We arent speed freaks here at carwow (okay, not all the time anyway) but a little more shove, particularly at low revs, wouldnt go amiss.
But really, the Optima is hard to fault. For private buyers, that 7-year warranty on its own is something to think long and hard about, as are the high equipment levels, while the styling makes the Optima one of the most striking vehicles on the road.
In fact, its a wonder you dont see more of them about. Maybe its the badge, maybe its the small engine, or perhaps its just a sign that the family saloon really is dying out. And thats a shame.
What the press think
Reviews are very much mixed in the wider press. Some rate the Optima as highly as we do, while others are much less keen - leading to the respectable, but not class-leading buzzScore.
Praise is heaped upon the styling, long warranty and great interior, while others are less keen on the tardy, occasionally-noisy engine. There are questions over residual value too, due to badge-snobbery.