Mitsubishi Outlander 2.2 DI-D GX5 - Full Review
Mitsubishi is enjoying a minor resurgence at the moment. The brand reports sales up 49 percent compared to last year, its L200 pickup, new Mirage and the car you see here, the Outlander, contributing to that increase.
Launched in the UK in 2007, the previous Outlander originally received respectable reviews, before slipping from the public's psyche as other soft-roaders hit the market.
The new model tested here majors on technology and equipment, but it also looks fresher and promises better economy. Should you buy one? Read on to find out.
Exterior
The new Outlander's styling teeters on a precipice between handsome and ever so slightly dull. It's certainly a step up from the anonymity of the previous model (as a non-owner, can you even remember what it looked like?), but falls short of being a design classic itself.
Elements we like include the slim chrome front grille and relatively small headlamps - a change from the enormous corporate badging and lighthouse-sized units of many vehicles these days - and the way those design elements seem to be reflected at the rear, with a full-width clear strip spanning the tailgate.
The sharp ridge dividing the upper and lower profile (something designers term a tornado line) also works well, and the car certainly has a technical, distinctly-Japanese look.
We're less keen on the front bumper, which looks a little messy - curves and straight lines crossing at odd angles, cheap-looking foglamp recesses, too many different layers of plastic. And overall, we can't be certain the Outlander won't simply fade into the background on the road - particularly in this car's metallic grey shade.
Interior
Enlivened by carbon fibre-look silver inlays and piano black trim, and enhanced by electric leather seats, our Outlander GX5 proved a comfortable place to be over the week of our test.
There was plenty of adjustment in seats and wheel, and when suitably positioned for this tester's 5'9 frame rear seat space was also more than adequate. The two rearmost seats - standard on Outlanders - certainly don't, but they'll be ideal for those families who occasionally ferry their kids' friends around.
They are, however, easy to erect and stow, and when stowed there's a usefully large boot. The middle row can also be folded flat for a vast load area, also typical for the class.
Quality-wise the Outlander treads a familiar Mitsubishi path. You won't be overawed by the quality of the plastics, or even those surfaces swathed in leather, but it feels well-built and family friendly, which is often more important than Audi-quality materials. Better still, visibility is fairly good, aided by a reversing camera on this model.
Driving
A high-speed run from Manchester Airport back to Yorkshire (so Mitsubishi's friendly delivery driver could collect our car in time) allowed us to assess the Outlander's behaviour at velocities that few owners would regularly travel. We're pleased to say it acquitted itself well, and it's equally competent at more sensible motorway speeds too.
Some rivals are better at surpressing wind and tyre noise, but we didn't find either too bad at regular speeds. There's a commanding driving position and the Outlander's ride quality seems well-judged for motorway use. The steering and body control could be tighter at higher speeds, but are more than up to 70-80 mph cruising.
The aforementioned visibility makes the Outlander easy to slot through town, and here the slightly feel-free steering is less of an issue, since it's also quite light. Naturally, the automatic gearbox of our test car is also a boon in town, and the slightly soft-feeling brake pedal does provide good stopping power.
Out on country roads the Outlander's slightly wallowy feeling returns and the steering lacks any real conviction as you tip it into corners, but grip is reasonable for the class.
Our biggest bugbears aren't really with the way the car drives though, but with the systems designed to help you drive. Our car was fitted with the world's most annoying lane departure warning - beeping loudly as you strayed close to a white line, regardless of intention - and a clunky adaptive cruise control system that preferred to back off sharply (or even brake) once you reached a set distance to the car in front rather than slow down gradually, and made little effort to regain its pace if you indicated and then pulled out to pass.
Both systems were irritating enough that they spent much of the time switched off. For cruise control that's particularly annoying - a system you have to override in order to drive effectively on the motorway has no place in this world.
Engine
Working with a six-speed automatic transmission, the 174 horsepower 2.2-litre turbodiesel engine proved a punchy partner during our test. It remained fairly quiet from startup to warm cruising, and while it could become a little raucous under hard acceleration, the levels of din never proved too wearing.
Mitsubishi claims 11.7 seconds to 62 mph and 118 mph flat-out for the automatic-equipped 2.2, which seem believable enough. Manual models are 1.5 seconds and 6 mph quicker respectively.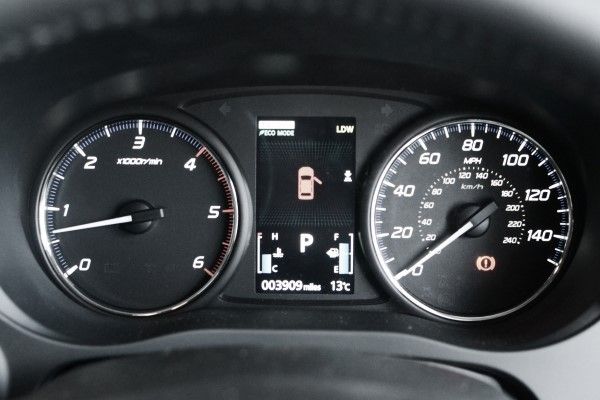 Manuals are also around 5 mpg more efficient on the combined cycle - 53.3 mpg to 48.7 mpg - but we'd be tempted to suggest opting for the auto anyway, for the more relaxing drive. Economy on our test varied between an indicated 33 mpg - after that motorway blast - and around 40 mpg in more relaxed driving or a steadier 70 mph run.
We drove half of the test in 'Eco' mode (available on all Outlanders) and half without. The difference between the two modes was notable - responses are much better with it off - but we'd be tempted to keep the system on most of the time to save a few pennies on diesel. Boot the throttle and there's still sufficient urge available regardless.
Value for money
Our top-spec automatic diesel rolled in at 33,999 which, if we're honest, is too much to spend on an Outlander. That sort of cash breaks you into the realms of Audi Q5s, BMW X3s and Land Rover Freelanders, and while all lack the extra rear seats and may be less well-equipped, all will hold their value better than a top-end Mitsubishi and each feels of higher quality, too.
You can save a full 2,600 by opting for GX4 rather than GX5 trim. This also has the added bonus of removing the god-awful driver assistance features standard on the top-end model - without losing electric seats, integrated navigation, keyless entry or Xenon headlamps.
Go for the manual transmission, and pricing drops under 30k. The least you can spend on a non-commercial Outlander is 23,699, which still gets you the diesel engine (there's no petrol Outlander), but naturally drops desirable features like alloy wheels, a leather steering wheel and dual-zone climate control.
Our only real concern then is that next to cars like the Kia Sorento - similarly priced to the Outlander - the Mitsubishi is little more economical in the real world, no more competent in most situations, yet lacks the Kia's enormous 7-year warranty and more powerful engine. And these days, Kia probably has a higher profile than Mitsubishi too, which leaves the Outlander on the back foot...
Verdict
Many families will find much to like about the Outlander. It's spacious, comfortable, practical - with those occasional rear seats for ferrying around extra kids - it's easy to drive and feels well-built. We also quite like the way it looks, and with a 5-star EuroNCAP crash test score, it's also safe.
Our main advice is to avoid the top-end model tested here. Save yourself a few thousand - more, if you don't need an automatic - and opt for GX4 spec. You'll get most of the kit you need, but you'll also drop the unnecessary stuff. The Outlander's slightly high pricing also becomes easier to stomach.
The Outlander isn't a stand-out vehicle by any means, but does the job as well as most non-premium rivals and should be painless to own.
What the press think
In general, most reviews echo our own - but our score is slightly kinder to the Mitsubishi, prioritising its practicality over the way it handles. A lacklustre drive appears to be the main concern in the wider press, as does a dull interior - but space and practicality are commended.